Source: GasLog Partners
Global trade in liquefied natural gas is expected to grow rapidly over the coming years. This makes LNG tanker stocks and MLPs an attractive long-term income opportunity. However, that doesn't mean that investors can just buy any LNG tanker operator willy-nilly. For example, Golar LNG Ltd. (NASDAQ:GLNG), has done terribly over the past year, far worse than rivals such as: GasLog Ltd. (NYSE:GLOG), GasLog Partners (NYSE:GLOP), or even its own MLP, Golar LNG Partners (NASDAQ:GMLP).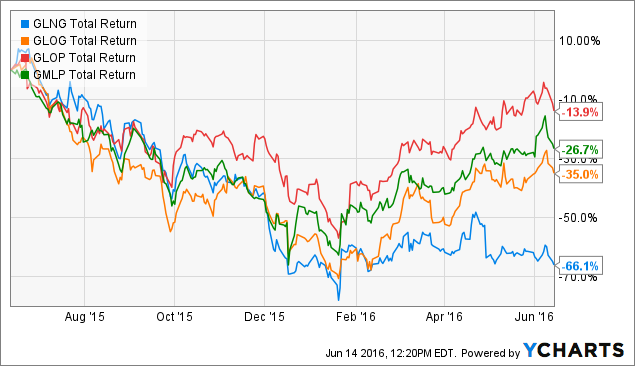 GLNG Total Return Price data by YCharts
While much of these price declines was due to the oil crash, the fact is that Golar LNG represents the worst investment you can make in the LNG tanker sector. Find out why but more importantly, why GasLog, GasLog Partners, and Golar LNG Partners represent far better potential long-term income investments over the coming years.
The Problem with Golar LNG
The reason Golar LNG's share price collapsed was because management recently had to slash its dividend 89%. The cause was its underlying business model, which is heavily exposed to short-term spot charters. In recent years, a supply glut of LNG tankers that were built before LNG export capacity projects could provide sufficient demand caused Golar LNG's utilization to fall to a frightening 24% in Q1. The result was respective Q1 2016 earnings and free cash flow per share of -$3.22, and -$5.22.
In addition, Golar LNG faces the common problem of LNG tanker general partners; they took on a lot of debt to fund their fleets prior to launching their MLPs. As they drop down long-term chartered ships to their MLPs, their cash flow decreases temporarily until the combination of distributions and incentive distribution, or IDR, fees grows large enough to make up the difference.
This is why so much of Golar LNG's revenues now go to interest payments. In other words, its over-leveraged balance sheet is the reason it's losing so much money.
Sources: Morningstar, Gurufocus,
| | | | | |
| --- | --- | --- | --- | --- |
| LNG Tanker Operator | Total Debt | Debt/TTM EBITDA Ratio | Interest/TTM Revenue | Interest Coverage Ratio |
| Golar LNG | $1.923 Billion | NA | 58.4% | NA |
| GasLog Ltd. | $2.292 Billion | 9.92 | 19.9% | 1.89 |
| GasLog Partners | $726 Million | 5.19 | 11.9% | 4.29 |
| Golar LNG Partners | $1.345 Billion | 3.88 | 16.1% | 3.67 |
Superior alternatives to buy instead
Sources: earnings presentations, Yahoo Finance, Fastgraphs
| | | | |
| --- | --- | --- | --- |
| LNG Tanker Operator | Forward Yield | Q1 2016 Payout Coverage Ratio | 5-Year Analyst Payout Growth Rate Forecast |
| Golar LNG | 1.3% | NA | 3.7% |
| GasLog Ltd. | 4.4% | NA | 6.6% |
| GasLog Partners | 9.8% | 1.21 | 3.0% |
| Golar LNG Partners | 13.1% | 1.14 | 3.1% |
As you can see, GasLog Ltd., GasLog Partners, and Golar LNG Partners offer both higher current yield, and superior long-term payout growth projections. While analyst projections always need to be taken with a large grain of salt, there are good reasons to believe that these general partners and MLPs will be able to live up to these targets.
For example, GasLog Ltd. has secured financing to construct eight new LNG tankers, seven of which have already secured highly lucrative 7 to 10-year fixed-fee charters. Thanks to that guaranteed cash flow, GasLog Ltd. expects to be able to grow its annual EBITDA by $160 million, or 69%, by the end of 2019.
Better yet, those new tankers bring GasLog Partners' potential drop down pipeline to 12 vessels, each with charters of 5 to 13 years in length. Not only would that mean great potential payout growth for GasLog Partners, but also allow its sponsor to pay down its debt, and help secure its own dividend.
Add in the fact that GasLog Ltd. owns 33% of its MLPs units and 100% of IDR rights, and GasLog's future cash flow growth prospects are very promising. They should be able to offer investors strong, market-beating total returns powered by a combination of generous current yield and industry-leading dividend growth.
Meanwhile, Golar LNG Partners also has strong growth catalysts that make for a strong long-term investment thesis. Not only does it have no exposure to short-term charter day rates, but its fleet consists mostly of floating storage and regasification units, or FSRUs.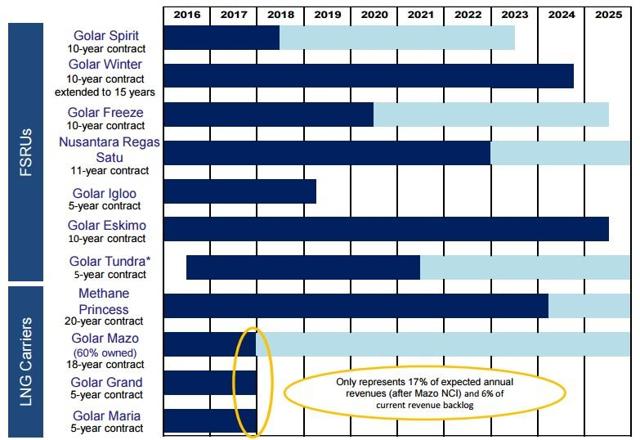 Source: Golar LNG Partners investor presentation.
These high-margin vessels act as low-cost alternatives to building new LNG import facilities and demand for them is expected to remain high for years to come, which should keep day rates high as well.
Risks to watch for
There are three primary industry-wide risks you should be aware of. First, traditionally, LNG prices have been linked to oil. This explains why LNG tanker stocks dropped along with crude, despite the fact that their cash flows were protected by long-term fixed-fee contracts.
Thus, should oil prices fail to recover in the coming years, it's possible that expensive LNG export projects could be cancelled hurting tanker demand. This in turn would likely cause expiring charters to be renegotiated for lower day rates and hurt both future LNG Tanker stock cash flow, and payout growth prospects.
Second is the fact that the underlying business model of LNG tanker MLPs involves paying out the majority of DCF to investors and thus growth needs to be funded externally through debt and equity. This means that these companies/MLPs' growth prospects are highly reliant on volatile investor sentiment and their share/unit prices.
If oil prices fail to recover, then it's possible that these MLPs' unit prices could languish and make it difficult to raise the equity capital needed to buy their sponsors' large drop down pipelines, which in turn would harm the investment thesis of both sponsor and MLP.
Finally, be aware that the LNG tanker business is highly capital intensive and so you'll want to watch out for over-leveraged balance sheets. Luckily, GasLog has just refinanced all debt maturing before 2018 and will be able to take delivery of its upcoming new builds, each of which has already secured a long-term fixed-fee charters. That in turn should improve its cash flow and help secure its dividend.
Meanwhile, GasLog Partners is using its excess DCF to pay down debt, ($14.63 million in Q1 2016 alone), which actually improves its DCF per unit. That makes its already sustainable payout even more secure.
Similarly, Golar LNG Partners, with the lowest leverage ratio in the industry, is at little risk of having to cuts its distribution. That's because it still has room to borrow in order to fund future drop downs and thus grow both its DCF and coverage ratio.
A risk to watch for that is specific to Golar LNG Partners is that Golar LNG, should its financial position become desperate enough, might try to take advantage of its MLP. For example, it might try to overcharge it for future drop downs, and force it to take on excessive debt that could threaten its long-term payout growth prospects and sustainability.
Bottom line: Golar LNG's business model is vastly inferior to its competitors
LNG tankers represents a potentially specialized, and high margin business model with excellent long-term growth prospects. However, Golar LNG's focus on short-term spot charters, when combined with its high debt service costs, means that investors should stay away. Not only can superior alternatives such as GasLog Ltd., GasLog Partners, and Golar LNG Partners offer higher, more secure current income, but also better long-term total returns.
Disclosure: I am/we are long GMLP, GLOP.
I wrote this article myself, and it expresses my own opinions. I am not receiving compensation for it (other than from Seeking Alpha). I have no business relationship with any company whose stock is mentioned in this article.