"Always seek out the seed of triumph in every adversity." - Og Mandino

After a strong end to May and a promising start in June, the biotech sector is back in the doldrums again. The main indices have dropped some six percent over the past five trading sessions as increasing fears of a "Brexit" have pushed equities into a "risk off" mode. The ten-year treasury yield stands at multi-year lows on a flight to quality as well.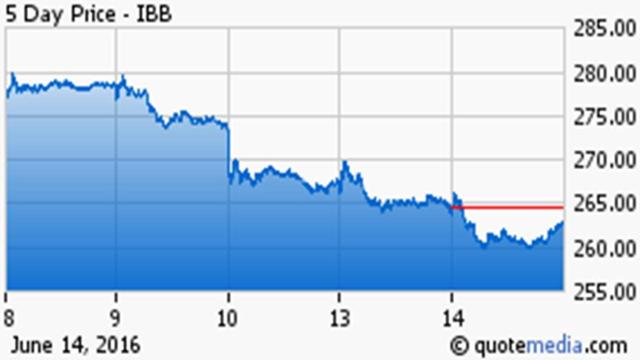 Also not helping sentiment on the sector is a dearth of M&A activity recently after a noticeable pick up in acquisitions during May. Myriad trial flubs in the small cap part of the sector this week certainly have not been supportive of the indices either.
We may have to wait until the vote in the U.K. next Thursday to see the market hopefully breathe a sigh of relief and for a change of sentiment on the high beta parts of the market like biotech.
Note: To get these Biotech Forum Daily Digests as soon as they are published, just click on my profile and hit the big orange "follow" button and choose the real-time alerts option.

As mentioned above, we have had several trial disappointments that have cratered the stocks of myriad small cap biotech concerns.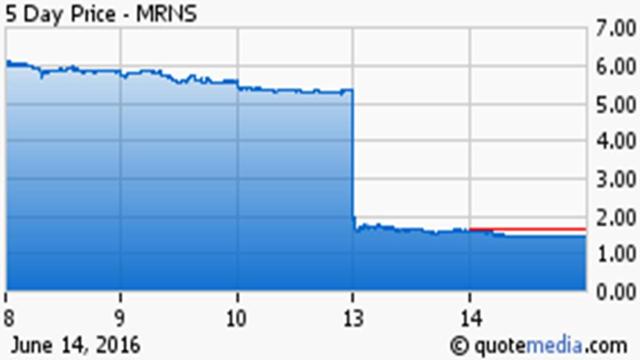 Marinus Pharmaceuticals (NASDAQ:MRNS) announced before the opening bell Monday that it was pulling its main drug candidate ganaxolone out of its late stage development to treat drug resistant epilepsy as the compound did not meet its primary endpoints in a Phase III trial.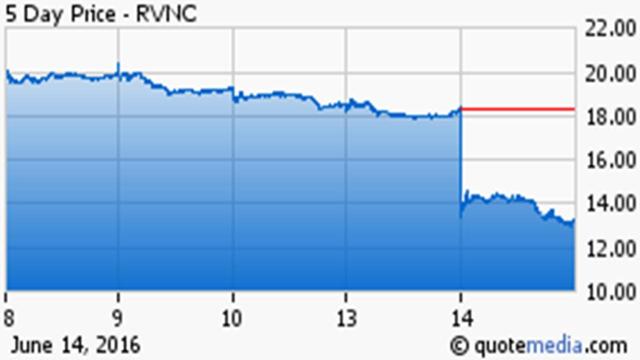 It also has not been a good week for Revance Therapeutics (NASDAQ:RVNC) whose stock fell over 20% Monday after disclosing its lead product candidate DaxibotulinumtoxinA Topical Gel (RT001) flunked a Phase 3 study, REALISE 1, in patients with moderate-to-severe lateral canthal lines (crow's feet). The company will concentrate on developing its other compounds in its pipeline.
Yesterday, microcap Infinity Pharmaceuticals (NASDAQ:INFI) lost two-thirds of its value as it announced poor results from a mid-stage study assessing lead product candidate duvelisib for the treatment of refractory indolent non-Hodgkin lymphoma. It is shutting its discovery research organization as a result.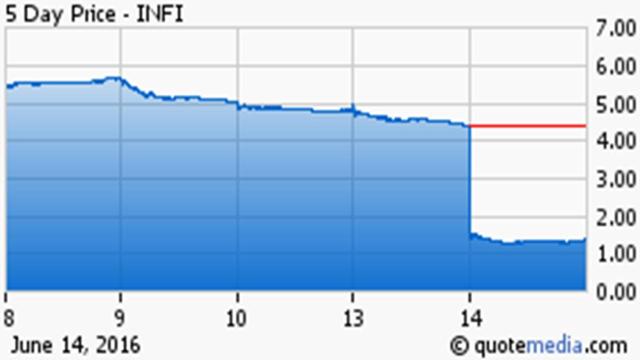 All of these are cautionary tales about investing in the developmental small cap part of a very volatile sector. This is why I always advise to take very small stakes in myriad promising but speculative concerns while keeping 50% to 75% of your overall biotech portfolio in the more stable large cap concerns that have recurring earnings and less volatility such as Amgen (NASDAQ:AMGN).
Valeant Pharmaceuticals (NYSE:VRX) outlined its long awaiting turnaround plan at its Investor Day on Tuesday. One encouraging sign is that its new CEO seems to be decently vested in its success via a purchase of some $5 million in new shares. I still hold no position in Valeant as its investment thesis is too opaque (fines, $30 billion of debt, divestitures, litigation), but I do hope this drug giant gets its act together so it no longer is an overhang on the industry.

In the "why bother" analyst category, eight separate analyst firms from Jefferies to J.P. Morgan downgraded shares of Infinity Pharma to hold after its dismal announcement listed above. I think we should have a new analyst rating category title, "We were misguided in our optimism about this company's pipeline" or something to that effect on these small developmental companies that have as many strike outs as home runs. I would definitely have issued this rating on my previous view on Marinus if this was the case.
Omeros Corporation (NASDAQ:OMER) continues to rack up analyst plaudits in June. WBB Securities maintained its Buy rating and whopping $75 price target on this ocular disease focused biotech this week. OMER currently trades right about $11.00 a share. On June 3rd, both Cantor Fitzgerald and Maxim Group initiated the shares as a Buy with exact $21 price targets. I hold a good deal of OMER as it has one approved compound on the market and an intriguing pipeline. Although optimistic, I think Cantor and Maxim's price targets are more realistic than WBB Securities at this point in time.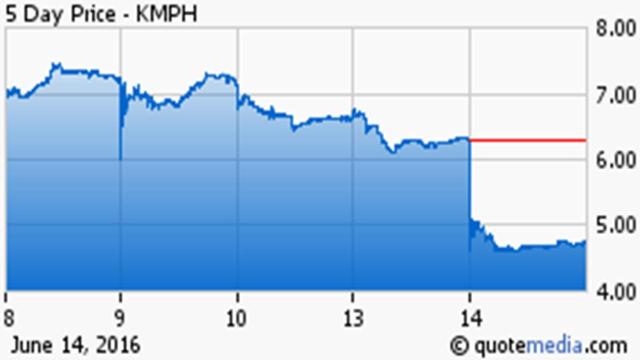 KemPharm (NASDAQ:KMPH) has had a tough week so far. Last week, the company disclosed that it has filed a request with the FDA to amend its New Drug Application (NDA) seeking approval of Apadaz for the short-term management of acute pain. The company says it wants to include additional information that will strengthen the labeling. The action will likely push the agency's action date out at least six months. Last month, FDA Advisory Committees voted 16-4 backing approval but 18-2 against abuse-deterrent labeling.
Despite this setback, a couple of analysts are maintaining their faith on the company's prospects. Canaccord Genuity reiterated its "Buy" rating and massive $34 price target on KMPH on Monday. Oppenheimer was a little more subdued Tuesday with its "Outperform" rating and $11 price target. Its analyst noted, "Given that the FDA only last week made an amendment request, we were surprised by the CRL issuance. Investors are likely assuming the worst, figuring that the FDA chose to issue a CRL rather than grant a PDUFA extension. However, KemPharm does not yet know whether the FDA considered the amendment in providing the CRL, or whether the amendment was submitted too late in the review process."
Note: New analyst ratings are a great place to start due diligence, but nothing substitutes for deeper individual research in this very volatile sector of the market. Many of the small-cap names highlighted in the "Analyst Insight" will eventually appear in the "Spotlight" section, where we do deeper dives on this type of promising but speculative small-cap concern.

I have gotten a lot of questions on what I would buy in the recent dip in the biotech sector, especially around the small cap space, given many smaller names have dropped 10% to 20% over the past week due to the shift of sentiment on the industry.
Therefore, in lieu of today's Spotlight feature, I am going to list several small cap names I would be adding to if one does not already have full positions in them. All are either late stage developmental concerns or have recently approved products even if they are not profitable yet. The dip is a good opportunity to buy smaller names that have "de-risked" portfolios rather than early/mid-stage concerns, a variety of which have blown up in trials this week (see Newsflash section). I have already stated I like Omeros here. Here are three more small cap names I would be adding to here.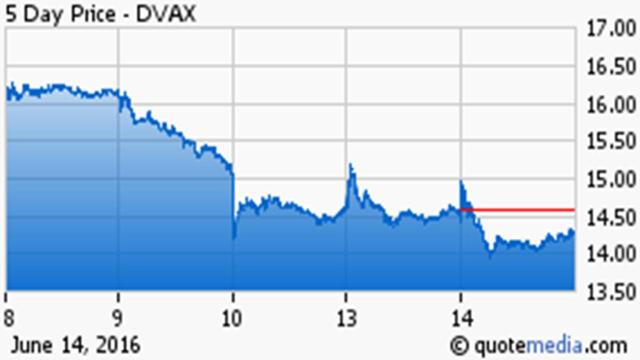 Let's start with Dynavax Technologies (NASDAQ:DVAX). The stock has fallen a little more than 10% over the past week and now sports a market capitalization of just ~$550 million. Its hepatitis B vaccine showed far superior attributes in large scale trials than the current standard of care. It should be approved in Mid-December by the FDA and garner ~$300 million to ~$500 million of the market in coming years. It has an interesting oncology compound "SD-101" in mid-stage trials as well as an asthma candidate its partner AstraZeneca (NYSE:AZN) is developing in Phase II trials. Add in over $150 million in cash on the balance sheet, and it is a no brainer at these levels from a risk/reward basis.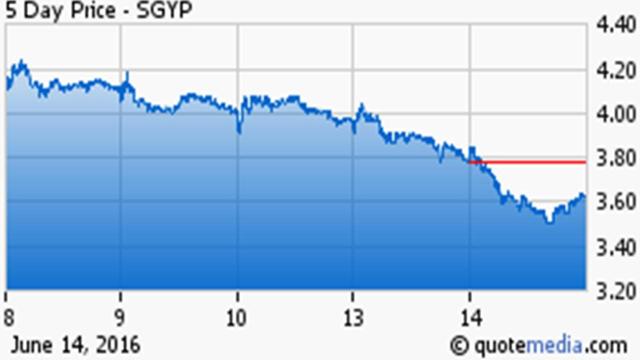 Moving onto the gastrointestinal space, Synergy Pharmaceuticals (NASDAQ:SGYP) is attractive after giving up more than 15% over the previous five trading sessions. Its primary drug candidate "plecanatide" has a PDUFA date in late January for the treatment of Chronic idiopathic constipation which should lead to approval and Synergy's first commercialized product. Synergy should also disclose Phase III trial results for the treatment of Constipation predominant irritable bowel syndrome by the end of June for this compound as well.
Plecanatide has shown in trials to have less side effects like diarrhea than Linzess that does over $400 million in annual sales. Allergan (NYSE:AGN) could have interest in Synergy as well which has been rumored given that drug giant's recent stated presence to do "tuck in" acquisitions in four key focuse areas, one of which is gastrointestinal arena.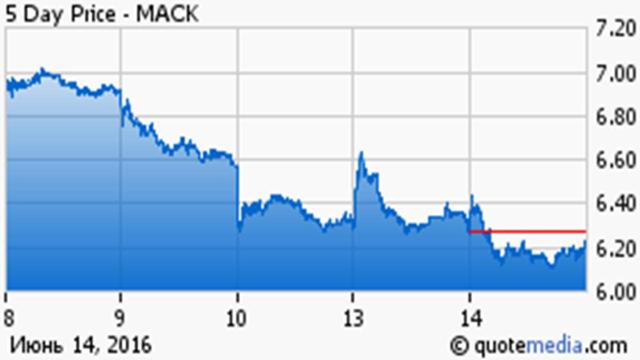 Finally, we have Merrimack Pharmaceuticals (NASDAQ:MACK) whose stock has lost over 10% during the last week. Its main compound "Onivyde" was approved last year for the treatment of metastatic pancreatic cancer in patients who have not responded well to gemcitabine. There are approximately 18,500 individuals in this country with this type of cancer and the market is believed to be an approximately $800 million addressable market. The company should receive approval to market in Europe by the end of the year and the compound is in trials against other oncology indications.
Merrimack owns all commercialization rights to Onivyde in the United States. Outside the United States, it has a distribution deal with Baxalta where it can earn substantial milestone payments as well as royalties. With a market capitalization of just over $700 million, Merrimack is a bargain at these levels. The five analysts that cover the stock currently have price targets ranging from $8 to $16 on MACK, all significantly above the current stock price.

Thank You & Happy Hunting
Bret Jensen
Founder, Biotech Forum
Disclosure: I am/we are long AGN, AMGN, DVAX,MACK, MRNS, OMER, SGYP.
I wrote this article myself, and it expresses my own opinions. I am not receiving compensation for it (other than from Seeking Alpha). I have no business relationship with any company whose stock is mentioned in this article.
Editor's Note: This article covers one or more stocks trading at less than $1 per share and/or with less than a $100 million market cap. Please be aware of the risks associated with these stocks.