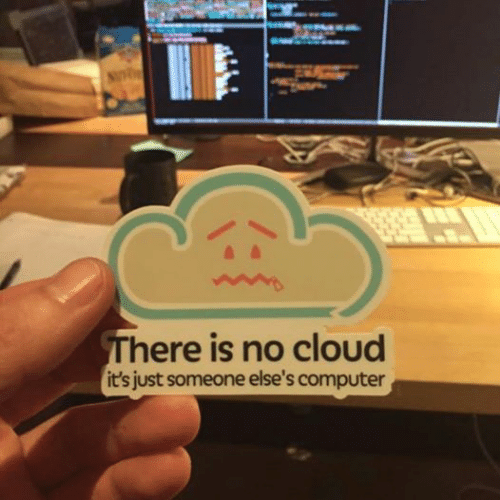 This article is in response to a question made in the comments section in my article on how to play Amazon after earnings. The question follows:

This is an important question for any investor in the tech market, as the current trend is moving to the cloud. While most investors in this industry see Amazon Web Services as the market leader, these investors are looking at the cloud industry as a single industry. In fact, it can be segmented into many subcategories.
One of the most lucrative subcategories of the cloud industry is that targeting enterprises. While many individuals and small businesses see Amazon as the default provider (even I use Amazon), enterprises are much less biased toward Amazon. This is important in gaining an understanding of the cloud industry, as enterprises are increasing their budgets: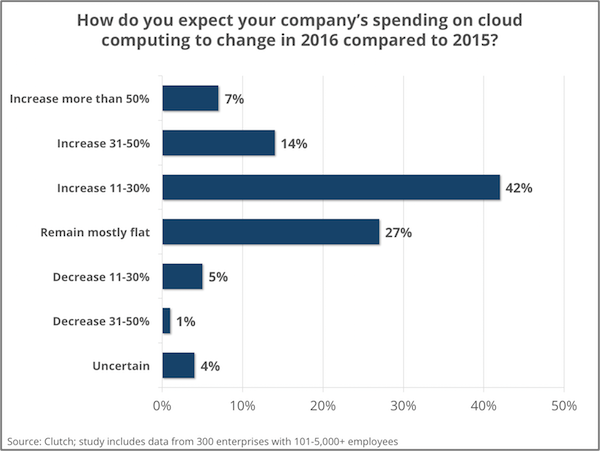 The Major Players
The big players in the market - including all cloud users - are
In terms of market share, Amazon is the leader, but Microsoft and Google are outpacing Amazon in growth: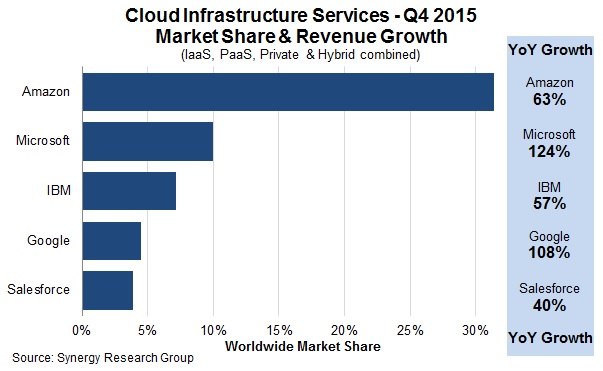 The question you should be asking here is "Why?" Why are Microsoft and Google able to double their market shares year over year. If they were both tiny companies, we could easily attribute their growth to the idea that it's easier to double the size of a small company than a large company.
However, Microsoft and Google hold a large enough market share to where this explanation is not adequate. In addition, if this were a "rising tide raises all ships" situation, we would see IBM and Salesforce also growing at faster-than-Amazon rates. Instead, it seems that Microsoft and Google's growth in this market can be attributed to their focus on niching their businesses to serving enterprises.
Enterprise Cloud Services
When you cut the cloud industry to only look at the enterprise layer, you see that Amazon loses its status as the market leader. Here, Microsoft is the leader, and Google is in third place. And with these two companies' respective growth rates, we can see them squeezing out Amazon to become the leaders in enterprise cloud services: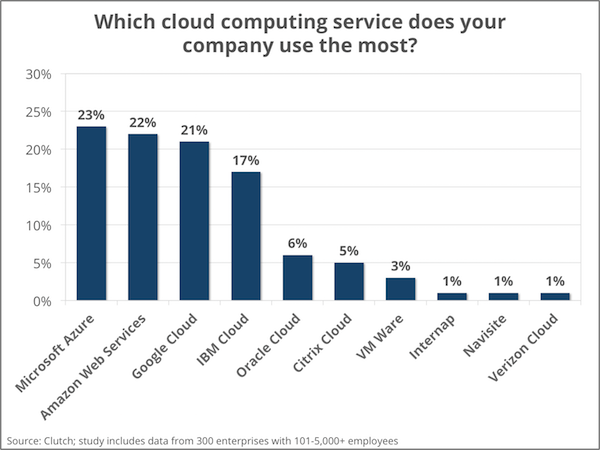 Now, consider the first image in this article - it has a point. Individual cloud service users and - more importantly - enterprises are increasingly aware of the dangers of cloud storage. With this awareness comes an escalating concern for cloud security.
Indeed, security is cited as the main concern for enterprises: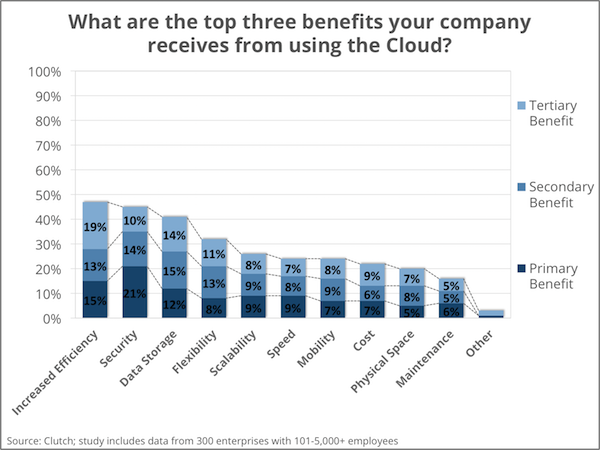 Security Issues
Needless to say, security is more important an issue for enterprises than it is for individuals or small businesses. It is no wonder then than the companies with stronger security mechanisms should secure the market share in the B2B sector. A comparison of the security of the top four enterprise cloud services follows (ignore Rockspace):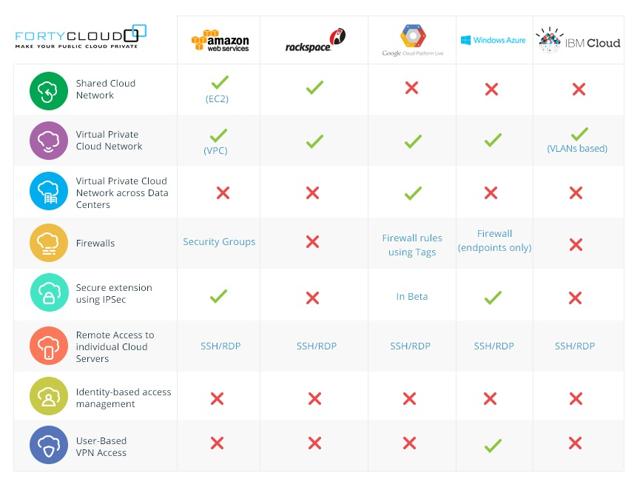 From a security standpoint, only IBM can be considered "weak." Amazon, Google, and Microsoft all offer security benefits over one another. However, Google might leave a bad taste in some mouths, with their reputation for spying on its clients and collecting voice data without permission.
Microsoft Azure and IBM both have firewall weakpoints. The lack of a firewall in IBM is of course a problem. Azure's firewall lacks the management properties over internal traffic, which both Amazon and Google offer.
Nevertheless, Microsoft understandably has it easiest from this point forward, as the company has their foot in the door with Office365. The cloud connection makes it easy for companies to integrate software that is already part of their systems with Microsoft's cloud service. I pointed this out in a previous article on the company.
The MSFT-LNKD Deal
In addition, the recent purchase of LinkedIn (LNKD) on the part of Microsoft is another foot in the door. The MSFT-LNKD deal seems to be somewhat misunderstood. Many stories are reporting this deal as Microsoft's entry to the social media market. A more likely explanation is that Microsoft is that Microsoft will be using LinkedIn to leverage relationships with enterprises to expedite its market share growth in the corporate area.
Some investors dislike the deal, stating that it was too costly. However, the deal barely makes a dent in MSFT's $100B of cash. It was less than a year ago that LNKD was trading close to $300 a share; the $196 per share buyout seems like a discount in this regard.
Other investors point to other deals Microsoft could have made, such as buying Twitter (NYSE:TWTR). A MSFT-TWTR deal would not be nearly as useful for Microsoft in growing market share in the B2B cloud industry. With LinkedIn at its disposal, Microsoft can hasten its outreach to the corporate need for cloud services, a task much more difficult to design through Twitter outreach.
In addition, this deal will reduce future costs for Microsoft. The company is currently a client of LinkedIn, but the client relationship will soon disappear, saving MSFT money in the long-run. Now that MSFT owns LinkedIn, they own a backdoor to marketing their services to large enterprises, thereby closing the distance on Amazon in overall market share and continuing to outpace Google in the corporate cloud service industry.
Future Growth
Moving forward, Mircosoft's growth will outpace the rest of the cloud providers, allowing it to dominate enterprise cloud services. Amazon will continue to sit on the throne in the non-enterprise industry. IBM, with little to offer over the other three, will surrender its third-place position in the infrastructure as a service ((IaaS)) and Platform as a Service (PAAS) markets to Google.
Investors interested in investing in the growing cloud industry should consider MSFT first, as the company shows the greatest potential for growth. Amazon is also a safe bet, despite its growth rate being outpaced by its rivals'. Google is also growing quickly, making it a good choice for capturing growth in IaaS and PaaS.
IBM and CRM here are the laggards but are working together to create a cloud service with enhanced security, which would be offered to banks, financial institutions, and the healthcare industry. Despite their below-average growth, I wouldn't bet against them because they are nevertheless showing success and innovation in a growing industry. However, either will make a suitable leg in a pair trade if you're looking to hedge market risk in the cloud industry.
Other Opportunities
Smaller, overlooked companies in the cloud industry should also be considered, as they do not suffer the risks that the above glamor stocks do when failing to meet earnings expectations. Two more worth researching follow:
Vonage (NYSE:VG) has moved into supplying businesses with cloud services. It is niching itself to the communications platform as a service (CPaas). The focus here is on revolutionizing the customer service industry in the same way that 1-800 numbers did in the past.
Infinera (NASDAQ:INFN) targets cloud computing vendors via the data center interconnect market. This market is estimated to triple sometime in 2018. An investment in INFN can give you exposure to this niched by quickly expanding market.
Learn More about Earnings
My Exploiting Earnings premium subscription is now live, here on Seeking Alpha. In this newsletter, we employ both fundamental and pattern analyses to predict price movements of specific companies after specific earnings. I offer specific strategies for playing those earnings reports. To-date, we are 90% accurate on earnings report predictions.
Disclosure: I am/we are long MSFT.
I wrote this article myself, and it expresses my own opinions. I am not receiving compensation for it (other than from Seeking Alpha). I have no business relationship with any company whose stock is mentioned in this article.