Despite the fact that Chinese real estate market has clear signs of a bubble, the prices do not stop growing. This can be explained by the authorities' regulation. At the beginning of 2016, Chinese authorities have reduced the sum of first mortgage payment by 5% for those who buy the first dwelling place and 10% for those who buy the second one.
In addition, incentives include the easing of monetary policy that benefit both property buyers and construction companies, since interest rates on loans are decreasing. Thus, it stimulates the growth of real estate demand, as well as allows reducing a degree of construction companies growing debts negative impact.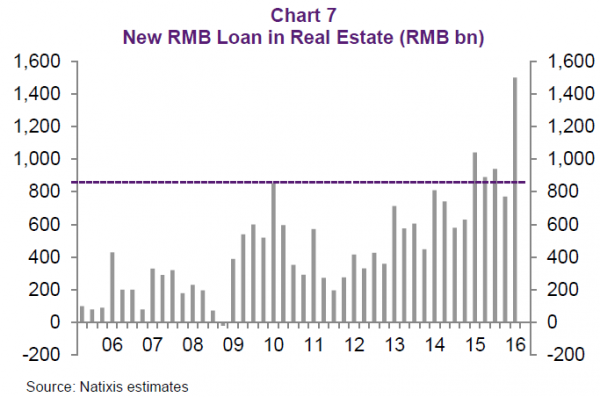 (Source: Natixis)
We need to keep in mind that the authorities control tightly China's real estate market. Insofar it seems to be an extreme importance for economic growth since the shutdown of construction companies will lead to the higher unemployment rate and other disastrous consequences. This is why it is necessary for the Chinese government to maintain construction industry and property prices.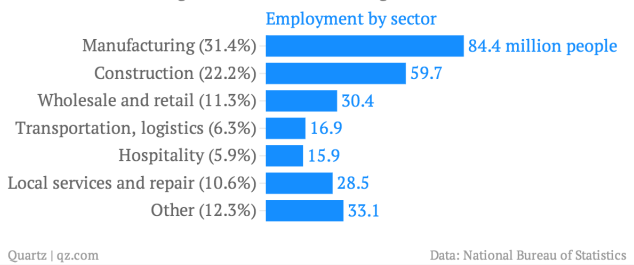 (Source: data.stats.gov.cn)
Supply on real estate market will begin to decline in the near future.
Despite the absence of concerns about the demand in Chinese real estate market, the supply will gradually decrease based on the facts described below.
Reducing of the construction volume indicates that after a certain time housing inventory will stop growing and begin to decline. I think that this will lead to a greater growth of demand over supply and, ultimately, to an increase in home prices.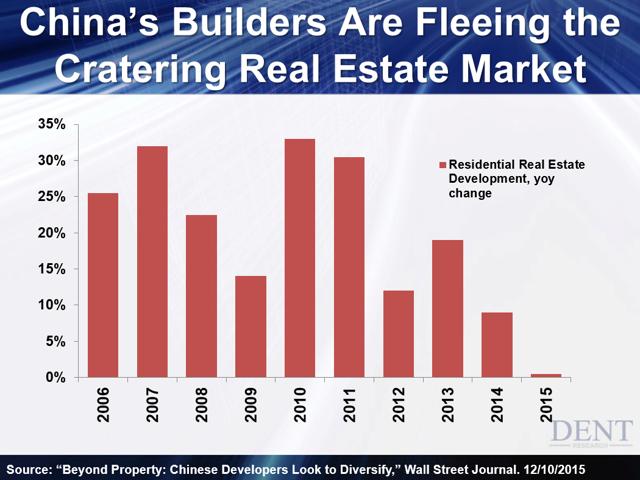 (Source: wsj)
Proceeding from how big the decline in the volume of construction was in 2015 in conjunction with the incredible speed of building construction that allows Chinese construction companies building houses less than in one year, we can conclude that the housing inventory growth will significantly decline in 2016. The volume of construction decline in 2009 and in 2012, in my opinion, favorably reflected on the price growth in 2010-2011 and 2012-2013, respectively that indicates opportunities for further growth of property prices.
(click to enlarge)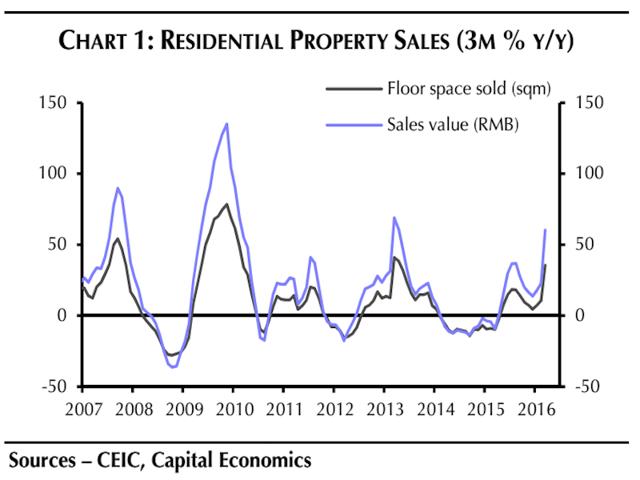 (Source: ceicdata)
Conclusion
Thus, I believe that the above facts are evidence that the supply will begin to decline in 2016. However, the situation is completely opposite to the demand because authorities have created conditions for its growth. In the end, the fall of supply in conjunction with the growth in demand will cause an even greater rise in real estate prices.
Under such circumstances, in my opinion, prices will soar as soon as the value of housing inventory indicators begins to decline. Therefore, it is already rational to open a long position in Guggenheim China Real Estate ETF(NYSEARCA:TAO), which tracks Alpha Shares China Real Estate Index, as the fund includes about 50 securities of companies operating in the Chinese construction industry. Shares of XIN and EJ also may be interesting for investors because those companies will benefit from the growth in property prices too.
Disclosure: I/we have no positions in any stocks mentioned, but may initiate a long position in TAO, XIN, EJ over the next 72 hours.
I wrote this article myself, and it expresses my own opinions. I am not receiving compensation for it (other than from Seeking Alpha). I have no business relationship with any company whose stock is mentioned in this article.