Before its previous earnings on April 22nd, I offered a handful of reasons why McDonald's (MCD) was overvalued at the time and savvy investors could use the overvaluation to their trading advantage. Then media championed MCD beating forecasts, but this confession was lower than the previous 3 quarters ($1.23 vs. $1.31, $1.40, and $1.26) respectively. Similarly, I believed otherwise long investors may consider lightening their positions. Ultimately, I included shorting MCD outright, or a combination of buying and/or selling options to express the bearish thesis. That article is available on Seeking Alpha PRO.
In the comments, many loyal MCD investors debated (took offense) to my shorting what they held sacred. But investing isn't about loyalty, rather the duty is to make money or synonymously to protect it. Investors unprepared for this task (emotionally, tactfully, and in practice) truly need financial counsel.
Importantly, while I had initiated the short position above $128 in late April, by early May MCD topped $130, and I added to the core short position as I noted in the comments. In hindsight, this trade will be scored among the profitable trades where I could/should have brought a larger cart for the loading! The question now is, do we take profits with MCD at $122+-, and ~6.5% profits?
Under the hood: The headwinds facing MCD remain among other things;
All Day Breakfast; no matter the novelty, the McMuffin induced endorphin runs out of runway.
Fresh ground beef. Just a handful of stores in Texas are running a test and more can be read here.
A key MCD advantage is its logistics - a model of efficiency, as much as it is a restaurant. Fresh is a massive undertaking to go broadly across the chain with equally massive risks from logistics to health (think Chipotle (NYSE:CMG)).
The $15/hour mantra grows louder; again and most recently at the doors of MCD's corporate headquarters during earnings.
Employment by the numbers. Even with the disappointing Job Report, MCD remains among the largest employers nationally, but at the minimum wage level. Wikipedia has MCD at the top of the list, 2nd place only to Wal-Mart. Not ALL of these are on MCD's payroll, a handful of sources pins 90,000+ who are eligible for the minimum pay raise! Think not. MCD escapes this as all new franchisees know too well the impact higher wages has on lowering the value of the MCD operation.
Drilling down on the impact of wage inflation at MCD, I extrapolate from a recent UC Berkeley Center for Labor Research report on Wal-Mart (NYSE:WMT). The study estimated that 979,000 employees would get an increase if Wal-Mart raised wages to $15 per hour and would cost the firm an additional $4.95 billion. Recall the devastation just months ago when its most recent wage hike torpedoed WMT's market cap by $20 Billion in a day!
MCD isn't WMT but we know that MCD has at least 90,000 direct hourly employees that would be eligible for this raise. But this analysis isn't new. 24/7 Wall Street offered analysis back in 2013 when the 'Fight for $15' was just beginning. The battle for higher wages has only since gained momentum, but even then it offered the following:
McDonald's Corp.

> Number of employees: 859,978

> Total wage expense at current pay level: $12.27 billion

> Total wage expense at $15 an hour: $20.59 billion

> Annual wage cost increase: $8.13 billion
While earnings have been steadily falling, operating income on Yahoo Finance reports $8.4B in 2013, $7.9B in 2014, $7.1B in 2015 (QOQ #'s are falling too), wage inflation alone can wipe out MCD. While this is an extrapolation, it underscores the magnitude of the turbulence.
The Trade and How to Express your $0.02
There is a month between MCD's next earnings due 7/26/16 and September to collect (or pay) another reliably paid dividend ($0.89). That leaves us with market turmoil (or calm) to be patient.

Value Line still gives MCD an A++ rating. I think this is a better measuring of complacency than financial security; MCD is about financial engineering, debt explosion, and shrinking margins. It's anyone's guess about VL commentary but its data is reliable. MCD now has at least $23B in debt. $10B of that rolls within 5 years. That's a lot of hamburgers, McMuffins, whatever.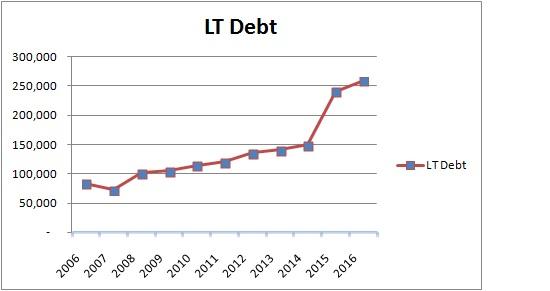 Options: Volatility (VIX) has risen from $13 to now $20 which would otherwise lend itself to option sales. The opportunity to buy short-term put options to protect a long position is fading, but I'd suggest just selling to take profits and avoid consuming premium.
But most interesting is that Implied Volatility only goes higher than Historical Volatility at 6 months into the future, and then it only brushes 21. This means there's not a risk premium to selling options so if you're taking a directional bet, it's likely advantageous to trade the underlying. I've skipped the Volatility analysis but here are a few ideas nonetheless;
Short (sell) Call; December '16 or January '17 will set Historical vs. Implied volatility on your side. ATM options now available for nearly $8. Meaning by the expiration, MCD will have to be trading back at its all-time high before you are behind in the trade. ATM option is $120, plus the premium = $128. MCD historical peak is approx $130. Neither of these gets me too excited. But selling the call puts time on your side, but always use caution selling calls… so consider spreading this trade (buy a higher strike at the same time).
Long (buy) Put: anticipating that the premium will rise as the stock falls. If we look just to capture the market earnings date, then we forego the premium paid against our return on the trade. Importantly, I'd select the September series giving the trade time to work out and another earnings report to showcase the falling numbers. Sept. ATM monthly sells for approx $3.60. That means MCD must move almost 3% to the downside before you can expect to make $. Notwithstanding, there will be a time value in the option post earnings in July, we need a respectable move to make money.
Short MCD outright. This remains my preferred expression. As MCD falls penny for penny, that's 100% in your pocket. Now available at $122. Arguably, if MCD rises you're on the hook.
If you're reluctant, nervous, or just want to sleep well (other than just trading small sizes), then consider a Long Call over your Short Stock position. This would leverage the low volatility within the 6-month time frame. A simplified explanation is available here.
Important: MCD goes Ex-Dividend (Sept.), if you hold your short position you will pay the dividend (loss or cost to be short).
Disclosure: I am/we are short MCD.
I wrote this article myself, and it expresses my own opinions. I am not receiving compensation for it (other than from Seeking Alpha). I have no business relationship with any company whose stock is mentioned in this article.
Additional disclosure: The foregoing is not intended to be specific investment advice, but concepts to consider when investing. Consult your Investment Adviser.
Disclosure: I am/we are short MCD.
I wrote this article myself, and it expresses my own opinions. I am not receiving compensation for it (other than from Seeking Alpha). I have no business relationship with any company whose stock is mentioned in this article.