Chesapeake Energy (NYSE:CHK), which trades a fairly liquid Credit Default Swap market - Credit Default Swaps (or CDS) are a form of insurance used to risk manage credit events - has seen slowly declining total-contract as well as slowly declining total-dollar volumes traded; which are out of trend (or defining of a new trend - however one would like to view it) when looking back 36 months. I find this highly interesting given that up until recently Chesapeake CDS was pricing "upfront" AND that Chesapeake costs of insuring remain "abnormally" high even as of the writing of this note. For those unfamiliar, "upfront" pricing takes place (generally) when spreads are greater than 1000 bps and requires a literal upfront fee to be paid to enter a CDS trade - usually there is no cost to enter a contract; this upfront pricing alternative is facilitated to lower the default rate of the associated coupon payments. "Upfront" pricing, it's thought - is a safer way to schedule a CDS transaction in risky names and is facilitated for particularly risky names in an effort to create liquidity (from an auction standpoint). Without a doubt, pricing over 1000 bps - which is the typical trigger point for an upfront pricing alternative to be implemented - is indicative of extremely high risk.
Both, the fact that Chesapeake CDS pricing was "upfront" and that pricing remains abnormally high as of the writing of this note, one would think, would be motivating of CDS sellers to create volume (from a total-contract standpoint AND a total-dollar volume standpoint) in that compensation has never been higher for selling insurance on a Chesapeake credit event. The fact that volumes aren't higher - again, for both total-contract and total-dollar metrics - should be alarming to those warehousing Chesapeake exposure on their books - contrary to what might seem reasonable at first. Contrary because of this occurrence taking place at a particular "maturation cycle" - point of "normal" CDS trading. I'll explain.
It's logical to deduce that lower total-contract and lower total-dollar volumes, which equate to less insurance being transacted in speculation of a potential credit event, is a positive trend occurrence (assuming the tethered enterprise had previously traded CDS with liquidity prior to the volume reduction); for if less participants are buying insurance it's also logical to deduce that the implied risk of an insurable event is lower. But this logic contradicts what I've concluded are "normal" auction-pricing and auction-derived volume trends for CDS in liquid-CDS names (Chesapeake fitting into this comparable group). Typically, and again this is my own conclusion taken from my study of CDS volumes (both contractual and dollar volumes), volumes increase as pricing (or compensation for those selling CDS) increases. Sellers will maximize profits and buyers will maximize risk management capacity for as long as makes sense for both parties (from a payout standpoint) - this is what is "typical." That is, this is typical to a point; a point I believe Chesapeake has breached recently.
This particular point, where we see a break from the volume norms, which is variable for each ticker based on all the underlying factors of risk management - i.e. risks associated with viability shifts in the underlying enterprise, is the point at which the seller's market sees noticeable reductions to activity. Why do I assume it's the seller's market that lacks activity, or the willingness to partake in transactions, and not the buyers' market at this "point?" Because CDS pricing increases are more than typically, I'd be confident in saying almost always, associated with a credit-market increase in implied risk.
I equate an increase in implied risk with a general increase in desire to insure against catastrophic loss associated with this risk (whatever risk that might be) for those actually exposed to the underlying enterprise (or those wanting to speculate on the credit event taking place) and that of course would equate to buy-side interest. Put simply, the riskier an enterprise becomes the greater the demand for insurance becomes from those actually long exposure OR those intending to profit from the insurable event being realized. I don't think my logic is clouded or misled. If we're seeing a reduction in activity or volume levels into higher CDS pricing - it's most definitely seller's market derived.
Operating under these assumptions, we can conclude that lower volumes by trend - for either the number of total contracts OR the total dollar volumes traded - equal the seller's market becoming less liquid or lower activity. For as long as it makes sense to maximize profits, one can presume that sellers will do just that. When those typically willing to insure against a credit event no longer want to take on the risk of insuring against a credit event - even at historic rates of profitability - you should be worried if long exposure to that which is becoming uninsurable. This is exactly what's taking place recently in Chesapeake CDS.
Chesapeake Energy CDS - Trailing 36 Months: June 10, 2013 - June 10, 2016:
Quite clearly both the number of contracts traded and the notional principal volume of contracts traded have completed what appears to be a long-dated, normal CDS cycle of: steady volume 1, followed by an increase to volume 2, followed by a downward-sloping trend to volume 3. This perfectly describes the "maturation cycle" I was alluding to above. I believe that demand from the buy-side and supply from the sell-side for Chesapeake CDS was running near perfectly parallel until roughly July 2015 (peak volumes by trend); at which point volumes began making lower lows. Why did sell-side demand begin making lower lows (operating under the assumptions I've outlined above)? Because risk was increasing and the sell-side realized this. It no longer made sense to simply maximize profits:
NOTE: numbers within CDS data-visuals below correlate with footnotes indicated in the paragraph above. This has been done to make the period indications more apparent. Numbers with dashes are indicative of a period change; with, of course, the periods correlating to the footnotes in the paragraph above.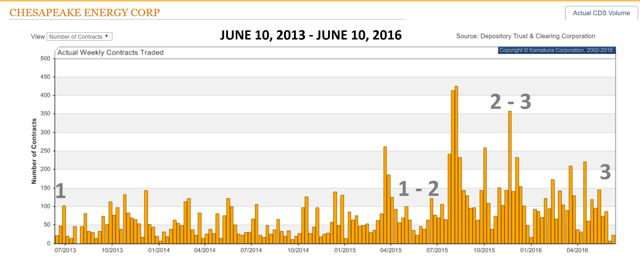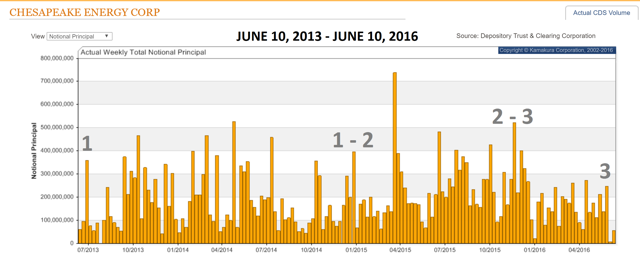 Chesapeake Energy CDS - Trailing 24 Months: June 10, 2014 - June 10, 2016:
Looking at shorter durations, this trend shift is made even more apparent: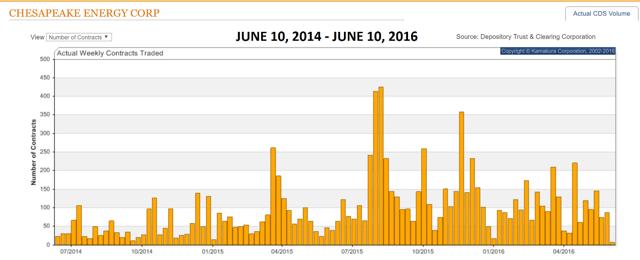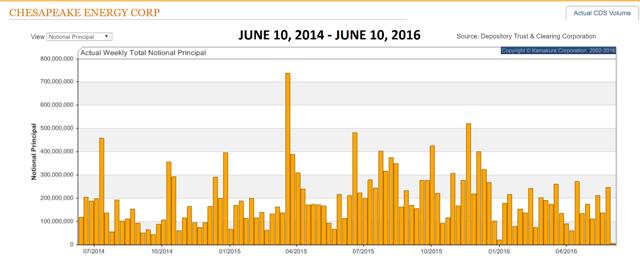 Chesapeake Energy CDS - Trailing 18 Months: January 10, 2015 - June 10, 2016: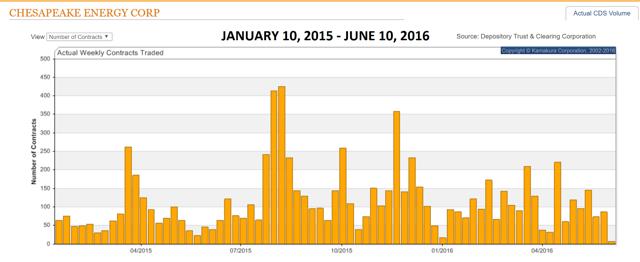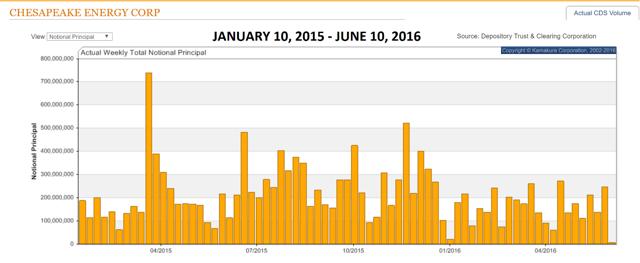 Chesapeake Energy CDS - Trailing 12 Months: June 10, 2015 - June 10, 2016:
Finally, the trend is made quite obvious when looking at trailing twelve-month data: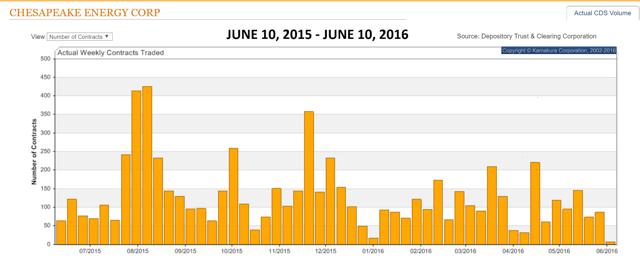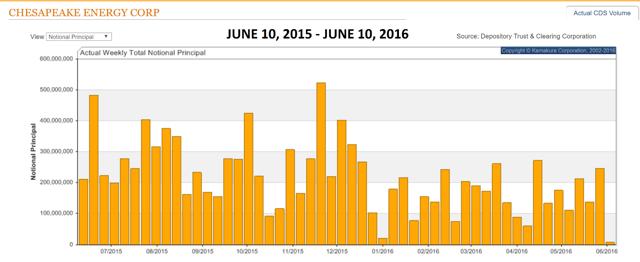 All told, Chesapeake CDS data is just another data point that I find productive to my bear thesis. Given that I don't believe Chesapeake to have a sustainable model currently, given that I don't believe Chesapeake to be upside commodity tethered (i.e. I don't believe anything of reasonably expected commodity pricing can meaningfully increase the long-term viability of Chesapeake's model), and given that I believe that the top of Chesapeake's capital structure is well-positioned to limit the E&P's destressing optionality (as is being exampled currently), the above detailed Chesapeake CDS findings were not totally shocking to me. Again, I would expect such trading activity to take place in a name as stressed and at as high a risk of a credit event as Chesapeake; still, the above dynamic is quite dramatic to see in pure data fashion. I thought this would be an interesting data-based risk management case to present to readers.
I continue to recommend a selling away of Chesapeake exposure for all capital structure vehicles below the Second Lien; and I continue to recommend a selling away of the Second Lien until post- 1.5 Lien issuance is completed.
Good luck, everybody.
Disclosure: I am/we are short CHK.
I wrote this article myself, and it expresses my own opinions. I am not receiving compensation for it (other than from Seeking Alpha). I have no business relationship with any company whose stock is mentioned in this article.
Additional disclosure: Data-visuals are sourced to Kamakura Corporation's KRIS risk management engine via the Depository Trust & Clearing Corporation. Kamakura Corporation is a risk management and consulting firm. Special thanks to Donald van Deventer, Founder, Chairman, and CEO of Kamakura Corporation for his continued guidance and mentorship on all things Credit Default Swap. The author may have a partial net short ownership position or an indirect beneficial ownership position in Chesapeake Energy CDS.