Background
Bar Harbor Bankshares (NYSEMKT: BHB) is a community bank with 15 branches servicing the state of Maine from Lubec to Topsham. The bank has a stellar history of paying dividends and a current market capitalization of $210 million. BHB has raised their dividend over the past 13 years, even during the recession in 2008. At that time, BHB raise their dividend by $0.01 to $0.70 per share, but it still only equated to a 32% payout ratio. Their current dividend rate is $1.03 annually, good for an approximate 3% yield with a payout ratio of 41%.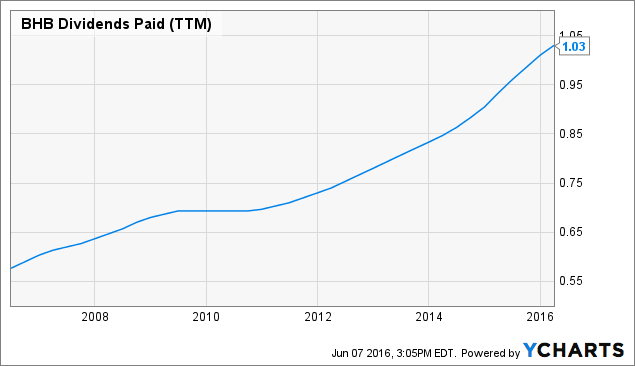 The bank's total assets have grown to $1.62 billion and has increased assets $114 million over the past year. The bank's total liabilities equal $1.46 billion, which gives us a book value of $160 million. With 6 million shares outstanding the book value per share is $26.67. BHB sells for 1.3 times book value at a $34.98 per share price. Let see how this compares to peers.
| | | |
| --- | --- | --- |
| Comparable Companies | Market Value | Book Value |
| Suffolk Bancorp (NYSE: SCNB) | $296 Million | 1.46 |
| Heritage Oaks Bancorp (NAS: HEOP) | $272 Million | 1.32 |
| WashingtonFirst Bankshares (NAS: WFBI) | $264 Million | 1.42 |
As you can see, BHB sells for fair value or a little bit below fair value on a book value basis.
Return on equity is another metric to see how profitable a bank is. Below you can see BHB currently has a return on equity of 10.21%. This is a strong number that shows the bank is extremely profitable. BHB return on equity has never been below 9.5% over the past 10 years. The bank is stable and hopefully in the future can continue to produce high returns on equity. Even in 2008, BHB produced 11.5% return on equity. Not too many banks during the 2008 recession produced these types of numbers.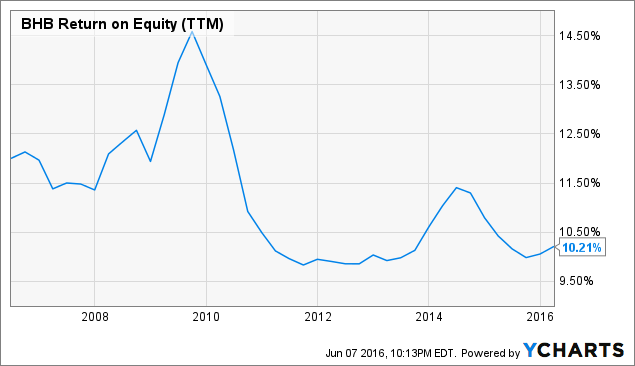 The merger and potential arbitrage
BHB is merging with Lake Sunapee Bank Group (NASDAQ: LSBG) and the deal is suppose to close by the end of 2016 or the first quarter of 2017. The structure of the deal is for every 1 share owned of LSBG will be exchanged for .497 shares of BHB common stock. This is an all equity merger and price fluctuations of BHB stock effects the value of LSBG common stockholders.
If the merger closed today there would be a small arbitrage. So, lets take LSBG common stock; which, currently sells for $17.14 per share and basically every 2 shares of LSBG stock almost buys 1 share of BHB. With BHB selling at $34.98 a share and the exchange rate of 2 shares of LSBG at .994%, we would get $34.64 of value. Whereas, it only cost us $34.28 to buy those two shares of LSBG. This gives us a $.36 arbitrage spread. The deal won't close for another 6 months approximately. This arbitrage could change in the future. Furthermore, LSBG pays a $.14 quarterly dividend, so while we wait for the merger to close, LSBG shareholders should collect another $.28 and possibly $.42 in dividends.
There is more to like after the merger.
LSBG will add 35 more branches to the company and demographic diversification. Right now BHB was considered a coastal bank and depended partly on tourism market for growth. This merger will allow them to tap into a different demographic and leverage their ability in this new market. The merged organization will serve in three different states New Hampshire, Maine, and Vermont.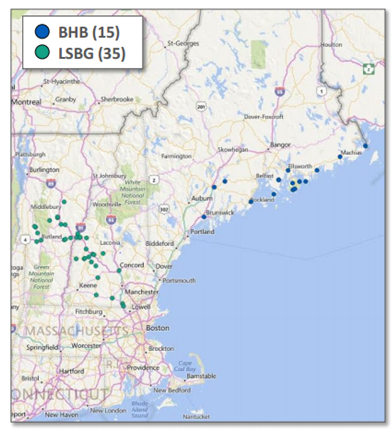 Source: BHB Investor Presentation
Loan Data
On a pro forma basis LSBG had a cost of deposits of .32% and an average yield on loans of 3.76%. Where as BHB's was .66% on cost and 3.99% on loan yields. Hopefully, BHB can leverage this new access of lower deposit cost to increase the spread for their interest income. The product mix for the type of loans will not drastically change after the merger. The majority of their loans will still be to 1- to 4-person families.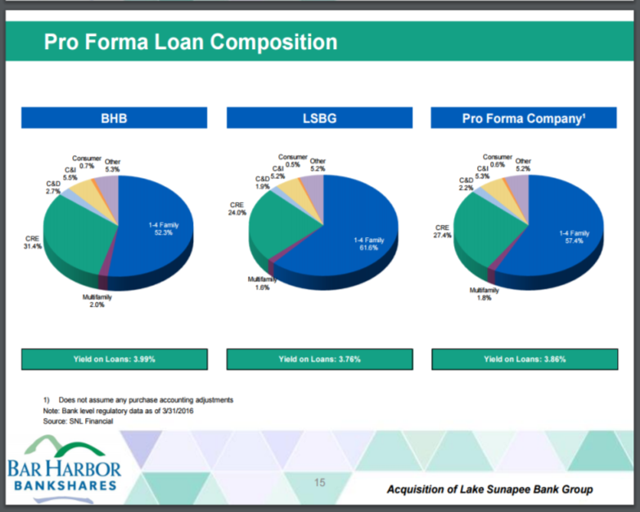 Source: BHB Investor Presentation
The combined organization will have $3.18 billion in total assets and $2.88 in total liabilities. This gives us a book value of $300 million for the combined company. With about 10.1 million shares outstanding and a book value per share of $29.70 there is some value in owning the shares before the merger. If we take the $29.70 a share book value and BHB keeps it 1.3 times book, then shares would trade for $38.61.
After the merger, BHB will be more demographically diverse and have the ability for cost synergies through the organization. They might even deserve a higher multiple. The peers above were larger banks and fetched up to 1.46 times book. If this happens, BHB shares would be worth $41.58 or a 19% upside from today's share price.
Concluding thoughts
With possible interest rates on the rise and mis-priced value before the merger, this appears to be an opportunity for the taking. Not to mention, an arbitrage play intentionally. BHB has shown resiliency through tough markets and will only become stronger after. The risk/reward factors is in our favor of owning LSBG or BHB currently.
For dividend investors, this could be a hedge against interest rate risk on consumer and defensive based dividend paying stocks. BHB offers an approximate 3% yield at current share price and the benefits of growing earnings in an increasing interest rate environment.
Disclosure: I am/we are long LSBG.
I wrote this article myself, and it expresses my own opinions. I am not receiving compensation for it (other than from Seeking Alpha). I have no business relationship with any company whose stock is mentioned in this article.