Background
American Water Works Company, Inc. (NYSE:AWK) is the largest water utility company in the United States, and is based in New Jersey. The company provides water and wastewater services, and their main competitors are Aqua America (NYSE:WTR), American States Water (NYSE:AWR), SJW Corp (NYSE:SJW), York Water Co (Nasdaq:YORW), Connecticut Water Svc Inc. (Nasdaq:CTWS), and Middlesex Water Co. (Nasdaq:MSEX), among others.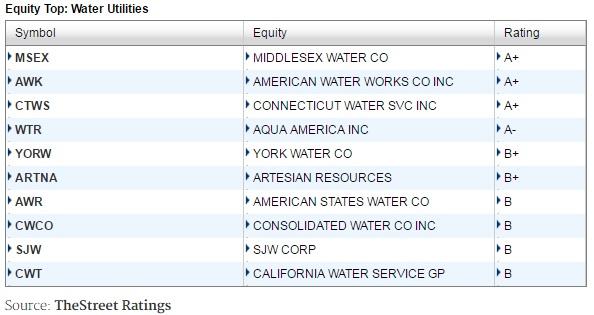 Over the past 5 years, American Water has the highest percent increase in price out of any of the water utilities on this list.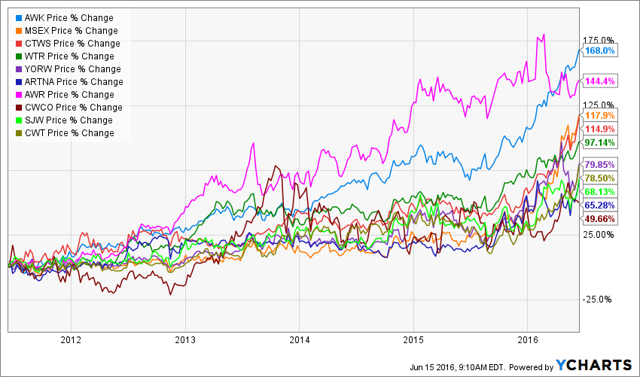 AWK data by YCharts
The stock has been hitting new all-time highs almost every day since last Monday, continuing a trend that started in December 2015. The 52-week low was 48.36 almost a year ago on 6/30/2015. The current price is around 78.02, so it is trading a few cents under its all-time high.
The company reported revenue of 3.204B for the past 12 months, which came out to be 4.151 per share. This was 6% higher than the prior year. This quarter, the company logged a net income of 477.96M. Looking forward, the consensus EPS long term growth rate is 7.19%. As of right now, American Water's P/E ratio is 29.33, compared with the industry average of 24.77. Over the past 12 months, American Water has an ROE of 9.43%, an ROA of 2.82%, and an operating margin of 33.86%. Compare this to industry averages of 8.33%, 2.99%, and 27.97%, respectively.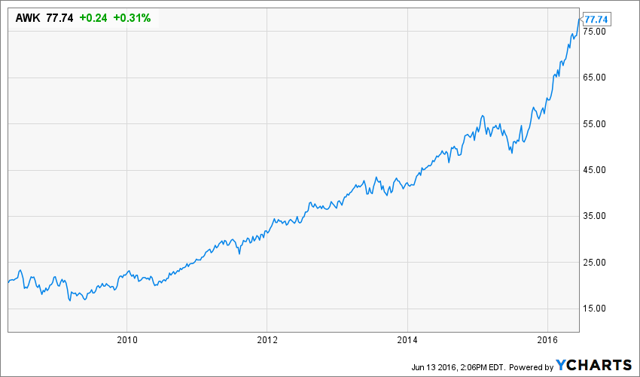 AWK data by YCharts
Now isn't that pretty?
One of America's Top Green Companies
In April, I wrote an article on America's aging water infrastructure. The main takeaways from the article are:
America's aging water infrastructure needs to be addressed, and the EPA is spearheading an effort to save our water supply.
Injection wells pose one of the biggest threats to our water security.
American Water Works has established themselves as one of the leading candidates to make the necessary improvements to the water infrastructure.
On Monday, American Water was named one of America's top green companies by Newsweek. BusinessWire, a Berkshire Hathaway (NYSE:BRK.A) (NYSE:BRK.B) company, compiled a list of their recent accomplishments with respect to the environment:
"American Water's water quality record is industry-leading. The company has consistently achieved over 99 percent compliance with federal and state drinking water standards over the past several years, and has earned more awards from the EPA's Partnership for Safe Water than any other water utility company.
American Water made a public commitment to achieve a 16 percent reduction in GHG emissions by 2017 from 2007 levels. This goal surpassed the national agenda and led the water industry. The company's total GHG emissions in 2015 (644,654 metric tons) were 24.5 percent lower than in 2007.
Over the last four years, American Water has refurbished or replaced 140 water pumps. This is expected to yield energy savings of 12 million kilowatt-hours per year and a corresponding reduction in carbon emissions of 18 million pounds per year.
In 2015, the company 30 pump refurbishment projects and through energy efficiency projects reduced energy use by 10,000 megawatt-hours (MWh).
Conservation efforts in 2015, particularly in drought stricken California - but also through the company, reduced water use by 3.5 billion gallons compared to 2014 levels.
In 2014 (the latest data available), American Water reduced its total treatment residuals (the sediment and chemical waste from water or wastewater purification) by 14.6 percent compared to 2013 levels.
American Water's research team has been awarded more than 90 competitive research grants and received five U.S. patents based on its research. In 2015, American Water invested $4.2 million for research and development activities designed to enhance services, ensure water quality and environmental compliance, and shape a more sustainable future."
And the most significant takeaway from this list? American Water is in bed with the EPA. To understand why that is important, let's take a quick look at injection wells.
Injection Wells
Over the past 30 years, the practice of injecting toxic waste deep into the ground has gained popularity. Companies have been operating under the assumption that this is safer than simply pouring the chemicals into the soil or bodies of water. A study by the EPA has shown that this may not be the case.
Federal officials maintain that the injection sites are far enough away from groundwater reserves that they pose minimal risk to our water supply. However, these same officials and many geologists admit that they do not know how many of these sites are leaking. Also, as U.S. companies ramp up fracking efforts across the country, another element of uncertainty is introduced.
The EPA recently addressed the issue by requesting $2.3B for the Clean Water and Drinking Water State Resolving Funds, with over $1B going towards replacing and repairing infrastructure. But by no means is this the first major investment in the country's water infrastructure.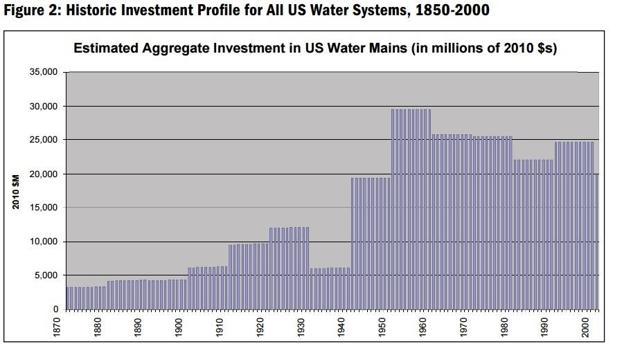 The Water Infrastructure Finance and Innovation Act (WIFIA) spearheaded by the EPA in 2014 "authorizes financing for water-related infrastructure of national or regional significance and authorizes the EPA to provide federal credit assistance to eligible entities. In FY 2016, the agency budget includes $5M to begin developing the information necessary to lay the groundwork for a WIFIA program."
Water requires more capital investment per dollar of revenue than any other utility, at 2.8x vs. electric, the next highest at 1.9x.
The EPA is going to decide how to allocate the money to repair America's water infrastructure, and it can't hurt that American Water Works is not only in compliance with Federal standards, but was the only water utility named to the top 500 green companies in America.
The scale of the necessary investments also points towards American Water as a top candidate to benefit from WIFIA. American Water is the only large-cap water utility in the country, and has the resources to make large-scale improvements more than any other water utility. The company has a massive share of the market and a wide economic moat that is being widened through consolidation.
Outlook
Now, the question becomes, does American Water's growth potential justify its current valuation? The stock is trading 44.07% above its historical multiple and has middle-of-the-road value metrics. Earnings yield is 3.4%, book to market is 0.37, and dividend yield is 1.79%. Aqua America, American States Water, SJW, California Water Service, York Water, and almost every other competitor has an earnings yield in the 2.75-4% range, a book to market of 0.3-0.4, and a dividend yield around 2%.
Rising Tide and Choppy Waters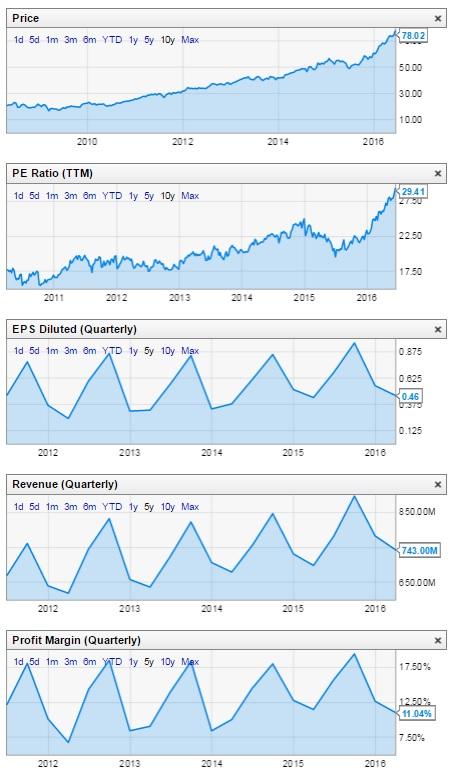 American Water Works is scheduled to report earnings after market close on 8/3/2016. Consensus estimates have the company on the hook for 0.73 per share on revenues of 834.15M. This will be a increase of 59% over this past quarter's 0.46 per share, and a 6.65% increase in revenue if the estimates are correct. A 59% increase may sound high, but because of the cyclical nature of this business, American Water has reported higher earnings in the second quarter than the first quarter every year since 2010.
Conclusion
While I like American Water long term, I think that the company may be a little overvalued right now. Personally, I believe in the growth potential of this company so much that I still think it is a buy. However, I would not be surprised if there was a dip in the price in the short term to adjust for what seems to be somewhat of a ballooning of the share price.
If you are looking for an alternative, I would check out either SJW or, a company I have not mentioned yet, Artesian Resources (Nasdaq:ARTNA), which provides water and wastewater services to the Delmarva peninsula. The company has markedly strong fundamentals, and seems to be trading at a good price right now. I did not mention them as a direct competitor to American Water, but they do service areas in Delaware, Maryland, and Virginia not covered by American Water.
Disclosure: I/we have no positions in any stocks mentioned, and no plans to initiate any positions within the next 72 hours.
I wrote this article myself, and it expresses my own opinions. I am not receiving compensation for it (other than from Seeking Alpha). I have no business relationship with any company whose stock is mentioned in this article.