Basic information
Price: 153.08 Market cap: $116.5B PE: 16.2
Amgen (NASDAQ:AMGN) is one of the largest biotech companies in the world. Their history spans more than 30 years with the first significant product being Neupogen introduced in 1991. US represents 79% of their sales, while 21% comes from other regions primarily Europe and Japan.
Major products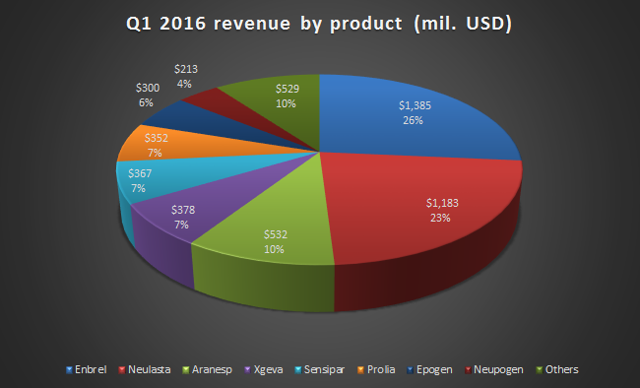 Almost 50% of revenues come from 2 products, Enbrel and Neulasta.
Enbrel blocks a certain protein, which can cause the immune system to perceive healthy cells as a threat and attack them. It's used to treat rheumatoid arthritis and psoriasis.
Neulasta is for patients with certain types of cancer (non-myeloid), and reduces risk of infection after chemotherapy. This cancer treatment can reduce the number of white cells, weakening the immune system.
Amgen successfully prolonged certain patents on Enbrel until 2029 in the US, while in Europe a competing drug from Biogen Idec (NASDAQ:BIIB) has already entered the market. Distribution license in Europe is held by Pfizer (NYSE:PFE), so this won't affect Amgen's sales.
US patents on Neulasta already expired last year, and Sandoz (Novartis) has already filed for the approval of its biosimilar version in the US and EU. Amgen has accused the company of infringing its patents and a court battle is ongoing. They can delay biosimilar competition, but it will enter the market eventually.
I believe both products will continue to generate significant cash flows, although analysts are predicting declines for Neulasta after 2017.

Financial results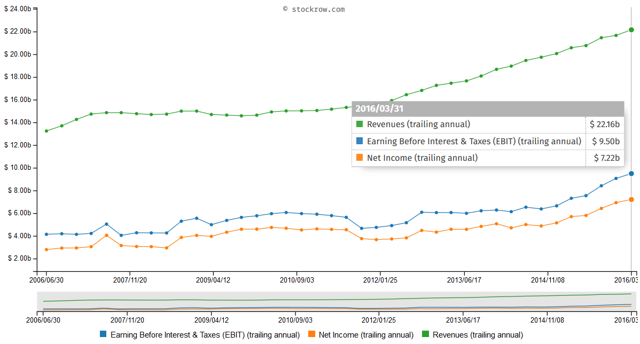 Margins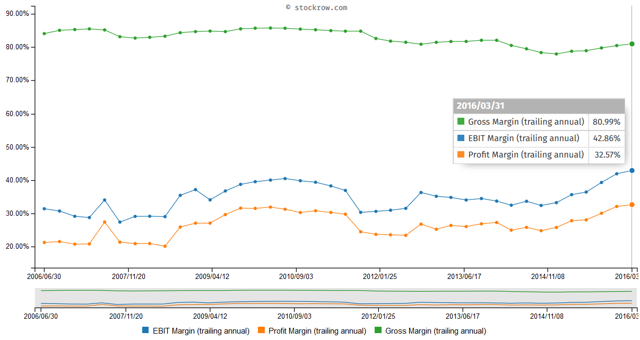 Amgen's trailing revenues reached a record 22.16 billion USD, rising 10% in the latest quarter. Net income of 7.2 billion USD also represents an all-time high for the company, increasing 17% in Q1 2016. In 2015, revenues from all major products increased except for Epogen and Neupogen, which were down 9%. Margins are on the rise across the board since 2014, and that's mainly due to decreasing SG&A and R&D expenses.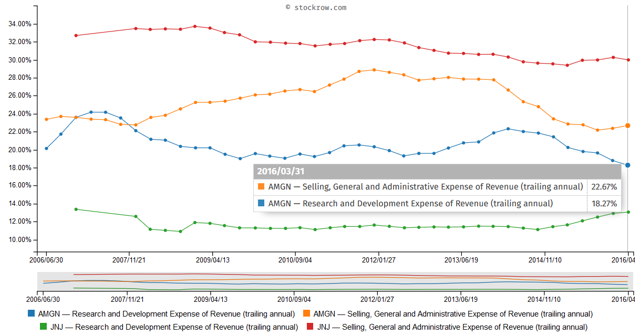 Comparing Amgen to one of their competitors Johnson & Johnson (NYSE:JNJ), we can see that AMGN spends a much higher share of revenues on R&D expenditures. In fact, Amgen is one of the top companies in the industry measured by R&D expenses: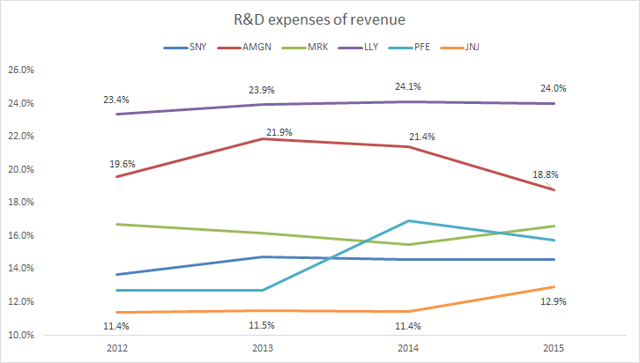 Source: 10-k reports
In recent years, they took on some debt to finance acquisitions and intangible assets grew considerably. It's not a big worry right now, as the company has around $35 billion in cash and marketable securities, plus it generates sufficient operating cash flow to pay down interest bearing obligations gradually.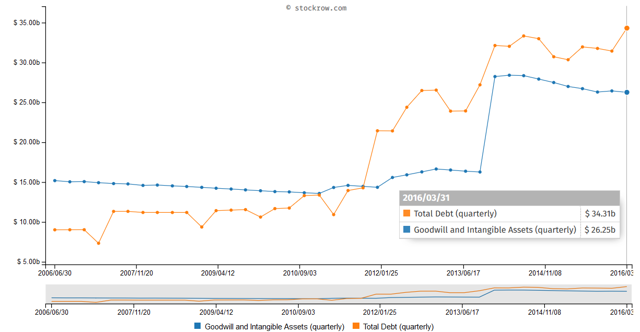 Biosimilars
Biosimilars are a new kind of generic drugs. Traditional generics are created through chemical processes and directly copy existing drugs, whose patent protection has expired. The generic company has to prove to regulators that its drug has the same side effects and chemical composition as the original product. They are cheaper to develop and market since the huge R&D costs have already been paid. As a result, generics usually cost 70-90% less than branded drugs.
Biosimilars are basically generics based on living organisms. It is difficult to manufacture the same biologically-based drug, and so even after their patents have expired, they usually enjoy strong market share. FDA and European regulators have in the past abstained from approving such drugs, because you can't create the same organism, as such it's hard to prove whether the effects of a biosimilar are the same as the branded drug.
Rising costs in healthcare have changed this and the first biosim from Sandoz (Novartis) entered the market in September 2015. It is a copy of Amgen's Neupogen and quickly reduced AMGN's market share to 76%.
Legislation around biosimilars is still evolving and companies are careful with investments in this area. Also, when approving Zarxio, the FDA announced that it is a similar but not an identical drug to Neupogen. Doctors and patients might therefore be hesitant to accept new biosims until there is more research and their effects are clearly demonstrated. Companies like Sandoz and Amgen will have to increase their marketing spending to get these drugs on the market.
Developing biosimilars is still quite costly, and their expected discount from branded drugs is around 20-30%. In addition, the FDA grants a 12-year period of exclusivity to new biologic drugs to protect original research and development.
Europe leads the biosimilar revolution with 29 drugs in development, the US is second with 19 followed by 7 in Japan. There is also a large potential in emerging markets, where biosims can decrease costs of branded drugs, which are in some cases unavailable due to their high price. Sandoz, Teva Pharmaceutical (NYSE:TEVA) and Hospira (NYSE:HSP) are currently leading the market. According to Deloitte, biosims could generate savings of 40-250 billion USD for the US economy in the next 10 years.
Amgen's future potential
The company currently develops 6 biosimilars, and the first one called ABP 501 will be reviewed by FDA in September this year. It is a copy of AbbVie's (NYSE:ABBV) Humira, which is one of the best selling drugs in the US and brought 12.5 billion USD in 2015 alone. Both companies are currently engaged in a court battle, Amgen is challenging their patents, which run until 2022.
AMGN is working with Allergan (NYSE:AGN) on 4 oncology biosims that would copy branded drugs Erbitux (Eli Lilly), Avastin, Herceptin and Rituxan (Roche (OTCQX:RHHBY)). On their own, Amgen is developing a competing biosim to Remicade from Johnson & Johnson (NYSE:JNJ).
In march this year, the court has awarded the company 2 patents on Repatha, a new treatment for lowering LDL-cholesterol. It was developed and launched in a similar period like Sanofi's (NYSE:SNY) Praluent, and Amgen claimed Sanofi infringed on its patents. By winning the latest court battle, AMGN will probably receive 5-20% royalties from sales of Praluent. Analysts have estimated that both drugs will bring billions in revenue, but their adoption has been very slow so far and Repatha generated only $16 million in sales in Q1 2016.
If at least one of their biosimilar candidates is successful, it could bring billions of dollars in revenue per year. In addition to this, the company is developing 25 new drugs and has plenty of cash to acquire promising companies.
Last year alone, Amgen won approvals for six new drugs - four cancer drugs, including Kyprolis, Imlygic, Vectibix, and Blincyto and two heart drugs, Repatha and Corlanor.
Kyprolis used against multiple myeloma and small-cell lung cancer, generated sales of $154 million in 1QFY16. Vectibix, a human monoclonal antibody, took in $144 million, while BLINCYTO - used for treating patients with Philadelphia chromosome-negative relapsed or refractory B-cell precursor acute lymphoblastic leukemia - had sales of $27 million in the latest quarter.
Management and governance
CEO and Chairman of the Board is Robert Bradway, a former Morgan Stanley banker who joined Amgen in 2006 as vice president, Operations Strategy. He was paid $16.1 million in USD in total compensation, and that's actually the lowest number among his peers:

Source: Morningstar.com
Executive compensation is very individual and depends on internal company targets, but given how Amgen has grown its free cash flow, revenues and dividends, Mr. Bradway appears to deserve it. The total payout is not excessive compared to others in the industry. As of March 25th, 2016, he owned 344,887 shares with current market value of $53 million.
One way of judging management effectiveness is to test the return on retained earnings. Warren Buffett once wrote: "Unrestricted earnings should be retained only where there is a reasonable prospect - backed preferably by historical evidence or, when appropriate by a thoughtful analysis of the future - that for every dollar retained by the corporation, at least one dollar of market value will be created for owners. This will happen only if the capital retained produces incremental earnings equal to, or above, those generally available to investors."
Since the end of 2010 until the end of 2015, Amgen has produced $25.2 billion in net earnings, and paid out $7.3 billion in dividends, thus reinvesting $17.9 billion back into the business. Their market cap has risen from $52 billion to $116.5 billion, producing $64.5 billion in value for shareholders or a 260% return on retained earnings. Another way to look at it is that net income went from $4.6 billion to $6.94 billion in 5 years and $17.9 billion was spent to do it, generating a 13% return. Either way, Amgen's management passes the test as efficient capital allocators.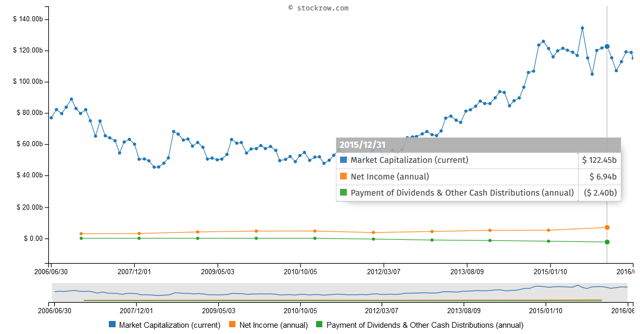 Valuation
Amgen's sales CAGR over the past 8 years (2007-2015) has been 5%. Competition is getting tougher but I believe the company is well prepared for it and can grow at least the same like before. My estimated discount rate for AMGN is 7-9%. Although the company grew their sales and net income, I have used 3 scenarios with different growth rates (2.5% to 7.5%), with a terminal growth rate of 2%.

I like to be more conservative so I used their average free cash flow in the past 3 years, which is $7.4 billion. We can see that even under more strict assumptions, Amgen still offers considerable value. Given the large potential of their pipeline, I am more inclined towards 5-7.5% growth in the next 10 years with an 8% discount rate. Current market cap is 116.5 billion USD, implying 25-50% upside.

Their P/E ratio and EV/EBITDA are below historical averages: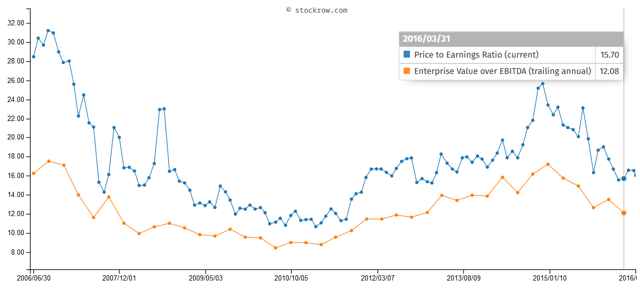 Investment risks
Competition in the biotech industry has increased significantly with the introduction of biosimilars. It's a double-edged sword. On one hand, they bring additional revenues, on the other, legacy drugs start quickly losing market share after patents expire. Epogen, Neulasta and Neupogen will surely see declining sales in the not too distant future. Their R&D efforts might fail to produce any blockbuster drugs.
According to their 10-K, Amgen believes that governments around the world will take aggressive actions to reduce their healthcare expenditures. That means they will demand higher discounts, more disclosure on positive effects of treatments and lower reimbursements from prescriptions.
From their 10-K: "Some EU countries have adopted biosimilar uptake measures such as requiring physician prescribing quotas or promoting switching or pharmacy substitution of biosimilars for the corresponding reference products, and other countries may adopt similar measures. Some EU countries may impose automatic price reductions upon market entry of the second or third biosimilar competitor." This is both a risk and an opportunity as their new products should have an easier way to market.
The majority of their products are manufactured in Puerto Rico and California. Any disruption at these two sites would negatively affect their revenues.
Summary
Amgen is one of the best biotech companies around, with a diversified product portfolio and solid management track record. I believe their stock is currently undervalued by 25-50% and possibly more if their pipeline delivers strong results. The company currently pays a 2.6% dividend and grew profits by 17% in the first quarter. Famous activist investor Dan Loeb owns 3 million shares, value investor Mike Burry has put 11.7% of Scion Asset Management's capital in the stock.
While there are risks with their R&D efforts, I think the company is well prepared for the coming biosimilar revolution and expected cost cuts by governments.
Disclosure: I am/we are long AMGN.
I wrote this article myself, and it expresses my own opinions. I am not receiving compensation for it (other than from Seeking Alpha). I have no business relationship with any company whose stock is mentioned in this article.