Sprouts Farmers Market (NASDAQ:SFM) is one of the fastest retail grocers in the U.S., if not the fastest for its public peers. Whole Foods Market (WFM) has been a tremendous growth story since the company went public during 1992. Recently, growth has slowed and profits have waned as the stock price has been stuck near the low $30/share area over the past four and a half years.
As part of a strategy to improve growth, Whole Foods has decided to develop and implement a new store concept named 365 Whole Foods Market. Many analysts have already weighed in with mixed reviews. Some have assumed that these new stores will offer a direct competitive impact to Sprouts over the long-term, while others have questioned such an aggressive move and expressed concerns regarding success.
To the point of competition, Sprouts diligently assesses competitive factors for its stores. This is performed by the logical steps of assessing each store's performance as a new competitor enters the market within specified distances to the existing store. Performance is analyzed against major store opening periods and other promotional dates versus normalized operational periods to fully assess whether any impacts have been sustained.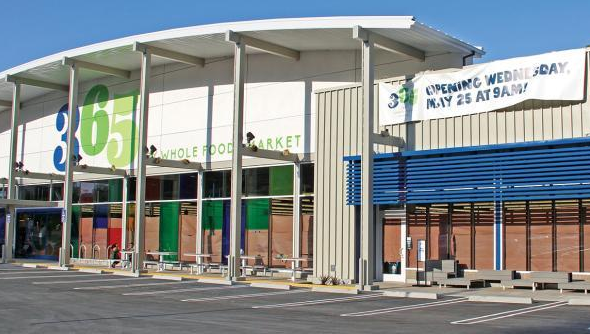 Whole Foods Market 365 store, Silver Lake Los Angeles
The fact that Whole Foods 365 stores will be roughly the same square footage, nearly 30,000 square feet, and provide aggressively priced products, has been the cause for some to speculate that these new stores are a direct threat to Sprouts.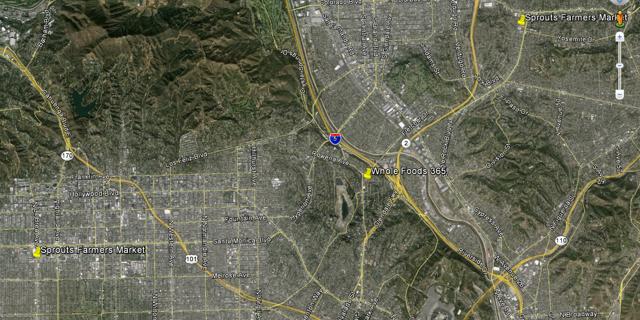 Image courtesy of Google Earth
This risk and concern is deeply shared by Sprouts. The map above displays the location of the first Whole Foods 365 store which has been open a few weeks as seen in the picture above. There are two Sprouts stores to the west and east, with distances of roughly 6.8 and 3.8 miles respectively by the most direct street route.
The average annual household for Silver Lake, a community in Los Angeles just northeast of Hollywood, was just below $70,000. This 365 store is almost directly between two existing Sprouts stores in a community right in the sweet-spot for a typical Sprouts shopper basket profile.
It should also be noted that just across the way to the west is a Trader Joe's. There are regular grocery stores and other specialty stores including Lassens Natural Food and Vitamins among others with close proximity. These dynamics speak to the existing competitive factors and risks for the 365 store in addition to Sprouts.
Whole Foods currently has Sprouts beat in this area of Los Angeles with 7 regular stores and the new 365 store, versus 5 stores for Sprouts. With Sprouts already outnumbered by stores with a closer proximity, Whole Foods' initial placement of this 365 store suggests a clear testing against Sprouts. But to the opposite viewpoint, committing to opening stores and lease agreements could be construed as aggressive and somewhat risky.
The other announced 365 stores will be appearing in Oregon and Washington, two states where no Sprouts currently exists. Whether good or bad for Whole Foods, this test is going to have operational impacts to the business. It will also have implications that will be digested by Sprouts and possibly used to their advantage. If Sprouts is able to compete strongly in Los Angeles, this may allow for further expansion opportunities in states targeted by 365 stores.
As Whole Foods is more mature than Sprouts, the company has currently witnessed a lagging growth phase. Whole Foods comparable store, transactions and basket size growth all declined during the first quarter weighing on sales growth. One quarter does not make a trend, but analyst estimates for Whole Foods call for sales growth of 3 and 6 percent over the next couple of years, with profit growth of only 3 percent per year.
Sprouts has continued to grow its top-line and bottom-line at a much more rapid clip than Whole Foods with first quarter growth near 16 and 26 percent respectively. Estimates for Sprouts include sales growth of 16 and 17 percent over the next couple of years, with profit growth near 17 percent per year. Sprouts currently trades under 20 times 2017 earnings on an adjusted basis. This valuation is lower than what is current for Whole Foods.
Sprouts management confirmed that the company is on track to add 36 new stores this fiscal year, of which 11 were added during the first quarter and 3 through early May. The company's pipeline remains strong with 53 approved sites and 43 signed leases to continue to dive near-term sales growth. New store productivity has performed well and the reduced sales guidance has been mostly attributed to deflationary pressure.
Competition is definitely a risk that investors should keep an eye on. Whole Foods has talked a lot about lowering prices and focusing on produce product offerings. The company is focused on upgrading its payment infrastructure as well as integrating other operations to reduce costs and enhance margins. Digital coupon offerings and social media interfaces are also a high priority for customer relationship and engagement.
These are areas where Sprouts too is pushing the envelope. Being a part of Prime Now from Amazon.com (NASDAQ:AMZN) has pitted the company against Whole Foods' alliance with Alphabet's (NASDAQ:GOOG) Google Express, as being intertwined with far consumer-reaching ecosystems has become important.
Combined with the new 365 store new entrants such as ALDI and others could give investors some cause for concern regarding a more constrained market based upon an oversupply of price-competitive healthy products. The fact remains that nearly 60 percent of Sprouts' consumers are coming from traditional grocers.
The ability to continue to take market share over time suggests that mid-term growth will continue for fresh, natural and organic focused grocers for both companies. This is a phenomenon due to the confined position traditional grocers find themselves with less healthy products from some of the largest global brand names in the food and beverage industries.
Based upon growth prospects and current stages of business cycles, it would appear that Sprouts' current stock price decline has created a stronger buying opportunity for investors with long-term investment horizons.
Disclosure: I am/we are long SFM, AMZN.
I wrote this article myself, and it expresses my own opinions. I am not receiving compensation for it (other than from Seeking Alpha). I have no business relationship with any company whose stock is mentioned in this article.