This article is about AngloGold Ashanti Limited (ADR) (NYSE:AU), a South African based gold mining company with operations in nine countries and with a portfolio of 17 mines.

The company operates through four segments: South Africa, Continental Africa, Australasia and Americas.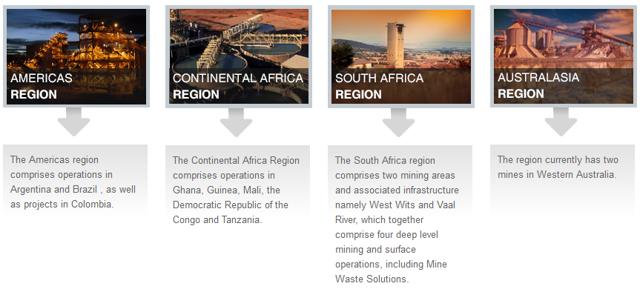 Source: www.anglogoldashanti.com/
Recently one of the AngloGold Ashanti's mines in Continental Africa, Iduapriem (Ghana) has been object of interest expressed by Gold Fields Limited (ADR) (NYSE:GFI). Iduapriem is a 110 km2 concession situated approximately 70 km North of Takoradi city and approximately 10 km southwest of the Tarkwa mine that belongs to GoldFields. At Iduapriem about 30% of gold is recovered by a gravity circuit and the rest by the carbon-in-pulp (CIP) plant.
Iduapriem, Continental Africa segment and total operating figures:
As you can see from the picture below, Iduapriem produced 46k oz. gold in Q1 2016, a 18% decrease from the previous quarter and a 15% increase from the same quarter of the year before:

Source: www.anglogoldashanti.com
In the first quarter of 2016 total cash costs and AISC sustained at Iduapriem were respectively 992$/oz. and 981$/oz., higher than total cash costs and AISC of the continental Africa segment and of total continuing operations.
The adjusted gross profit at Iduapriem ranged between 3% and 8% of the total continental Africa segment.
The sale of Iduapriem may be a smart move given the fact that AngloGold Ashanti is facing challenges in Ghana:
"If you look at the Ghanaian environment, it is not easy to operate there." said Sibonginkosi Nyanga, a Johannesburg-based analyst at Momentum S.P. Reid.
Idriapriem is located approximately 150 kms south of Obuasi where due to the Ghanaian failure to protect AngloGold Ashanti's operations from illegal mining activities, the miner filed a dispute with Ghana at the International Centre for Settlement of Investment Disputes.
AU said that the disruptions would have no effect on the company's output or costs since the mine was not forecasted to operate this year.
AngloGold Ashanti continues to work closely with the Government of Ghana to conclude a suitable investment agreement for the redevelopment of Obuasi. The miner is undertaking the feasibility study needed to determine whether the mine can be redeveloped into a profitable, productive operation that can once again be a significant employer and contributor to the local, regional and national economies in Ghana. Once concluded, the search for a suitable joint venture partner will resume [talks with Randgold Resources (NASDAQ: GOLD) fell apart in December], but AU warns it may consider its options as an investor if the illegal takeover continues. (Read here).
Operating and financial highlights:
Free cash flow was $70m for the quarter, a strong improvement to the free cash outflow of $40m in Q1 2015. Production was 861,000 oz at an average total cash cost of $702/oz. Total cash costs of $712/oz - 9% lower year-on-year. All-in sustaining costs were $860/oz, a 7% improvement year-on-year. Net debt lower at $2.127bn compared to $2.190bn in the previous quarter. The outlook for the full year remains unchanged and within previous guidance range ( here).
Despite lower production (-11% compared to Q1 2015) and lower gold price, AngloGold Ashanti delivered a consistent operating and financial performance for the first quarter of 2016.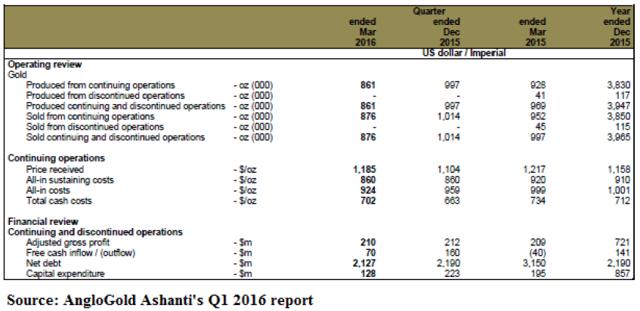 The miner reported quarterly Q1 adjusted EBITDA of $378M, a decrease of 6% from $402M of Q1 2015. The decrease in the EBITDA was mainly due to lower earnings as a result of a 3% decline in the realized gold price from $1,217/oz to $1,185/oz and an 8% reduction in ounces sold over this period. Adjusted EBITDA for the previous quarter was $388M.
My point of view:
According to the news quoted GoldFields is interested in buying one of the Anglogold Ashanti's mines in Ghana, Iduapriem. I think that this may be a smart move from the south African based gold producer since the sale will cut operating costs, will not negatively affect the production of gold and will reduce the country risk profile of the company since Anglogold Ashanti is facing challenges in Ghana.
AngloGold Ashanti is proving to be a good player in the mining industry: despite a lower-than-average gold price the company was able to cut operating costs and generate the cash flow to reduce the debts and therefore improve its financial situation.
Disclosure: I/we have no positions in any stocks mentioned, and no plans to initiate any positions within the next 72 hours.
I wrote this article myself, and it expresses my own opinions. I am not receiving compensation for it (other than from Seeking Alpha). I have no business relationship with any company whose stock is mentioned in this article.