An infamous bank robber tuned celebrity, Willie Sutton, was once asked by a reporter as to why he robbed banks. "Because that's where the money is", Sutton replied. This is an obvious answer to an obvious question which just might also be good investment advice. Not that you should become an infamous bank robber, mind you, but rather, invest where the money is. There are plenty of ways to choose from financial sector funds; insurance or banking for instance. However, there's one way to invest in the financial sector that's off the well-worn path. It's through BlackRock iShares US Broker Dealers & Securities Exchanges ETF (NYSEARCA:IAI).
First off, the fund has just over $100.5 million in net assets with 2.6 million shares outstanding. The average 3 month daily trading volume is just under 40,000 shares per day and the market shares currently trade near par with its Net Asset Value. The fund is passively managed and tracks the Dow Jones US Select Investment Services Index. According to Dow Jones:
The index represents the Investment Services Subsector... ...To be included in the index, stocks must meet minimum size requirements based on market capitalization... ...Component weights are capped for diversification... [The] Index was first calculated on April 28, 2006...
The fund achieved its all-time high of $57.86 in June of 2007 but the price collapsed along with the financial sector from about October of 2007 through February of 2009 to its all-time low of $17.06; a teeth chattering 70.5% decline. Since the 2009 low the fund has regained lost ground to its current $38.71; a 126.9% reversal. This is an important observation to make note of. As the chart demonstrates, these select financials recovered from the credit crisis, struggled through several EU banking crises, Asian market turmoil, the unwinding of the US Fed's asset purchase program and all the while in a very low global interest rate regime. Before the crisis, when the economy was going full throttle, these very select institutions raked in the dough and market prices responded. Now, after an eight year stretch, these financial institutions have shown what they are made of and fund has recovered well over 75% of its all-time high price.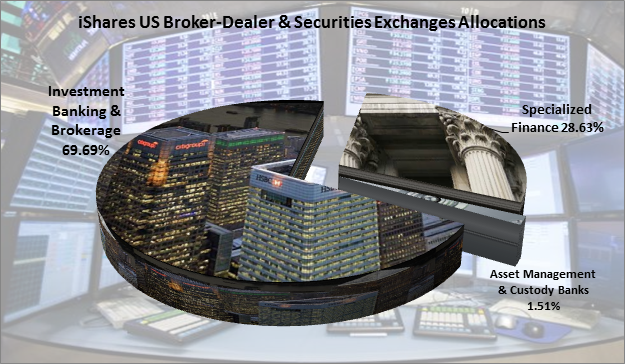 Data from BlackRock
The Fed is in the process of normalizing lending rates, employment has nearly reached full capacity and with low inflation. It seems that the US will lead the rest of the advanced economies out of their lackluster economies. It still may take some time but eventually the down cycle will have run its course and the financial sector will again be at full throttle. This is why investors with a long term horizon and a sector focused ETF strategy should consider accumulating [IAI].
| | | | | |
| --- | --- | --- | --- | --- |
| Performance | 1 Year | 3 Year | 5 Year | From 5/1/2006 Inception |
| Market Share Price | -11.05% | 11.97% | 6.42% | -1.21% |
| Dow Jones DJSINVT Index | -10.76% | 12.32% | 6.74% | -0.94% |
| Total Return | -11.05% | 11.97% | 6.42% | -1.20% |
Data from BlackRock
The performance table demonstrates that over the past year the fund has had poor returns and similarly has returned hardly anything since its 2006 inception date. The investor must look past the pre-crisis 'boom' years and focus on the post crisis years. In particular, note the 3 year and 5 year returns. In order to understand the potential returns the investor needs to consider that the fund has done well even through some very volatile, chaotic years.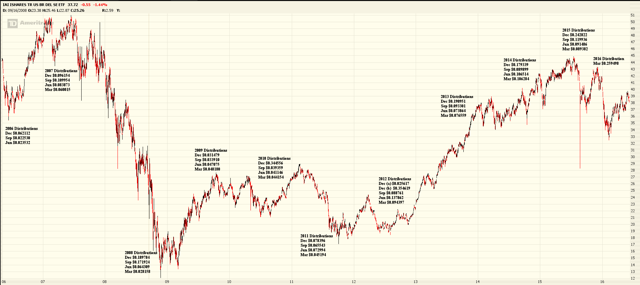 The fund has a mere 25 holdings although they are indeed 'select' financials with market caps ranging from $351 million through $66.5 billion. The heaviest weightings are industry powerhouses.
$10 to $67 Billion Market Cap

Total Weight

Market Cap

(in US Dollar Billions)

Yield

Dividend

Div/

Cash Flow

P/E

P/B

Institutional Interest

GOLDMAN SACHS

(NYSE: GS)

11.26%

$66.520

1.64%

$0.65

4.917%

17.97

0.93

77.90%

MORGAN STANLEY

(NYSE: MS)

9.36%

$50.847

2.29%

$0.15

1.679%

11.52

0.74

57.96%

CHARLES SCHWAB

(NYSE: SCHW)

8.53%

$36.087

1.03%

$0.07

0.328%

24.77

3.01

80.50%

INTERCONTINENTAL

EXCHANGE (NYSE: ICE)

8.53%

$30.733

1.32%

$0.85

4.916%

22.13

2.04

98.16%

CME GROUP

(NASDAQ: CME)

8.13%

$31.453

2.58%

$0.60

2.889%

24.46

1.50

80.49%

TD AMERITRADE

(NASDAQ: AMTD)

4.47%

$15.020

2.39%

$0.17

1.141%

18.55

3.13

49.40%

NASDAQ INC

(NASDAQ: NDAQ)

4.39%

$10.534

2.00%

$0.32

0.402%

19.78

1.85

79.58%

INTERACTIVE BROKERS

(NASDAQ: IBKR)

2.67%

$15.037

1.08%

$0.10

0.360%

24.82

2.63

86.54%

Averages

57.34%

$32.029

1.79%

$0.36

2.08%

20.50

1.98

76.32%
Data from Reuters and YaHoo!
Arguably the most recognizable 'brand' name in the financial world, Goldman Sachs leads the large cap houses with a fund weighting of 11.26%. Goldman's function in financial markets includes financial consulting, financing, asset management and underwriting, wealth management, capital investment and product innovation. Similarly, the second heaviest weight holding, Morgan Stanley weighted at 9.36%, provides wealth management, investment banking and capital market services, as well as in depth research on commodities, currencies, companies and regional markets. These two integral components of the US financial system comprise just over 20.5% of the fund.
The remainder of the large cap holdings includes the so called 'discount brokers'. To be fair they might be more appropriately called mid-level investment and financial services companies, like TD Ameritrade . These companies not only provide discount trading commissions, but research, advanced trading platforms, trading support, retirement planning and account services such as debit cards, check writing, deposits, withdrawals, transfers, tax forms and detailed account statements.
Conspicuous by its absence in this top tier is the firm of JP Morgan Chase (NYSE: JPM). It should be noted that JPM does specify wealth management and brokerage services on its website and its $236 Billion dollar market cap clearly puts it with the major league players, but again, the fund is merely replicating the Dow Jones Broker-Dealer Index.
Lastly three major exchanges are held by the fund in this large cap group: Intercontential Exchange , CME Group and NASDAQ Inc. .
It's worth noting here that according to the US Securities and Exchange Commission there are 19 registered 'Securities Exchanges', four Futures registered Exchanges and 10 Electronic exchanges in the US. In the past 10 years, the security exchange industry has experienced consolidation as well as some new entrants in the industry. One notable example of consolidation is that of the New York Stock Exchange. The NYSE went public in 2006 when it merged with Archipelago. About a year later the NYSE merged with Euronext forming the first transatlantic stock exchange. However, ICE, also a fund holding acquired the merged NYSE-Euronext and the NYSE is now a subsidiary of ICE. Hence, the potential for future mergers and consolidation should be considered.
In total, the large caps comprise nearly 60% of the fund; have an average market cap of $32 billion, an average yield of 1.79% and an average dividend of $0.36 per share representing, on the average, just 2.08% of cash flow.
$2.3 to $4.6 Billion Market Cap

Total Weight

Market Cap

(in US Dollar Billions)

Yield

Dividend

Div/

Cash Flow

P/E

P/B

Institutional

Interest

RAYMOND JAMES

(NYSE: RJF)

4.59%

$7.175

1.58%

$0.20

1.474%

15.47

1.57

74.96%

E*TRADE

(NASDAQ: ETFC)

4.48%

$6.949

0.00%

$0.00

0.000%

19.20

1.21

98.91%

CBOE HOLDINGS

(NASDAQ: CBOE)

3.80%

$5.136

1.46%

$0.23

1.163%

24.66

20.76

77.83%

MARKETAXESS HOLDINGS

(NASDAQ: MKTX)

3.77%

$4.713

0.83%

$0.26

0.657%

47.04

11.49

97.80%

LAZARD LTD

(NYSE: LAZ)

3.42%

$4.384

4.50%

$0.38

9.005%

4.51

3.67

82.33%

LPL FINANCIAL

(NASDAQ: LPLA)

2.83%

$2.136

4.17%

$0.25

3.281%

13.80

3.00

NMF

STIFEL FINANCIAL

(NYSE: SF)

2.77%

$2.079

0.00%

$0.00

0.000%

26.47

0.84

85.64%

EVERCORE PARTNERS

(NYSE: EVR)

2.62%

$2.199

2.47%

$0.31

1.248%

50.69

4.73

94.59%

BGC PARTNERS

(NASDAQ: BGCP)

2.34%

$2.472

7.06%

$0.16

2.289%

19.24

3.53

54.05%

Averages

30.65%

$4.138

2.45%

$0.20

2.12%

24.56

5.64

83.26%
Data from Reuters and YaHoo!
The Chicago Board of Options exchange is also in the fund. It commonly called the CBOE and has a far smaller market cap at just over $5 billion. Thus it places as a mid-cap holding. Along with the CBOE are found smaller but no less name recognizable investment and wealth management advisors such as Evercore Partners , Lazard Ltd and Raymond James .
The midcap holdings account for just under 31% of the total fund with an average market cap of $4.138 billion, an average yield of 2.45% and an average dividend of $0.20 per share which represents an average of 2.12% of cash flow; i.e., comparable to the large caps. Lastly it's worth noting that the mid-caps are held by over 83% of institutional investors. The mid-caps are smaller companies but no less impressive than the large caps in services and metrics.
$357 million to $1.2 Billion Market Cap

Total Weight

Market Cap

(in US Dollar Billions)

Yield

Dividend

Div/

Cash Flow

P/E

P/B

Institutional Interest

KCG HOLDINGS

(NYSE: KCG)

1.89%

$1.134

0.00%

$0.00

0.000%

6.11

0.85

87.61%

INVESTMENT TECHNOLOGY

(NYSE: ITG)

1.53%

$0.621

1.50%

$0.07

1.308%

8.90

1.40

90.34%

MOELIS & CO

(NYSE:MC)

1.52%

$1.402

4.42%

$0.30

2.752%

16.99

8.40

81.35%

DIAMOND HILL

(NASDAQ: DHIL)

1.51%

$0.607

2.81%

$5.00

30.902%

16.35

10.65

57.05%

GREENHILL & CO

(NYSE: GHL)

1.48%

$0.605

8.88%

$0.45

1.928%

28.54

2.24

NMF

PIPER JAFFRAY

(NYSE:PJC)

1.38%

$0.639

0.00%

$0.00

0.000%

15.66

0.65

69.06%

INTL FCSTONE

(NASDAQ: INTL)

1.36%

$0.497

0.00%

$0.00

0.000%

9.07

1.23

63.89%

COWEN GROUP

(NASDAQ: COWN)

1.18%

$0.351

0.00%

$0.00

0.000%

0.00

0.45

95.60%

Averages

11.84%

$0.732

2.20%

$0.73

4.61%

12.70

3.23

77.84%
Data from Reuters and YaHoo!
The holdings in the small cap group are no less interesting than the larger market cap holdings. For example, the top small cap, KCG Holdings specializes in high frequency trading. Another specialized firm Investment Technology , which provides a hedge fund trading platform. It's important to note here that the original purpose of HFT and hedge fund platforms were to provide anonymity for block trades. These firms would 'shuffle in' large block trades with regular market activity so as not to 'tip-off' other traders. Smaller companies such as Moelis & Co. provided merger and acquisition guidance, restructuring and recapitalization strategies and private fund advisor services.
The small caps hold a significant weight of the fund, but not overly risky at just about 12%. Interestingly, the small cap group has a positive yield based on the four companies which pay a dividend, a low P/E when compared to the mid and large caps and a very respectable institutional interest at 77.84%.
Summary Table (Averages of Fund Holdings)

Market Cap ($ Billions)

Yield

Dividend

Div/

Cash Flow

P/E

P/B

Institution Interest

Averages

$11.973

2.16%

$0.42

2.91%

19.47

3.70

76.32%
Data from Reuters and YaHoo!
To sum up, the fund is well diversified by containing the 'heavy weights' of investment banking and security exchanges, as well as mid-wealth trading platforms and services and the more specialized small cap investment advisors and platforms. The average market cap of the holdings is $11.973; average yield, 2.16% and average dividend, $0.42 representing an average 2.91% of cash flow. The averages give a good indication of the potential for dividend growth among these holdings.
The fund does present some risks which cascade down from the large cap financial services companies. This was evidenced by the collapse of mortgage backed securities, collateralized debt obligations as well as their intricately linked credit default swap backing. Keep in mind that, as noted above, the fund was incepted at the height of what seemed like a golden age for investment banks. This is another point to ponder. After having suffered unimaginable losses, having had several industry leaders collapse into financial oblivion, having had governments on the hook for tens of trillions and lastly, having to still deal with the aftershocks eight years later, well, it may be safe to assume that new government regulations and internal company controls will prevent another such disaster from occurring for decades to come.
Hence, this fund presents an opportunity to capitalize on the next iteration of global banking. It still may be years in coming, but might be worth the wait. After all, that's where the money will be.
Disclosure: I/we have no positions in any stocks mentioned, and no plans to initiate any positions within the next 72 hours.
I wrote this article myself, and it expresses my own opinions. I am not receiving compensation for it (other than from Seeking Alpha). I have no business relationship with any company whose stock is mentioned in this article.
Additional disclosure: CFDs, spread-betting and FX can result in losses exceeding your initial deposit. They are not suitable for everyone, so please ensure you understand the risks. Seek independent financial advice if necessary. Nothing in this article should be considered a personal recommendation. It does not account for your personal circumstances or appetite for risk.