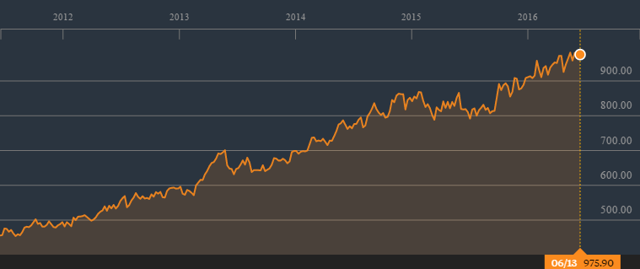 Source: Bloomberg. National Grid's price chart 2012-2016.
National Grid in brief
National Grid (NYSE:NGG), like any other utility company, is aiming to be a low risk business that focuses on generating shareholder value through dividends and asset growth. They are one of the world's largest publicly traded utility company valued at £36 billion. They focus on transmission and distribution of electricity and gas. The majority (65%) of their revenue comes from the United Kingdom, where they provide energy for 11 million customers. The electricity network covers England and Wales while the gas network reaches the whole Great Britain. National Grid is also present in the Northeastern part of the United States: New York, Massachusetts, and in Rhode Island where they have 3.4 million customers.
I like companies that operate in businesses that are hard to enter or require significant capital to start. National Grid's regulated transmission/distribution businesses are fairly safe and keep on returning 10% year after year. So when I read that they are planning to sell a majority stake of their gas distribution assets I was a bit stunned. Trying to find higher growth by shifting towards riskier assets is against the low and steady utilities investment thesis. Especially in National Grid's case when the gas distribution segment is such a large and important part of the overall assets (20%). But even after the divestment, National Grid will remain an important provider of safe, reliable, and efficient energy for the people in both regions.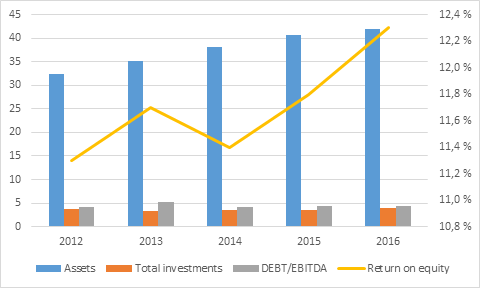 Source: National Grid IR. Assets and total investments in billions of GBP and DEBT/EBITDA as a ratio also on left scale. The return on equity is shown on right scale as percentages. Note that fiscal year ended in March 2016.
Assets
National Grid's assets are worth £42 billion. The largest single segment is UK electricity transmission which makes around 28% of the total assets and profits. Similar size-profitability ratios are between UK gas distribution and transmission but the US regulated assets and the other segment clearly differ from rest of the assets. Companies that operate in these regulated sectors are limited on how much they can earn from their assets. National Grid's base allowed return is between 9.3% and 13%. Company's return on equity last year was 12.3% which was an increase of 50 basis points reaching out to the limits set by the regulators. UK assets are performing extremely well and achieving higher returns than the regulators are allowing. On the other hand, the US assets are clearly lagging and returning below the limits. They are currently waiting to hear from the regulators about possible rate increases that they have filed for. It would certainly increase the profitability.

Source: National Grid IR
Fundamentals
Even after years of steady capital appreciation, the stock seems fairly priced, and comparing it to other utility companies, a bit undervalued. The company has stagnated in sales, growing at just 1.79% annually for the past five years. But even with flattish top line, they managed to grow profits 4.4% and dividend 2% annually. Based on the information available today, analysts are projecting earnings to be 62.4 pence and dividend of 44.61 pence this year. Meaning that National Grid's price to earnings ratio would be 15.6, 4.5% yield with healthy payout ratio of 71%. Looking at the cash flow, they are able to generate more than a pound per share, so the dividend is rock solid. The debt to EBITDA ratio is likely to remain stable at 4.4 or decline after the divestiture, if they are planning to deleverage. All in all National Grid's fundamentals are solid and investors should consider it for steady income stream with modest capital appreciation.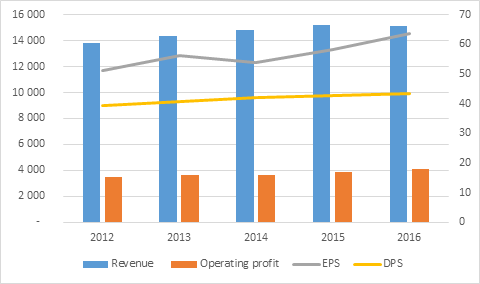 Source: National Grid IR. Revenue and operating figures in millions of pounds and earnings/dividend per share as pence. Note that fiscal year ended in March 2016.
Conclusions
National Grid has been a great investment in the past. They have created value to shareholders year after year by increasing dividends and asset growth. As a utility company, the business is stable and less risky than the overall market which investors should harvest in these volatile times. Year-to-date, the utilities sector has seen impressive double-digit gains across the board, while National Grid has gained just around 4%. The planned UK gas distribution sale starts this summer and it's expected to be completed in early 2017. After the sale, National Grid is positioned for higher growth while maintaining stable dividend and strong balance sheet. But before investing, I want to see the sale price and the final plans for the proceedings. Additionally, there is the UK referendum pushing UK and other stocks lower in the near term.
Disclosure: I/we have no positions in any stocks mentioned, and no plans to initiate any positions within the next 72 hours.
I wrote this article myself, and it expresses my own opinions. I am not receiving compensation for it (other than from Seeking Alpha). I have no business relationship with any company whose stock is mentioned in this article.