There has been a lot of talk in the media about Britain's upcoming vote on its European Union membership and the effect that a Brexit would have on financial markets and economies across Europe. One stock that we own which we feel offers defensive qualities and minimal exposure to Europe, making it a great investment today, is Home Depot (NYSE:HD).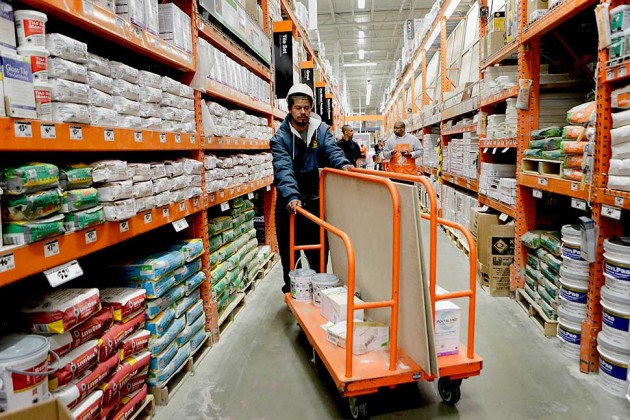 Nobody quite knows what to expect should Britain vote to leave the European Union. Though it is widely agreed that the pound and the euro are likely to depreciate against the dollar. Businesses that count on Europe for a significant portion of sales may find currency headwinds strike again, but this time even stronger. Some doomsayers are predicting the pound (NYSEARCA:FXB) could depreciate by as much as 15%. The effect it will have on the euro (NYSEARCA:FXE) is a matter of debate. Some believe it will start it on a long decline, others believe it will hold firm. In many respects, a lot will depend on what happens after the vote. A lot of economists believe this could be the beginning of the end of the EU, with more member nations calling time on the union.
Whatever does happen, we believe that the less exposure stocks have to Britain and Europe in general, the better. A company like Nike (NYSE:NKE), with 38% of total EBIT coming from Europe so far in fiscal 2016, could be one to keep a close eye on. Its meteoric earnings growth could potentially feel the pressure of a vastly weaker pound and euro.
Thankfully, Home Depot doesn't have any exposure to Britain of Europe, which should insulate it from any currency collapses and a stronger dollar to some degree. With just 9% of total sales coming from its international segment (which is largely made up of its Canada and Mexico stores), a strong US dollar may be headwind, but does not hurt the company as much as it might Nike or other multinationals such as Starbucks (NASDAQ:SBUX) or McDonald's (NYSE:MCD). Which is a relief considering a potential rate hike from the Federal Reserve could be on the horizon. Other than the disappointing non-farm payroll release, we feel a lot of recent economic data is showing that a rate increase could happen soon. We don't believe there is one coming this week, but potentially in July we might see one if June's non-farm payroll data is back on target when it is released on July 8.
Thus, we don't fear that the excellent performance of the company is under threat just yet. In its fantastic first quarter, which produced US comparable store sales growth of 7.4% and a 4.1% increase in transactions, the company provided full year guidance that was well received by the market. Home Depot expects sales growth of 6.3%, comparable store sales of 4.9%, and diluted earnings per share growth of 14.8%.
It is this level of earning's growth that makes us more than willing to pay a slight premium over the usual earnings multiple the stock would trade at.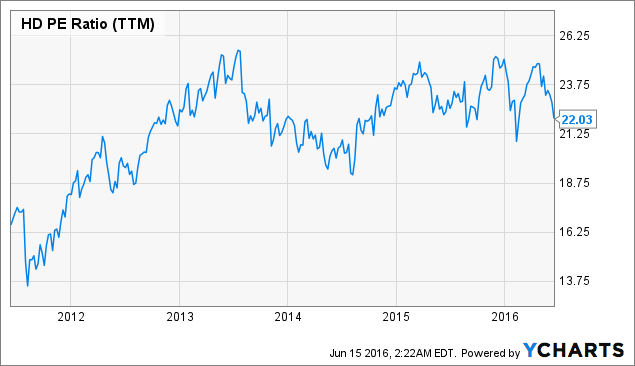 Although higher than its historical level, a price-to-earnings ratio of 22 is great value in our view at this point in time thanks to its strong earnings and comparable store sales growth. This growth is being fueled by increased transactions, sales of appliances, and big ticket items. According to its 10K, the company has been squeezing out more sales per square foot than ever, whilst managing to increase the average ticket and total transactions.
We believe this winning formula has a lot left in the tank, and expect the remaining three quarters of the current fiscal year to be just as buoyant as the first. Especially with data showing the average age of existing American homes is now 30 years. This for us is an indication that there will be a lot of renovations going on during the warmer months.
Home Depot has been on a run of smashing earnings estimates, but we are going to err on the side of caution this time. We do think the company is poised to benefit from this increased spending on home improvements. There may have been a little drop in recent US retail sales data, but we expect that to just be a blip due to rainy weather in May. Because of this we are forecasting full year earnings to come in on guidance at $6.27 per share, giving us a target price of $137.94. This represents a return of 10.1% from the last close price. Thanks to strong domestic demand, its lack of exposure to Europe, and its reasonable valuation, we think Home Depot would be a great investment today.
Disclosure: I am/we are long HD.
I wrote this article myself, and it expresses my own opinions. I am not receiving compensation for it (other than from Seeking Alpha). I have no business relationship with any company whose stock is mentioned in this article.