As I expected, the Fed passed on raising rates again during the June FOMC meeting. I know many investors may be surprised that we are now mid-way through the year, and there has yet to be a single hike. Expectations were for Four rate hikes in 2016 in December.
In reality, four rates in 2016 was not a realistic expectation. GDP growth over the last few years has been dismal. As you can see in the chart below real GDP has not been able to grow a rate faster than 2.5% since 2010.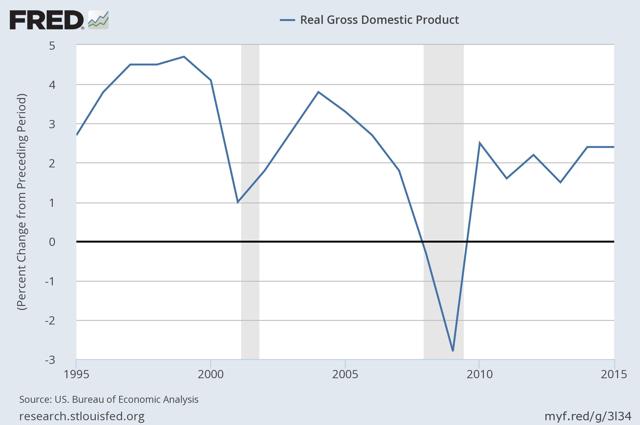 Many argue as well that the job market is strong, with the latest reading of 4.7%. Yes, from a text book definition we have nearly full employment. From a realistic definition, that is the furthest from reality. The U6 measure of Unemployment has hovered at around 10%. The U3 headline number only counts those people that have been looking for work in the past four weeks. The U6 number takes into account those that having given up looking or have taken a part-time job for economic reason. This is the reason why you have a falling U3 rate, while U6 struggles to move.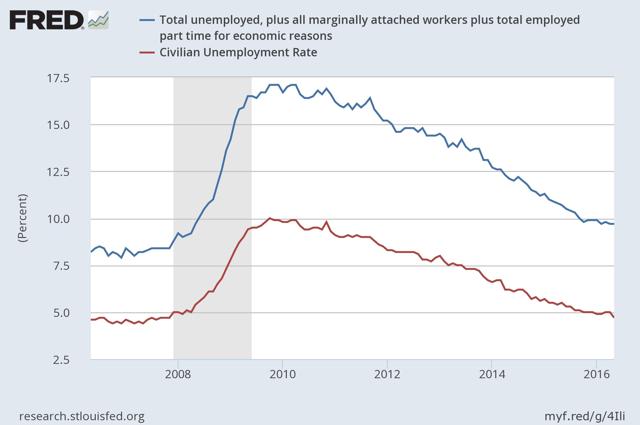 Additionally, labor participation rates continue to hover around 40-year lows. In my opinion is because there has not been enough job creation to keep with population demands.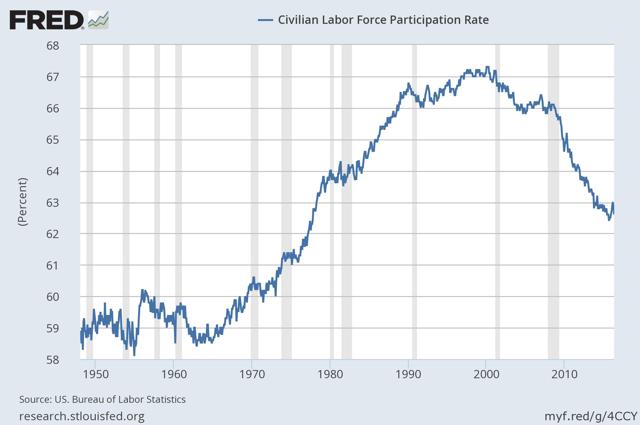 The next chart shows the number of jobs created over the past 60 years. It has been nearly the same year and year out since 1940! Around this 2.0 million jobs a year.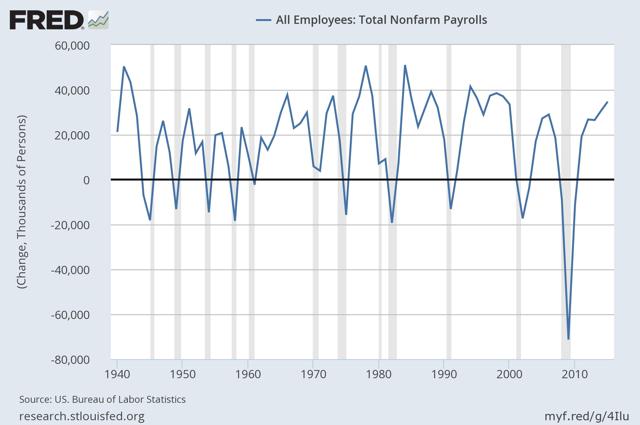 However, the size of the population is much larger than what was in the 1940's. When we adjust the chart above, you can get a sense of how slow our job growth has been. You can see in the that graph below.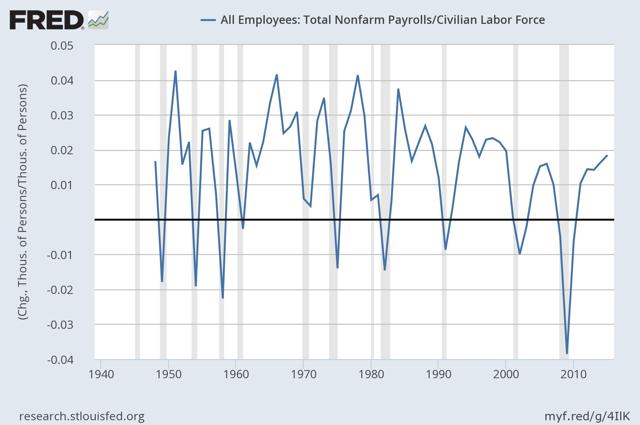 Clearly, the economy and the job market are not strong enough to raise rates, mostly likely not in 2016.
Disclosure: I/we have no positions in any stocks mentioned, and no plans to initiate any positions within the next 72 hours.
I wrote this article myself, and it expresses my own opinions. I am not receiving compensation for it (other than from Seeking Alpha). I have no business relationship with any company whose stock is mentioned in this article.
Additional disclosure: DISCLOSURE: MOTT CAPITAL MANAGEMENT, LLC IS A REGISTERED INVESTMENT ADVISER. INFORMATION PRESENTED IS FOR EDUCATIONAL PURPOSES ONLY AND DOES NOT INTEND TO MAKE AN OFFER OR SOLICITATION FOR THE SALE OR PURCHASE OF ANY SPECIFIC SECURITIES, INVESTMENTS, OR INVESTMENT STRATEGIES. INVESTMENTS INVOLVE RISK AND UNLESS OTHERWISE STATED, ARE NOT GUARANTEED. BE SURE TO FIRST CONSULT WITH A QUALIFIED FINANCIAL ADVISER AND/OR TAX PROFESSIONAL BEFORE IMPLEMENTING ANY STRATEGY DISCUSSED HEREIN. PAST PERFORMANCE IS NOT INDICATIVE OF FUTURE PERFORMANCE.