The technical picture of the U.S. Dollar Spot Index (DX/Y) continues to show signs of weakness. Over the past year, we have seen a series of lower lows, a trendline break in March of this year, and then a reversal to a column of Os this month, as shown in the chart below.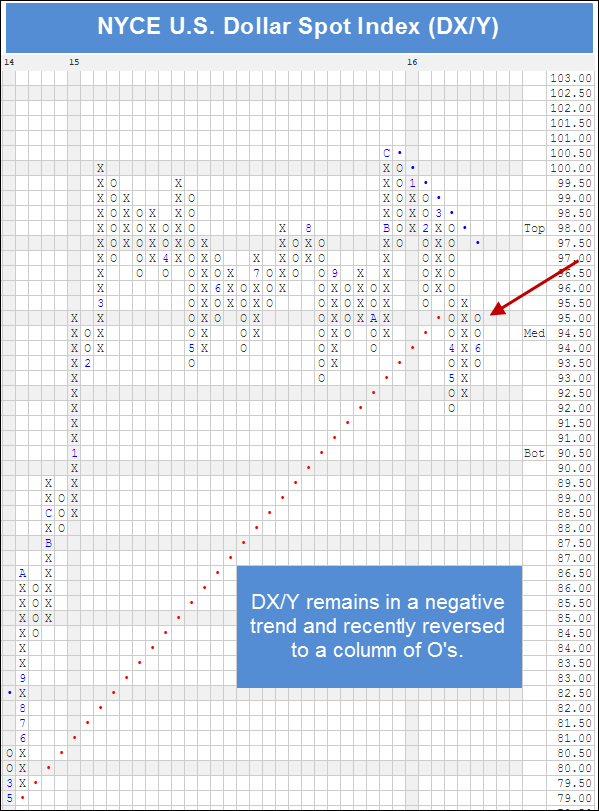 The strength or weakness of the U.S. dollar has far-reaching effects on a variety of asset classes. However, for investors in international equities, this U.S. dollar weakness can actually be a welcomed development as international securities can help protect investors from a falling dollar. All other things equal, if the currencies of the foreign markets you are invested in (i.e. euro) strengthen while the dollar continues to fall, these investments will be worth more when converted back into dollars. What a great way to hedge the greenback.
Among the most popular ways that investors tend to get that international equity exposure is through the $60 billion iShares MSCI EAFE ETF (NYSEARCA:EFA), which provides investors with broad exposure to companies across Europe, Australia, Asia and the Far East. However, this ETF - like many other international equity ETFs - is weighted by capitalization. That may be fine if the large and mega caps are generating strong returns. However, it can be a challenge if there are better returns in small or mid cap companies.
For a variety of reasons, many advisors like to keep a core position in a capitalization-weighted ETF, like EFA. However, see the efficient frontier below to get a sense of the potential benefits of adding an actively managed "satellite" strategy to core EFA exposure.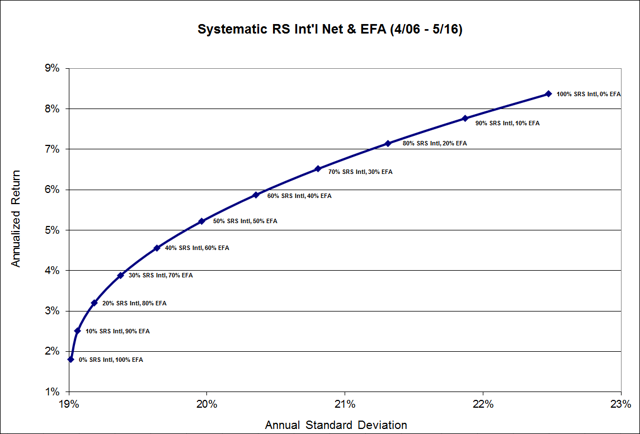 Source: Dorsey Wright and Yahoo! Finance. Period 3/31/06 - 5/31/16. Returns include dividends.
The efficient frontier above shows the risk and return profile of different combinations of the iShares MSCI EAFE ETF and our Systematic Relative Strength International portfolio. As shown above, the Systematic Relative Strength International portfolio has had much higher returns over time, albeit with slightly higher standard deviation. Deciding how to get international equity exposure doesn't have to be a binary decision between these two strategies. An investor may choose to make a satellite allocation to Systematic RS International. Note that from the efficient frontier above, a 50/50 allocation between EFA and Systematic RS International had returns that were several percent higher with standard deviation that was only about 1 percent higher than EFA alone over this period of time.
Some quick facts on our Systematic RS International portfolio:
Inception: 3/31/2005
Invests in 30-40 ADRs from both emerging and developed international markets
Available on a variety of SMA and UMA platforms. For example, it is available at Stifel, UBS, RBC, Envestnet, Schwab, TD Ameritrade, Fidelity, and more.
Performance is shown below: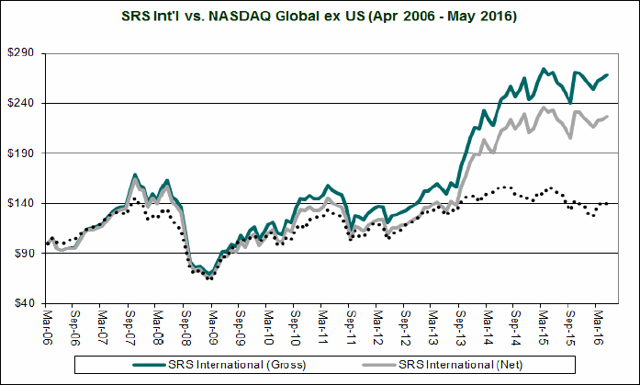 Period 3/31/05 - 5/31/16.
A core/satellite approach to international equity exposure is a popular way to construct an allocation and we believe that our Systematic RS International portfolio can be an effective way to get that satellite exposure.
The performance represented in this brochure is based on monthly performance of the Systematic Relative Strength International Model. Net performance shown is total return net of management fees, commissions, and expenses for all Dorsey, Wright & Associates managed accounts, managed for each complete quarter for each objective, regardless of levels of fixed income and cash in each account. The advisory fees are described in Part 2A of the adviser's Form ADV. The starting values on 3/31/2006 are assigned an arbitrary value of 100 and statement portfolios are revalued on a trade date basis on the last day of each quarter. All returns since inception of actual Accounts are compared against the NASDAQ Global ex US Index. The NASDAQ Global ex US Index Total Return Index is a stock market index that is designed to measure the equity market performance of global markets outside of the United States and is maintained by Nasdaq. A list of all holdings over the past 12 months is available upon request. The performance information is based on data supplied by the Manager or from statistical services, reports, or other sources which the Manager believes are reliable. There are risks inherent in international investments, which may make such investments unsuitable for certain clients. These include, for example, economic, political, currency exchange, rate fluctuations, and limited availability of information on international securities. Past performance does not guarantee future results. In all securities trading, there is a potential for loss as well as profit. It should not be assumed that recommendations made in the future will be profitable or will equal the performance as shown. Investors should have long-term financial objectives when working with Dorsey, Wright & Associates.