In screening for a new stock for our Dividend Growers portfolio, we found ourselves drawn to Owens Corning (NYSE:OC), a building materials company that we had not previously heard of. To begin with, it was one of the few dividend growth candidates we found in the basic materials sector, which has generally been one of the better performing sectors of late. Furthermore, OC was pretty solid in every dimension we considered. Even though the company is a relatively new dividend payer, we think it has the chops to become a great dividend grower. Here is why.
Growth
It was clear immediately that this company is generally outperforming its industry in profitability and recent growth, and it has a significantly lower valuation than its industry average: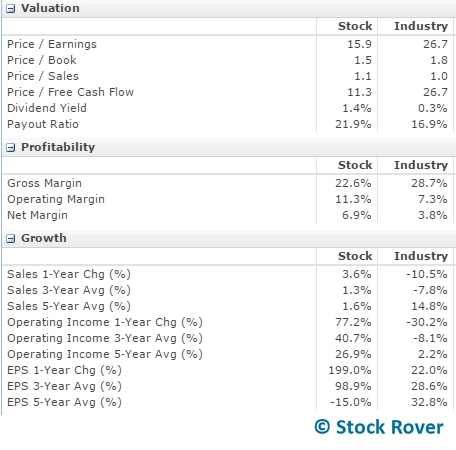 To look further into that growth, see below. In the last 5 years, its sales and EPS have a nice upward trajectory, save for a slight dip in sales in 2014: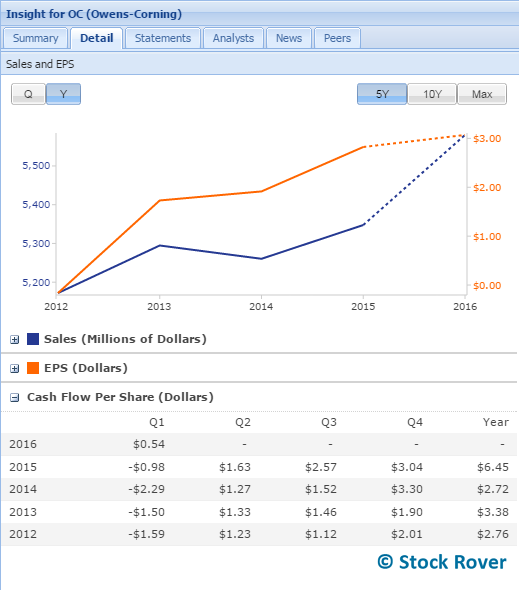 Cash flow has loosely shadowed the revenue trends, including a strong increase in 2015. From the most recent earnings transcript, it appears that the company's growth strategy is primarily to increasingly capture market-based volume growth, both globally and domestically. Owens Corning is already a market leader in insulation, and it recently acquired roofing materials maker InterWrap, which according to CEO Mike Thaman, is a leader in lumber and metal packaging as well. Current OC shareholders, we'd love to get your perspective on the company's growth strategy in the comments section.
Profitability
OC is moderately ahead of its industry average in most profitability metrics, with the exception of gross margin. Furthermore, as shown in the table below, the company is improving its profitability over time: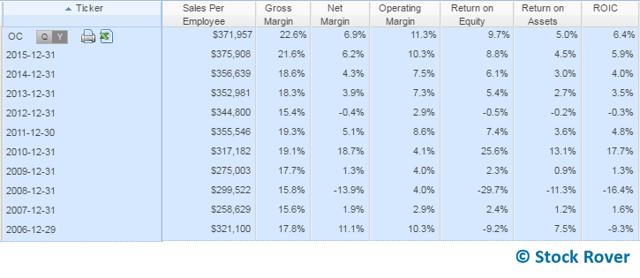 Without exception, the company has improved its performance year over year in every single one of these metrics since 2012. This speaks well of the management team, as it has made the business more efficient from both a capital and operational perspective.
Financial Health
Although not debt free, the company has modestly decreased its total debt over time, and had positive free cash flow in most years. Here is OC in several debt-related metrics over the past 10 years:

In addition to the slowly decreasing debt/equity and debt/assets, interest expense has also come down, while operating income and free cash flow have come up. This also provides further confidence in the management team.
OC has a financial safety industry decile of 4. This means that although it is not the very safest from a debt and financial leverage perspective, it is at least in the top half of its industry.
Performance & Valuation
The stock has managed to trounce its industry and sector in the past year, as seen below in the top chart (note dividends are included in performance):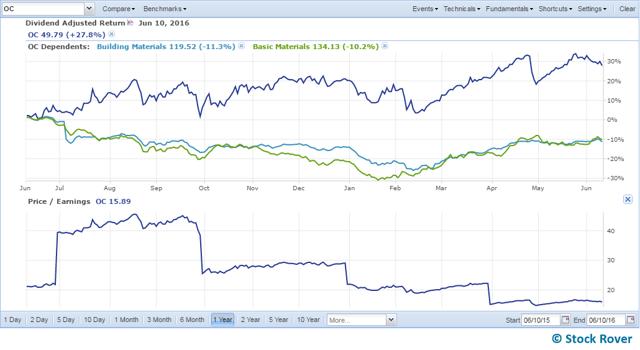 Meanwhile, as we already saw, its valuation is still relatively low, both compared with its industry and compared with its own history. In the second chart above, you can see that its P/E multiple has come down from some pretty lofty levels earlier this year to the much more approachable 15.6 at the time of writing. Its forward P/E is an even nicer 13.8, and its PEG forward is at 1.0, suggesting that the stock is aptly priced for its expected growth.
Dividends
Owens Corning is new to dividends, but it's off to a strong start. Here is a snapshot of its dividend growth since it started paying dividends in 2014:

As you can see, the company has increased its dividend twice since then, while reducing both its regular payout ratio and its free cash flow payout ratio.
Without a longer track record on dividends, we see this as a bit of a risk from a dividend perspective. However, CFO Michael Murray stated in the company's most recent earnings call that "both dividends and stock repurchases will be important mechanisms to return capital to shareholders." So we will take the CFO at his word, as the company has in fact steadily reduced the number of shares outstanding since 2007, and it has the free cash flow and low payout ratio to support dividend payouts and increases in the future.
Summary
Based on the information above, Owens Corning appears to be a potentially strong long-term pick for income or dividend growth investors, provided that the company continues its earnings growth trend and makes good on its intention to reward shareholders via dividends. Although its 10-year history isn't perfect, its more recent earnings history suggests that the company has found its footing and may be poised for a solid run of growth in the coming years. Furthermore, the company's improving profitability and financial health gives us confidence in the management team. OC is replacing Equifax (NYSE:EFX) in the portfolio - another company we like - but it is about half the price. Time will tell if the trade was a good one.
Disclosure: I/we have no positions in any stocks mentioned, and no plans to initiate any positions within the next 72 hours.
I wrote this article myself, and it expresses my own opinions. I am not receiving compensation for it. I have no business relationship with any company whose stock is mentioned in this article.