You might have missed it, but the all clear has been given on junk bonds (NYSEARCA:HYG) issued by beleaguered US energy producers.
Don't believe me? Just ask the market: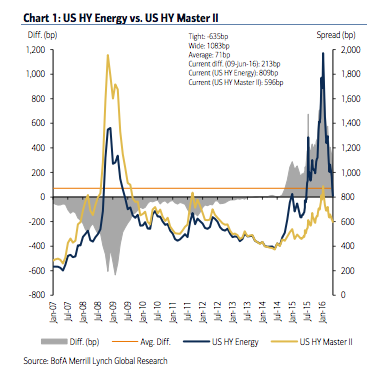 (Chart: BofAML)
As you can see, the spread between HY energy and BofAML's broader HY index has tightened to just over 200 bps from wides near 1100 bps thanks largely to crude's sharp bounce off the January lows.
This despite the fact that HY E&P companies have seen their borrowing bases cut by a fifth in 2016.
But there's a sucker born every minute and oil (NYSEARCA:USO) near $50 gives the sector some semblance of hope - something it hasn't had in quite some time. "What does [the HY energy rally] mean for oil prices?," I asked no one in particular yesterday. "Well, I would say fundamentals combined with geopolitical headwinds will keep the pressure on," I said, answering my own question before adding the following:
What I do know is that I wouldn't be piling into high-yield right now. And I would certainly keep clear of HY energy. Especially considering the fact that the longer capital markets remain open to uneconomic U.S. producers, the longer prices will stay depressed. It's a self-defeating investment.
Over the past 48 hours or so, we've gotten what should have been marginally bullish news for crude.
First the IEA opened its mouth and out came a declaration that the market is now largely balanced. "At halfway in 2016 the oil market looks to be balancing," the agency said. "Less oil has been stockpiled than we originally expected."
Then, on Wednesday, the EIA said weekly gasoline demand hit a record high while crude inventories fell for the fourth straight week.
Nevertheless, oil struggled to hold onto gains. Why? Well, for one thing geopolitics is getting in the way:
Recall that when asked what they were most worried about this summer, BofAML's clients put Brexit at the top of the list with 36% of respondents citing the UK referendum as the biggest concern compared to 22% last month.
Meanwhile, even the most mainstream of media outlets are now shouting about the fact that perhaps more than ever before, the Saudis and the Iranians are fighting the eternal sectarian war in the oil market. Here's USA Today for instance:
Traditional rivals, Saudi Arabia and Iran, continue to fight to prove their supremacy in OPEC. Neither gives up an opportunity to hurt the other, whenever and wherever they can, and oil seems to be their favorite playground.
But even if we look solely at the "fundamentals" (and that assumes we don't count geopolitics as part of the fundamental equation which I would argue that we should), the rally looks premature. Just ask Goldman who, just weeks after pulling forward their price targets is out with a new note entitled "a fragile recovery." Here's how the "smartest guys in the room" sum up the situation:
The rise in production disruptions - which led us last month to bring forward our expected price recovery to 2Q16 - has continued, with a later restart in Canada and more attacks in Nigeria. However, we also continue to see further evidence that outside of these disruptions, the rationalization of the oil market's surplus remains nascent at best: Canadian production is finally restarting, production from other OPEC members continues to beat our expectation and the recent recovery in prices creates risk that non-OPEC production declines less than we expect, especially in the US.
And here's an updated supply disruption chart: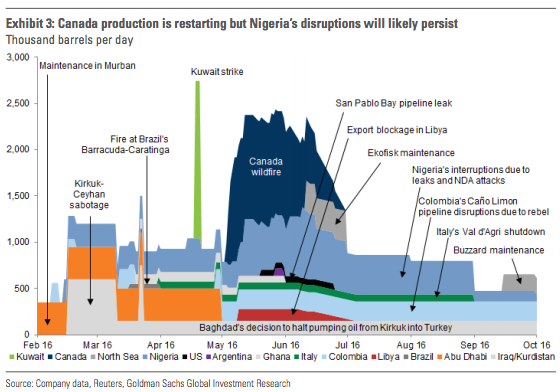 (Chart: Goldman)
As for US production, Goldman notes that $50 is about where conventional production fell off the map. It stands to reason then, that that's about the price point where it will resume. And that, in turn, means companies will have an easier time tapping capital markets:
The recovery in prices points to a stabilization in conventional production, with our state subset where we believe production is entirely driven by stripper wells suggesting that output rolled over late last year only once prices declined below $50/bbl.

Several US producers have also become explicit on reducing their drilled but uncompleted well backlog. Our estimate of the US oil backlog (in excess of normal drilling activity) suggests that it represents 0.5 mb/d of additional production over the next 18 months if brought online by year-end. Further, a few producers have been able to issue high-yield debt for the first time since last October, with the explicit target of increasing drilling, and we have seen over the past two weeks several producers raising guidance as well.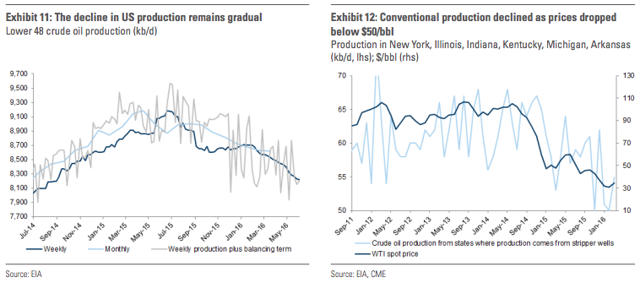 (Charts: Goldman)
So once again, investors are unwittingly digging their own graves.
Of course I'm reasonably sure anyone buying these new issues realizes that they're helping to fund the very same drilling that contributed to the global supply glut in the first place, but considering the role played by exogenous factors and black swan events like Brexit, I suppose buyers are hoping they can have their cake and eat it too. That is, capture some yield without perpetuating the worldwide surplus.
Of course if everyone thinks that way, then you'll end up with a whole host of people trying to get in, contributing to more new issuance and then before long, everyone's drilling again.
In any event, if you read the entire note, there's plenty of color to suggest why buying into the HY energy rally might be a foolhardy decision. For one thing, the defaults are mounting. Here's a summary from BofAML: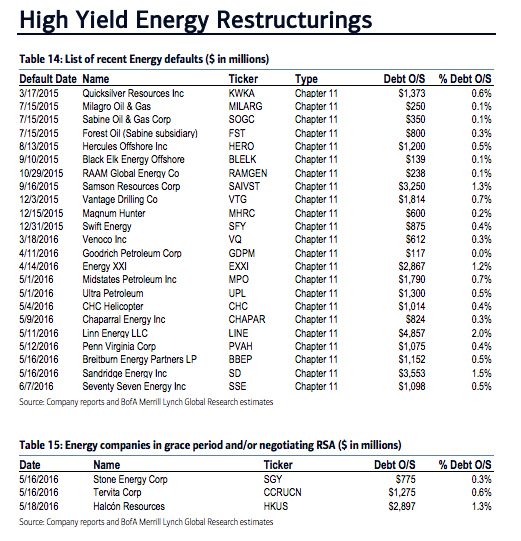 (Table: BofAML)
And here's a look at HY default rates (NYSE:TTM) with energy broken out: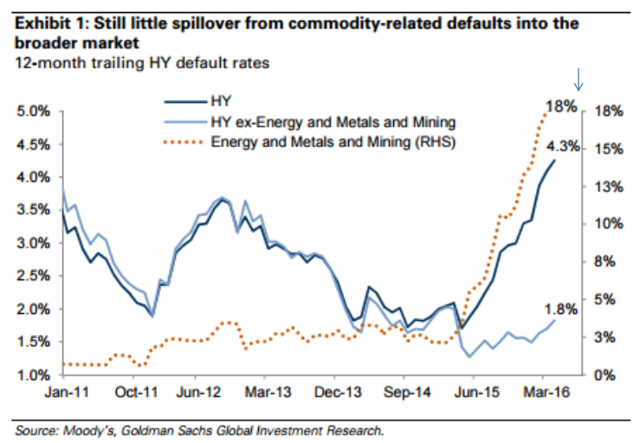 (Chart: Goldman)
Now compare that graph with this one: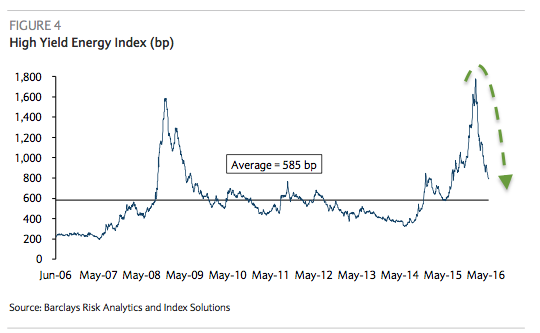 (Chart: Barclays)
Obviously, that make no sense.
While I'll never pretend to know, with any degree of certainty, where markets are headed, I know a disconnect when I see one.
Disclosure: I/we have no positions in any stocks mentioned, and no plans to initiate any positions within the next 72 hours.
I wrote this article myself, and it expresses my own opinions. I am not receiving compensation for it (other than from Seeking Alpha). I have no business relationship with any company whose stock is mentioned in this article.