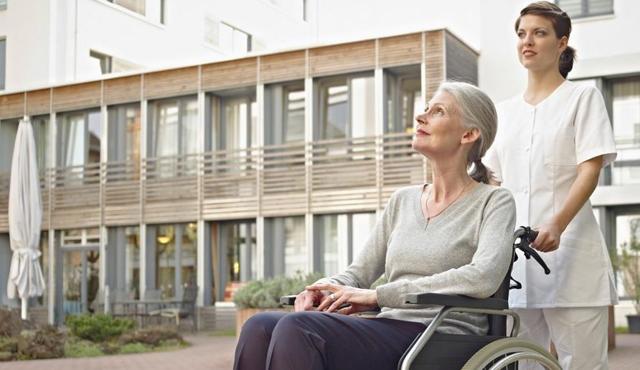 Source: Omega Healthcare Investors.
One of the biggest mega-trends of the coming decades is the aging of the US population. In fact, according to the U.S. Department of Commerce Economics and Statistics Administration, between 2012 and 2050 the number of Americans 65 and older will nearly double from 43.1 million to 83.7 million. Meanwhile the US Census Bureau expects that between 2015 and 2030 the number of Americans over the age of 80 is expected to increase 63%, from 12.1 million to 19.6 million.
This massive growth in elderly citizens means that healthcare spending is expected to grow by 5.8% through 2024. Income investors wanting to profit from this immense ocean of spending have been snapping up shares of healthcare REITs such as Omega Healthcare Investors (NYSE:OHI), Welltower (HCN), Ventas (NYSE:VTR), and HCP (NYSE:HCP).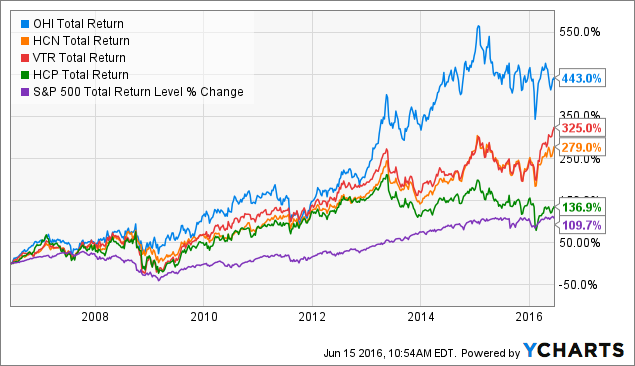 OHI Total Return Price data by YCharts.
Over the past decade Omega Healthcare has outperformed its peers as well as the market in general. More importantly, there are three reasons why I believe that Omega will continue to be the best choice for your diversified dividend portfolio over the next 5 to 10 years.
Best in class execution on a great business model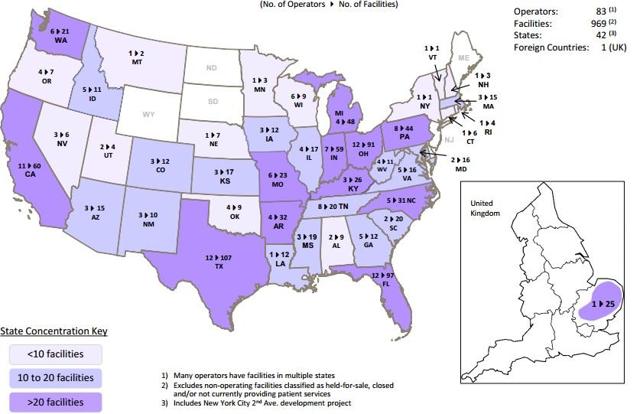 Source: Omega Healthcare Investors presentation.
Omega Healthcare is a triple net lease REIT meaning that it collects rent from 83 healthcare operators on 969 facilities in 42 states and the UK. Triple net leases are extremely profitable for dividend investors because it means the tenant pays for taxes, maintenance, and insurance, plus utilities. So not only is the cash flow extremely stable, (thanks to very long-term contracts), but thanks to annual escalators, Omega's cash stream has built in inflation protection.
Of course Welltower, Ventas, and HCP are also triple net lease REITs, so why did I choose Omega Healthcare for my own "Buy and Hold Forever" dividend growth portfolio over these competitors? The answer is superior management as seen by Omega's vastly superior profitability.
| | | | | | | |
| --- | --- | --- | --- | --- | --- | --- |
| REIT | Operating Margin | Net Margin | Return on Assets | Return on Equity | Return on Invested Capital | 10 Year Book Value Per Share Growth Rate |
| Omega Healthcare | 51.3% | 28.8% | 3.6% | 8.7% | 6.77% | 12.91% |
| Welltower | 17.9% | 19.4% | 2.8% | 5.7% | 4.65% | 8.11% |
| Ventas | 14.5% | 13.4% | 1.9% | 4.3% | 3.64% | 16.72% |
| HCP Inc. | -6.1% | -7.9% | -1.0% | -2.1% | 0.31% | 13.26% |
| Industry Average | 26.9% | 13.7% | 2.0% | 4.3% | NA | NA |
Source: Morningstar.
Return on invested capital, or ROIC, and book value growth are especially important because of the way REITs operate. Because they are constantly raise growth capital high ROIC means that management is making the most of our money. Similarly, growing book value per share means that management is growing sustainably rather than reaching for growth via excessive dilution or over leveraging the balance sheet.
Best dividend profile of the bunch
At the end of the day REIT investors care about income, both current yield, but also future dividend growth. The third, and potentially most important component of a dividend profile is the sustainability of the payout.
| | | | | |
| --- | --- | --- | --- | --- |
| REIT | Forward Yield | Q1 2016 FAD Payout Ratio | Long-Term Analyst Dividend Growth Rate Projection | Annual Total Return Projection |
| Omega Healthcare | 7.1% | 77.3% | 4.5% | 11.6% |
| Welltower | 4.7% | 85.1% | 4.0% | 9.0% |
| Ventas | 4.3% | 77.7% | 3.6% | 7.9% |
| HCP Inc. | 6.7% | 87.1% | 3.4% | 10.1% |
| S&P 500 | 2.1% | NA | 5.8% | 9.1% |
Sources: Yahoo Finance, FastGraphs, earnings releases, Multpl.com.
As you can see, not only does Omega offer higher yield than its competitors, but with the lowest Funds available for distribution, or FAD, payout ratio it's also the most secure. In addition analysts expect Omega to continue growing its dividend faster than either Welltower, Ventas, or HCP. Since a reasonable rule of thumb for predicting long-term total returns is yield + dividend growth, this means that not only should Omega Healthcare beat its peers in the coming years, but it should also outperform the market's historic 9.1% total return since 1871.
Of course, analyst dividend growth projections need to be approached skeptically, since they are educated guesstimate at best. However, there is one final reason why I think that Omega Healthcare should be able to hit those dividend growth targets.
Strong balance sheet means ongoing access to growth capital
The real estate business isn't cheap. So it's important for investors to always consider the health of a REITs balance sheet. That's because credit facilities usually involve debt covenants that, if violated, can mean the suspension of the dividend.
| | | | |
| --- | --- | --- | --- |
| REIT | Debt/EBITDA | Operating Income/Interest | EBITDA/Interest |
| Omega Healthcare | 6.20 | 2.24 | 3.62 |
| Welltower | 6.49 | 1.43 | 4.0 |
| Ventas | 6.48 | 1.17 | 4.0 |
| HCP Inc. | 12.42 | 1.41 | 1.82 |
| Industry Average | 7.23% | NA | NA |
Sources: Morningstar, Gurufocus.
As you can see Omega Healthcare's debt profile is equal to or superior to its competitors. In addition it isn't close to violating any debt covenants, which is why it has $750 million in current liquidity available to continue growing.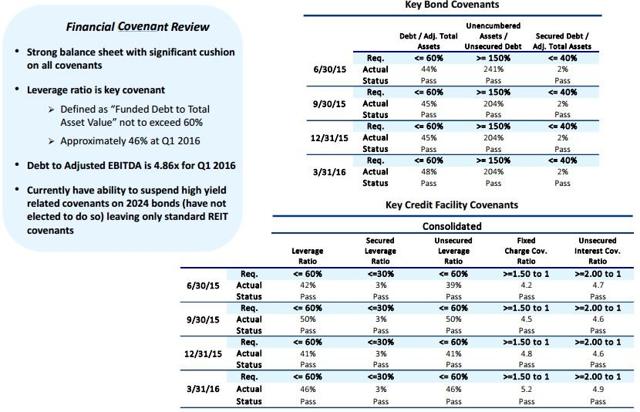 Source: Omega Healthcare Investors presentation.
In fact, through May 5 of 2016 Omega has invested $714 million into new acquisitions, loans, and renovations. However, that's only a portion of Omega's currently $947 million ongoing investment plan. With the REITs strong ROIC that spending is likely to mean continued strong FAD growth that should help it to reward investors with dividend growth for many years to come.
Risks to consider
There are three key risks that could potentially derail Omega Healthcare's investment thesis.
First, is the fact that as a REIT Omega relies on cheap access to equity growth capital to fund its capital expenditures and acquisitions. Over the past decade record low interest rates have been a boon to REITs because they made yield-hungry investors eager to give Omega the capital it needed to achieve its impressive growth. But investor sentiment is highly volatile and should equity markets dry up Omega's FAD growth could slow, potentially hurting future dividend and total returns.
A second major risk is rising interest rates, which would affect Omega Healthcare in two ways. First, it would raise the cost of debt capital, which would hurt profitability and how accretive capital spending is in terms of FAD per share. Second, it would take some pressure off investors who could find improved yield elsewhere, and potentially make shares less attractive. While that would mean higher yields for new investors, it would also mean Omega (and all REITs in fact) would have a tougher time maintaining strong growth rates.
Finally, because so much of medical spending is paid for by Medicare and Medicaid, there is always a political risk that changes in government policy towards healthcare could greatly affect the future cash flow growth of healthcare REITs.

Source: Omega Healthcare Investors presentation.
For example, between 2002 and 2015 Medicare and Medicaid rates for Omega's portfolio grew at a 3.5% and 4% respective rate. However, for 2016 Medicare spending is set to only grow by 2.1%.
Bottom line: Omega Healthcare is a solid "Sleep Well at Night" choice to profit from this demographic mega-trend
Thanks to the: highest yield of its large competitors, the strongest balance sheet, and fastest dividend growth potential, Omega Healthcare Investors has the best chance of not just beating its large healthcare REIT peers, but also deliver market beating total returns for many years to come.
Disclosure: I am/we are long OHI.
I wrote this article myself, and it expresses my own opinions. I am not receiving compensation for it (other than from Seeking Alpha). I have no business relationship with any company whose stock is mentioned in this article.