Do U.S.-based income investors always have to buy U.S. real estate investment trusts for their dividends? No, I don't think so. Buying REITs in other geographies actually makes a lot of sense for U.S. investors from a diversification point of view. The European office property market is different than the U.S. market, which translates into an opportunity for U.S. income investors to minimize portfolio risk.
One European-focused prime office REIT that is worthy of consideration IMO is Northstar Realty Europe Corp. (NYSE:NRE), a spin-off from NorthStar Realty Finance Corp. (NRF), a company I covered up until last year. The spin-off was completed on October 31, 2015.
NorthStar Europe's property portfolio, as the name implies, is comprised of European commercial real estate in Germany, England, France (the core portfolio), as well as other European countries.

The REIT is not on many investors' radar yet after the spin-off was completed, but there are a few things about the REIT that look quite good.
4 Reasons To Buy Office REIT NorthStar Realty Europe
1. Valuation
A moderate valuation is a good enough reason to buy a real estate investment trust, independent of whether it is a commercial or residential REIT.
NorthStar Realty Europe pulled in $0.22/share in 'CAD' in the 1st quarter. 'CAD' stands for 'Cash Available For Distribution', and is a non-GAAP financial measure that adjusts for certain items, including depreciation, amortization, equity-based compensation, and investment gain/losses, as well as cash transaction costs.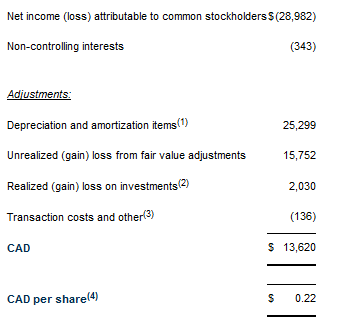 Based on a Q1-16 CAD run rate of $0.22/share, NorthStar Realty Europe's shares are selling for ~11.4x CAD, which makes the REIT moderately valued.
2. Stable Yields
NorthStar Realty Europe is a REIT play on the European office property market where yields are more stable than in the U.S. This translates into a diversification opportunity for U.S. income investors.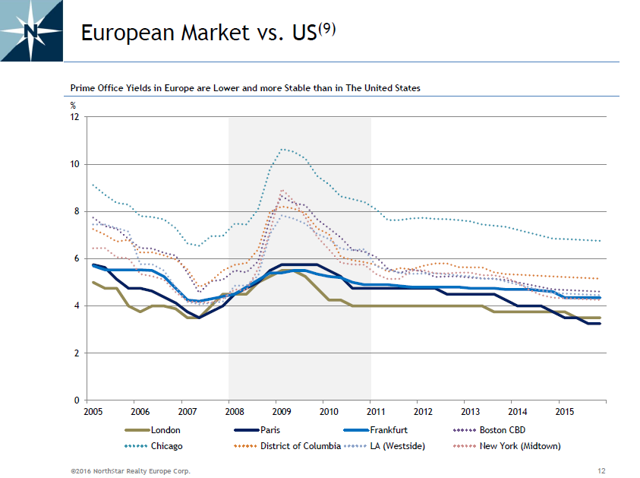 3. Covered Dividend, Solid Yield Play
NorthStar Realty Europe has declared and paid three $0.15/share dividends since the spin-off. The latest $0.15/share quarterly dividend was paid on May 27, 2016. The office REIT, therefore, covered its quarterly dividend payment with CAD of $0.22/share. An investment in NorthStar Realty yields 5.98 percent.
4. The REIT is Buying Back Stock
NorthStar Realty Europe's board of directors authorized a $100 million stock buyback in November 2015. Since November, the REIT has repurchased $45 million of its common stock, and will likely continue to do so in the months ahead.
Your Takeaway
NorthStar Realty Europe is a spin-off from NorthStar Realty Finance, and the REIT does not yet get the coverage it should get. The REIT is fairly moderately valued at ~11.4x Q1-16 run rate CAD. Since the prime office REIT is active in Europe's biggest prime office markets, NorthStar Realty Europe is a compelling REIT alternative to U.S.-based REITs from a diversification standpoint. Further, NorthStar Realty Europe continues to buy back stock, which is a good use of capital in light of the REIT's low valuation. An investment in NRE yields ~6 percent. Buy for income and capital appreciation.
Disclosure: I/we have no positions in any stocks mentioned, and no plans to initiate any positions within the next 72 hours.
I wrote this article myself, and it expresses my own opinions. I am not receiving compensation for it (other than from Seeking Alpha). I have no business relationship with any company whose stock is mentioned in this article.