Vodafone (NASDAQ:VOD) is one of the core holdings in my portfolio. While I am not happy with the company's current cash-flow situation and some of the management's decisions, I believe that the current sell-off is overdone. At today's price, the stock is an attractive opportunity for dividend investors, particularly compared to its peers.
One of the reasons for Vodafone's poor performance in the last weeks is Brexit fears. Great Britain will decide on June 23 whether to remain or to leave the European Union. Polls indicate that the chances for a "NO" are increasing, and this has caused stock markets all over Europe to tumble in the recent days. Should Great Britain decide to leave the European Union next week, it will likely send stock markets south, at least as an immediate reaction. If this happens, the case for buying Vodafone only gets stronger as the losses will likely be temporary, at least for global companies such as Vodafone.
The consequences of a possible Brexit for the British and the entire European economy are not clear yet. A general conclusion seems that the pound will continue to depreciate against the euro. The British newspaper Independent reported that investors already moved billions of pounds in assets out of British currency ahead of the European Union referendum. Since the beginning of the year, the pound has already lost 8% against the euro.
Vodafone's CEO Vittorio Colao publicly expressed his concerns and warned of the negative consequences of a British exit from the European Union. Whatever the outcome of the referendum will be, I believe that the negative impact for Vodafone will likely not be dramatic. Although headquartered in the U.K., Vodafone is a global player and present on several markets inside and outside Europe. The majority of revenue is generated in Europe, partly in the Eurozone, partly outside. Germany is the company's largest market, followed by the U.K. which represents 15% of total group revenue.
Vodafone has already decided to change its reporting currency in the ongoing FY17 (which will end on March 31) from the British pound to the Euro.
After Vodafone's poor performance in the last weeks, the shares already look like a buy to me. Coming from $35 at the end of April, the stock lost more than 10% and trades slightly above $30. Other major telecom stocks have outperformed Vodafone year to date, which is also the reason why Vodafone's attractiveness as a dividend stock increased again.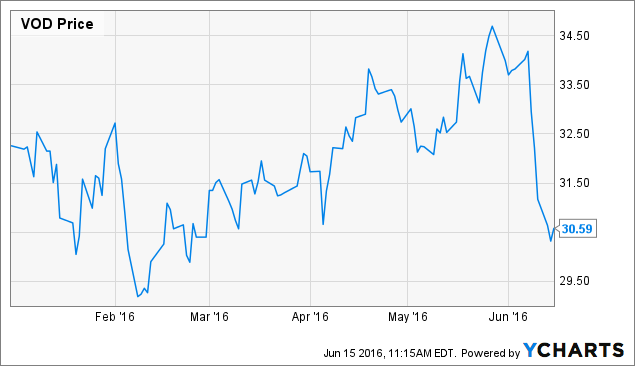 Vodafone compared to AT&T and Verizon
I like to compare Vodafone with AT&T (NYSE:T) and Verizon (NYSE:VZ) on a regular basis since I am invested in all three.
| | | | |
| --- | --- | --- | --- |
| | VOD | T | VZ |
| Share Price | $30,59 | $40,37 | $52,86 |
| YTD Performance | -5% | 17% | 14% |
| Market Cap | $88B | $247B | $214B |
| Annual Dividend | $1.62# | $1.92 | $2.29* |
| Dividend Yield | 5.4% | 4.7% | 4.3% |
#at current USD/pound exchange rates; *assuming a raise of the quarterly dividend to $0.58 in Q3
Vodafone is the third largest of the telecom stocks in the Western hemisphere by market cap, trailing only AT&T and Verizon. AT&T and Verizon shares, which both had a very good start into 2016 outperformed Vodafone by 20%.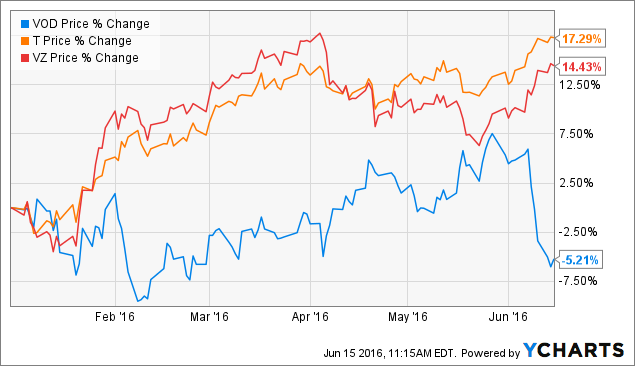 Diverging share prices have led to a substantial yield spread between the three stocks. Vodafone yields 5.4% compared to 4.7% for AT&T and only 4.3% for Verizon. It is particularly interesting to see how the dividend yields developed since the beginning of last year.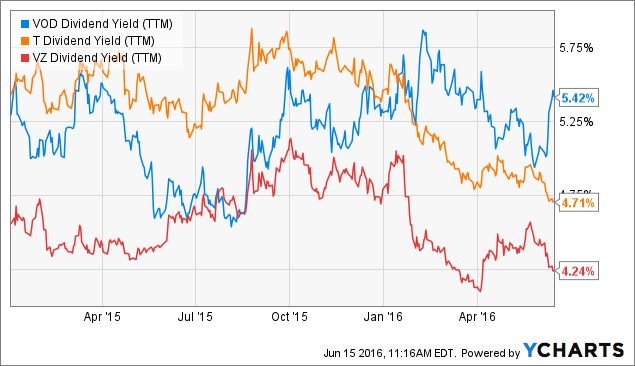 Verizon always had the lowest yield, and both Vodafone and AT&T are typically good for more than 5%. In 2015, T and VZ traded sideways most of the time, and AT&T always offered the highest yield. At the beginning of 2016, T & VZ started to appreciate and have outperformed the broader market. As a result, AT&T's yield dropped below 5% for the first time in years, leaving Vodafone as the clear leader with a 70 basis point yield advantage.
Vodafone declares an interim dividend in November, which is paid at the beginning of February, followed by the final dividend declared in June and paid in August. The final dividend for FY16 was raised to 7.77 pence, resulting in a total distribution of 11.45 pence for the ordinary shares. In the future, dividends will also be declared in euros.
Vodafone can be considered a Dividend Contender with a history of raising its dividend (in British pence) continuously after the initiation of the first payment in 1999. The company has a policy of increasing dividends; however, dividend growth has slowed down in recent years and is in line with what AT&T and Verizon are offering.
The 2% raise this year identical to last year is comparable to AT&T's dividend growth rate of 2.1% and Verizon's of 2.7%.
After Vodafone's steep drop and T's and VZ's substantial gains, Vodafone has become my preferred pick in the sector. I see no reasons to sell AT&T or Verizon - they belong to my long-term core holdings - but I will not buy more shares at current prices.
Conclusion
Vodafone shares have fallen quite rapidly in the last few weeks and are approaching the 52-week low again. The good news is that the present price level presents an attractive entry point again along with a 5.4% yield. The dividend is particularly appealing since it offers a significant yield advantage compared to alternative picks in the sector.
Disclaimer: Opinions expressed herein by the author are not an investment recommendation, any material in this article should be considered general information, and not relied on as a formal investment recommendation. Before making any investment decisions, investors should also use other sources of information, draw their own conclusions, and consider seeking advice from a broker or financial advisor.
Disclosure: I am/we are long VOD, T, VZ.
I wrote this article myself, and it expresses my own opinions. I am not receiving compensation for it (other than from Seeking Alpha). I have no business relationship with any company whose stock is mentioned in this article.