By S. Hasan Abid
Amgen (NASDAQ:AMGN), a powerhouse of the biotechnology industry, discovers, manufactures and distributes human therapeutics globally. 2015 was a fantastic, almost historic year for Amgen as it delivered solid financial results. Surprisingly though, at least right now, the market doesn't seem too interested. My thesis is that Amgen is undervalued and represents a compelling investment opportunity.
Success in the biopharmaceutical industry depends heavily on the robustness of a company's pipeline. Amgen, with no less than 11 compounds in Phase 3 trials, has an innovative and distinguished pipeline capable of fueling the company's growth in coming years. In 2015, Amgen launched four innovative products in oncology and two in cardiovascular disease, including the potentially blockbuster, cholesterol lowering PCSK-9 inhibitor, Repatha. Prescribers seem to be showing genuine interest in Repatha since its launch last summer, and I expect it to compete well with Praluent, a joint initiative of Regeneron (REGN) and Sanofi (NYSE:SNY). Hitherto, Repatha's sales haven't hit the roof, possibly due to the hefty $14,000/year price tag, but this shouldn't be taken as a sign of things to come.
Recently, an article published in the Journal of American Medical Association brought to light thorough data from a GAUSS-3 trial that unequivocally demonstrates that Repatha is significantly more effective in reducing LDL (LDL-C to be precise) in patients intolerant to statins compared to Zetia (ezetimibe), a comparable PCSK9 drug developed by Merck (NYSE:MRK). With more positive clinical data expected in the latter half 2016, prospective consumers are likely to get convinced that even at a list price of $14,000, Repatha is a solid value proposition. I strongly believe that Repatha's success could almost single-handedly boost Amgen's stock to unprecedented heights.
Outside of Repatha, Amgen has a number of exciting and intriguing pipeline drugs whose prospects are equally worth discussing.
Aranesp is a human protein produced from cloned DNA that is used to treat anemia caused by chronic kidney disease or chemotherapy. According to Amgen, Aranesp is being 'investigated as a treatment for low risk myelodysplastic syndromes', or in simple words, Aranesp is supposed to accelerate the formation of new red blood cells. There is no doubt in my mind that this product can be Amgen's next Epogen, especially after the results of a recent Phase 3 study that showed Aranesp's effectiveness in improving erythroid response.
Another promising drug for Amgen in Phase 3 is AMG 334, being developed in cooperation with Novartis (NYSE:NVS) (OTCPK:NVSEF). AMG 334 limits the activity of CGRP, a neuropeptide believed to initiate migraine symptoms. Amgen has already reported positive Phase 2 data for AMG 334 and we could soon see Phase 3 data confirming the safety and efficacy of AMG 334 in episodic migraine prevention. Neuroscience is certainly a competitive field but given Novartis' strong history in neuroscience, AMG 334 has every chance of being a hit.
Apart from AMG 334 and Aranesp, Kyprolis and romosozumab also deserve a mention. Kyprolis, the oncology drug, is being rightly touted as a solid source of future revenue for Amgen following the approval for the drug's expanded use earlier this year. In Q4 fiscal 2015, Kyprolis' sales were up 63% and from 2017 onwards, the product could start making a noticeably larger contribution to Amgen's top-line. While Kyprolis is living up to analysts' expectations, the same cannot be said for romosozumab. In all honesty, in spite of all the hype, I was slightly skeptical of romo's prospects from the start. According to the latest Phase 3 data announced on romo, the drug failed to demonstrate efficacy in reducing incidence of non-vertebral fractures. Moreover, it appears that even antiresorptive therapies for osteoporosis have a bigger beneficial impact on non-vertebral fractures as compared to romo. As it stands, I don't believe romo can prove to be as effective and safe as Amgen's Prolia and I can't see it competing well with Radius Health's (NASDAQ:RDUS) abaloparatide, which has already delivered robust efficacy data.
Currently, nearly one-third of Amgen's revenue comes from anti-TNF drug, Enbrel, making it the company's biggest product. Amgen would have been in serious distress had Enbrel's U.S patents actually expired in 2012, but much to the company's delight, a 16-year extension of patent protection was granted. Enbrel's sales grew 14% in 2015 and now the drug is in a strong position to withstand competition from biosimilars. Even though Amgen's management looks confident that Enbrel will continue to grow, as new drugs enter biotech space, stagnation of Enbrel sales is inevitable.
The good news is that Amgen's own biosimilars program, with one having already completed Phase 3, is expected to drive sales upwards. The company is anticipating the launch of at least 5 biosimilars in the period 2017-19, which can add as much as $5 billion to annual sales. Without a doubt the biosimilar future is unpredictable, but given Amgen's high clinical success rates for biologic medicines and an unwavering commitment to operational efficiency, I believe Amgen has everything it takes to become a leading biosimilar company.
Is Amgen taking care of its shareholders?
At the current share price, Amgen's dividend yield is 2.1%, which is another reason why I am attracted to the stock. Much to its shareholders' delight, ever since initiating a dividend in 2011, Amgen has consistently augmented its annual dividend. For Q1 2016, a 27% increase in the dividend was announced which means that the quarterly dividend now stands at $1 per share. But is Amgen's dividend safe? And should we expect the company to keep increasing its annual payout each year?
If we look at Amgen's payout ratio, which shows the proportion of a company's earnings devoted to dividends, it is clear that Amgen can support additional dividend hikes. Over the last 5 years, the payout ratio has grown steadily but despite that, at present, it is sitting comfortably below 35%. This tells me that Amgen has a healthy retained earnings rate of ~65% and is not using an unusually large chunk of its earnings to reward shareholders. As a rule of thumb, I consider a payout ratio of greater than 60% unsustainable.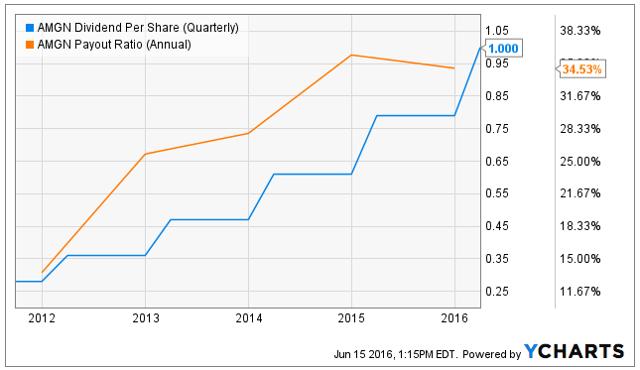 As far as the safety of Amgen's dividend is concerned, I don't have any serious concerns given the company's remarkable cash-generating potential and wide moat.
With $8.5 billion FCF generated in the previous fiscal year, Amgen's total cash and investments amount to $31.4 billion at present. Furthermore, Amgen generates a whopping ~$39 free cash for every $100 in sales, which should make even the cash cows of the biotechnology industry, including the likes of REGN, Pfizer (NYSE:PFE) and Johnson & Johnson (NYSE:JNJ), jealous. Hence, unsurprisingly, Amgen's FCF dwarfs its dividend obligations by a large margin. Presently, less than one-third of FCF is being used to pay dividends, which in my opinion is pretty much ideal. In short, Amgen is in a great position to not only continue making large investments in R&D but also returning value to its shareholders. I wouldn't be surprised to see a year-over-year dividend growth rate of at least 15% in 2016 and several years after that.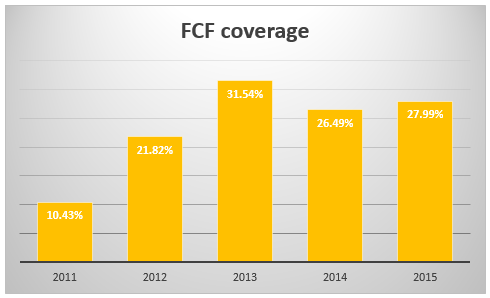 (Source: Morningstar)
Conclusion
The biotech industry furnishes plenty of opportunities for lesser players to make a name for themselves but opportunities go hand-in-hand with sizeable risks. One unsuccessful clinical trial can give you a nosebleed. I certainly see high growth prospects for Amgen but that doesn't mean that this business is immune to failure. Amgen has experienced multiple Phase 3 disappointments in the past and going forward the company must reduce its dependency on its legacy products in order to achieve sustainable growth. In addition, I am eagerly looking forward to seeing how well PCSK9 inhibitors perform in a CVOT trial.
Despite the uncertainties and risks, Amgen represents one of the most compelling investment opportunities in the biotech industry. With shares trading for merely 16.2x TTM earnings versus the lofty industry P/E average of ~38, Amgen is undervalued and definitely worth buying.
Disclosure: I am/we are long AMGN.
I wrote this article myself, and it expresses my own opinions. I am not receiving compensation for it (other than from Seeking Alpha). I have no business relationship with any company whose stock is mentioned in this article.