The news arrived not surprisingly but significant nonetheless. The 10-year German Bund note reached a negative interest rate on Tuesday, June 14. This note now joins the over 10 trillion dollar negative sovereign notes that have been issued in the last few years. So, the question that many investors have is why the negative phase hasn't reached the US yet, as the 10-year US treasury bill sits at 1.58 as of today.
So why hasn't that happened yet? If the reach for yield is so precious that investors are willing to purchase a German note for negative return, why not purchase a US treasury bill paying over 1.5%? After all, the US has the only real growing economy (anemic, but better than Europe or Japan), we have never missed or delayed an interest payment and our constitution guarantees all US debt all the time.
Moreover, with a Federal Reserve dedicated to moving short-term rates higher, having the correlating effect of making the dollar stronger, it would seem that foreign investors may also have a currency arbitrage working in their favor as well. So, why exactly IS the US treasury bill so much higher in yield than our foreign cousins? They have the Basel accord forcing banks to purchase sovereign debt, but we have the Dodd-Frank bill doing the same thing.
The answers given by analysts and economist are a little varied, but the prevailing thought is that while the US treasury note is higher in yield, the US has a prevailing inflation rate of 1%, which would have the effect of deteriorating that return, which makes the 10-year note actually more like a ½ percent return. With this in mind, analysts say, the US treasury is not nearly as good a return as it appears. I began researching the inflation rate of our foreign neighbors and discovered that indeed their inflation is more like deflation. Of course, inflation will certainly eat away at a nominal return such as this.
Which led to my next question. Why? Why would Europe experience along with Japan an almost deflationary environment while the US has inflation? Why do we in fact have any inflation? After all, Europe and Japan prints currency as fast and even faster than us, they have a Quantitative Easing just like us, they even have a social assistance net vastly larger than here in the US, they import most of their consumer goods from the same country as we do (China), and worse for inflation, they import almost 100% of their energy from foreign sources. Thus, it would seem at least at first glance that they should have greater inflation than the US, not less.
It seems that the culprit is indeed the way inflation is measured in those countries as opposed to ours. We measure it differently. Specifically, the US Bureau of Labor Statistics utilizes "shelter" as part of its core inflation measurement. They exclude food and energy but include "shelter" in it. In fact, the shelter component of CPI is comprised of two items. Rent, and implied amount of rent that homeowners would pay if they were on leases instead, which is called the "owners' equivalent rent of primary residence or OER." That is according to Societe Generale economist Albert Edwards who further states that the "OER is a totally made up number which no homeowner actually pays."
The following chart from Societe Generale shows the US core inflation rate if the US used the Eurozone definition: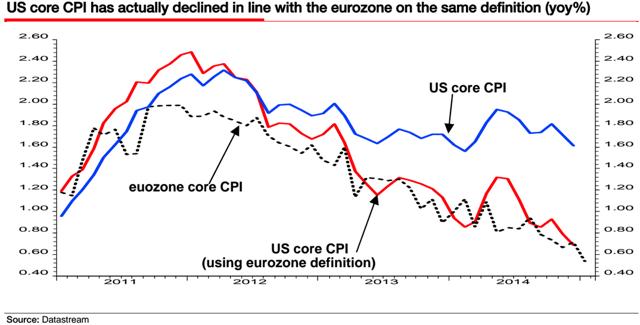 So, the question is, are investors utilizing a false inflation rate to determine the US Treasury rate real return? If indeed they are, then it would seem that negative rates are on the horizon for the US treasury bill. We can also see that when the German 10-year note hit negative, the US treasury market rallied, sending yields back below the 1.6% return.
Treasury Note bears would point to the fact that eventually governments and sovereign banks will figure out that the negative rate scenario isn't working and will abandon the Basel and Dodd-Frank requirements that force banks to hold large amounts of government debt. When this happens, and banks aren't forced to be purchasers of that debt, the rates will once again return to "normal."
While this argument makes sense, the question remains as to which country will have the political will to completely ruin its own country's ability to export any product, service or commodity by driving its currency into the hemisphere? Certainly not the US, as we have already seen the impact of having our currency spike in value and many point to that valuation spike as being the real culprit behind our horrible employment rate last month.
With this in mind, it would not be difficult to see a scenario where negative rates are the norm, and the real question being how negative they will go. If my hypothesis makes sense, then it would seem bonds are not in a bubble, but are still undervalued by comparison to other investments including the stock market. Worse, core inflation as determined by the BLS is comprised of a significant measure that has no basis in reality.
They exclude energy and food as they are considered "too volatile" but include a number that no one actually pays. Thus, the inflation we are experiencing at only 1% when the Fed wants 2% or more, is actually almost zero. Makes bonds look better and better. Foreign investors will figure it out as well.
Disclosure: I/we have no positions in any stocks mentioned, and no plans to initiate any positions within the next 72 hours.
I wrote this article myself, and it expresses my own opinions. I am not receiving compensation for it (other than from Seeking Alpha). I have no business relationship with any company whose stock is mentioned in this article.