First Majestic Silver (NYSE:AG)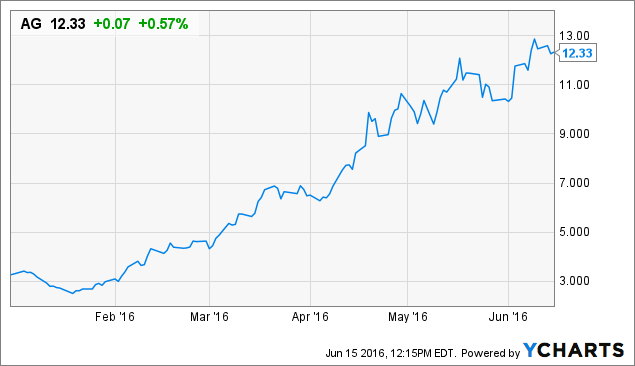 AG data by YCharts
Recent Stock Price: $12.31
Shares Outstanding: 156.51 million
Market Cap: $1.93 billion
52-Week Range: $2.40 - $13.32
Well, it has been quite the year so far for First Majestic Silver. I'm very pleased that I decided to include First Majestic as my #4 overall silver stock pick for 2016: As you can see in the above chart, the stock is trading north of $12 per share after trading between $2.40 and $3 per share earlier on in the year.
Sure, this is partly due to higher silver prices as prices are now up $3.74 an ounce or 27.40% over the past six months. However, First Majestic's stock has outperformed silver (NYSEARCA:SLV) by 10X and the benchmark silver miners index (NYSEARCA:SIL) by 2.7X year-to-date, so there's more to it than that. The company has been crushing production and earnings estimates.
For example, in the first quarter of the year, First Majestic produced a record 5.1 million silver equivalent ounces, which represents a 30% increase compared to the same quarter last year. The strong performance was attributed to higher production at its La Encantada mine and the newly acquired Santa Elena mine (which also is good news for Sandstorm Gold (NYSEMKT:SAND), which owns a gold stream on Santa Elena).
This actually puts First Majestic way ahead of its goal of producing close to 25 million silver equivalent ounces on an annual basis.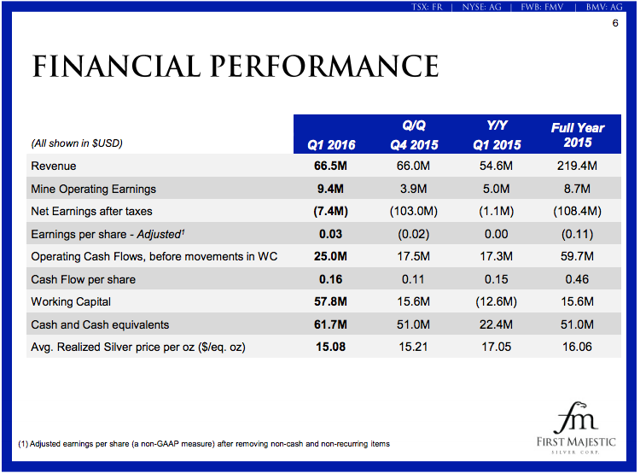 (Credit: First Majestic Corporate Presentation)
First quarter financials were released shortly after and results did not disappoint as First Majestic reported $66.5 million in revenue (22% increase), $25 million in operating cash flow ($.16 per share), adjusted earnings of $4.6 million ($.03 per share), and a 35%(!) reduction in all-in sustaining costs to $8.97 per ounce.
The company increased its cash flow per share by 42% from last quarter and its adjusted EPS by 250%, while increasing its working capital by 271% and its cash and cash equivalents by 21%.
The most impressive part of this performance (in my opinion) is that its average realized silver price per ounce actually fell by 1% to $15.08 in Q1. So investors should expect a much more impressive earnings report in Q2 as silver has traded north of $16 per ounce for most of the quarter and now trades over $17. It's clear that the Santa Elena transaction is already paying off for the company while its costs at other mines continue to drop.
However, I think it's time investors lock in profits and wait for a pullback before buying more shares, and I'll explain why below.
First, shares just look pretty expensive here, trading at an EV/EBITDA of 27.15, according to Yahoo Finance. The stock carries high leverage to silver prices (as one would expect). With silver at $18 and gold at $1,300, the company estimates $142 million in annual EBITDA. With silver at $20 per ounce and gold at $1,400, the company estimates $179 million in annual EBITDA.
If you assume gold and silver continue to rise and First Majestic achieves $142 million in annual EBITDA this year, the stock still trades at an EV/EBITDA ratio of 13.5, which isn't cheap by any means. Only with silver at $20 and gold at $1,400 would shares carry a reasonable valuation.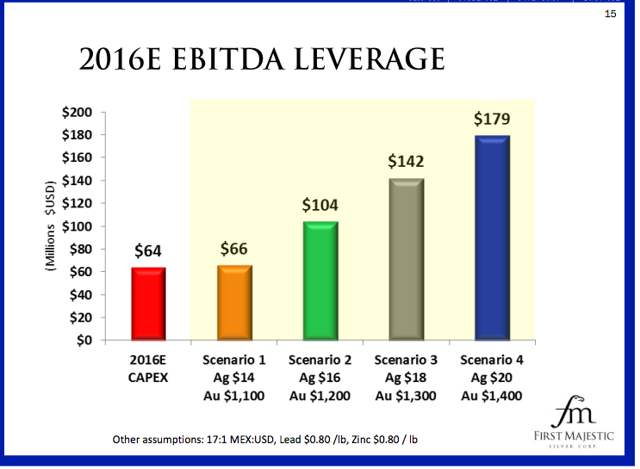 I'm also against the company's re-implementation of a share repurchase program, as announced on March 14.
The company says it can buy up to 7.78 million shares of its common stock over the next 12 months. The company feels that, "from time to time the price of its shares do not reflect the full value of its business and future business prospects."
While share buybacks can be an effective way to increase the value of a stock, I think it's really bad timing. You want a company to buy back shares when the stock is undervalued, not overvalued. From the seven-month period of August 1, 2015, to Feb. 1, 2016, First Majestic's stock traded mostly under $3 per share. In hindsight, this would have been the best time for the company to implement and repurchase its shares as it would have cost First Majestic just $23.19 million to buy back the full 7.78 million in shares.
However, now that the stock trades north of $12.32 per share, the share buyback just got a whole lot more expensive: it would cost the company $95.8 million at this current stock price, or $72.61 million more.
The share buyback announcement also comes after First Majestic announced a $50 million bought deal financing where it will issue 4.56 million in common shares at a price of C$10.95 per share, for $50 million.
So, I think it's pretty odd (and counterproductive) that the company would issue equity and then buy back shares later on. Since the equity offering was done at C$10.95, it only makes sense to buy back shares under this price. Unfortunately, the stock currently trades at C$15.97 on the TSX, so buybacks will have to wait.
In conclusion, First Majestic has been a top performing silver stock in 2016, and I'm happy I recommended the stock earlier this year. While the company has performed well and the long-term growth is intact, the stock looks pricey here, and a recent share buyback announcement is an odd move in my opinion. I'd recommend those sitting on profits lock in some gains, while investors on the sidelines wait for a better entry point (I view any price under $9 per share as a decent entry point).
Disclosure: I am/we are long SAND.
I wrote this article myself, and it expresses my own opinions. I am not receiving compensation for it (other than from Seeking Alpha). I have no business relationship with any company whose stock is mentioned in this article.