On June 12, 2016, Symantec (NASDAQ:SYMC) announced its acquisition of Blue Coat Systems for $4.65bn, financed by $1.15bn of cash and $2.8bn of new debt. However, from a strategic standpoint, was Symantec's acquisition the right move?
Symantec is a leading cyber security provider both to consumer and enterprise end markets. The company works in security and systems management. Its flagship consumer security brand, Norton, provides identity and endpoint security programs on personal desktop and mobile systems. Symantec's enterprise security division protects against network threats while managing digital data and preserving customer information.
Blue Coat delivers web security and cloud generation security to over 15,000 customers. It operates primarily in the cloud security market, going up against competitors Skyhigh and CipherCloud. The company was previously public, before getting acquired by buyout shop Thoma Bravo in 2012 for $1.3bn and then by Bain Capital for $2.3bn in 2015. Blue Coat was planning an IPO before being acquired by Symantec.
This deal adds to one of the strongest years for M&A within technology. Specifically within the cyber security sector, the Blue Coat acquisition served as a significant confidence boost. In addition, financial sponsors Bain Capital will reinvest $750mm and Silver Lake will invest another $500mm in the newly merged Symantec.
What The Blue Coat Acquisition Means For Symantec:
Symantec has continued to experience mediocre results both in its consumer and enterprise segments, especially with rapid upcoming competitors in the enterprise security space. The company's consumer division will have to deal with the continued decline of PC sales and accelerating competition from McAfee and Websense. The enterprise side of its business faces even heavier competition. Blue Coat acts a big step in the web security market, with major competitors in next-gen firewalls like Palo Alto Networks (NYSE:PANW) and cloud security like Zscaler. Symantec's new CEO Greg Clark also is up in the air. Although he has thoroughly proven himself in growing Blue Coat, it will be hard to predict how he will give Symantec the kickstart that it needs.
Symantec may have not made the best call in terms of its choice in Blue Coat. Blue Coat lies in the web gateway security space with several faster-growing, smaller competitors like Zscaler, CipherCloud, Skyhigh and Cloudlock.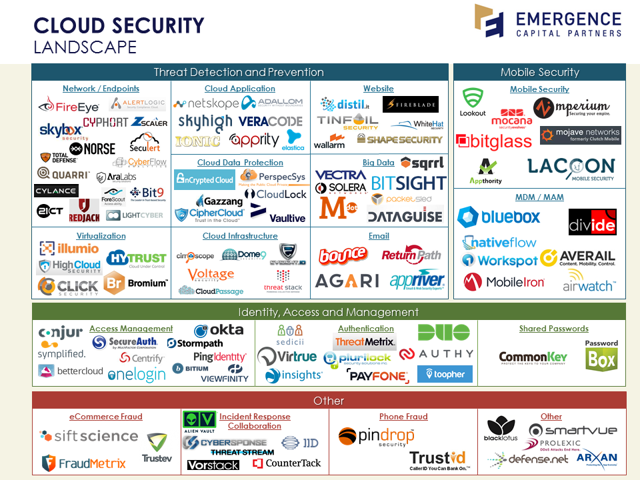 The acquisition of Blue Coat may not go far in helping Symantec further ramp up its core positions in consumer and enterprise endpoint businesses. The two companies do not share much product overlap, and Symantec should prioritize enhancing its current security portfolio rather than adding to it. A more viable candidate could have been a next-gen endpoint security provider like Cylance, who just received a $100mm investment. The $2.8bn in debt that SYMC took on also will hinder its ability to make new acquisitions in the near future. In addition to debt paydowns, Symantec has a hefty $2.3bn share repurchase announced in February that will tie up a lot of its free cash for product reinvestment or future acquisitions. Speed is paramount in the incredibly fast growing sector of cyber security, and Symantec is not helping its mobility with its leverage.
Disclosure: I/we have no positions in any stocks mentioned, and no plans to initiate any positions within the next 72 hours.
I wrote this article myself, and it expresses my own opinions. I am not receiving compensation for it (other than from Seeking Alpha). I have no business relationship with any company whose stock is mentioned in this article.