At this week's WWDC16, Apple (NASDAQ:AAPL) set the stage for the Apple Watch's next step to mass-market adoption. After a recent price reduction, the company continues to fine-tune the smartwatch's marketing mix with a new OS and product messaging, and step by step unlocks the inherent value of the wrist-worn device and vast potential of the wearables market.
Marketing the Watch
In the past year, Apple has faced quite an uphill battle marketing the Watch's uniqueness and versatility as another kind of device is already firmly positioned in consumers' minds in the all-in-one technology space - the smartphone. In this respect, Fitbit (NYSE:FIT) has done a good job in communicating the most unique aspect of wearables - health and fitness tracking. In "Positive Signs For Apple Watch," I wrote about my expectations for Apple to take a clue from Fitbit's successful marketing and double down on health and fitness for the Watch's next iteration, both in terms of new features and marketing communications. With the unveil of watchOS 3 at WWDC, Apple has done just that.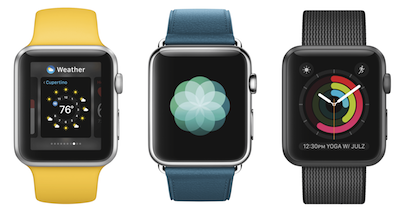 In watchOS 3, Apple introduces a more robust health and fitness component, which helps to better differentiate the device from the iPhone, as well as from other competing smartwatches. The health and fitness features found in the new OS certainly benefit from Apple's innovation (the new SOS feature, Breathe app's use of haptic feedback), ecosystem integration (compete with friends and family and respond to their workouts and achievements right from your wrist), and company mission to improve people's lives (the Activity app is now optimized for wheelchair users).
All of this is then underlined in Apple's more focused and clearer product messaging. Here's Jeff Williams, Apple's COO, in the watchOS 3 press release:
"Apple Watch is the ultimate companion for a healthy life and with watchOS 3, there's now even more to love."
This is quite a change from the Watch's initial positioning as a timepiece, communication device, and health and fitness companion. I think that marketing of wrist-worn devices will generally continue to evolve as the market matures and consumers become more familiar with the smartwatch category and its other benefits related to convenience and self-expression. In this regard, the new OS showcases the unique value a smartwatch can offer with faster and easy-to-find apps, and new attractive features allowing to unlock your Mac computer, pay within apps, or control smart home devices right from your wrist.
The missing piece
So far, Apple has made changes to three of the four pillars of the Watch's marketing mix. The company has made the product's pricing more affordable, adjusted the marketing message to be more focused and clear, and with watchOS 3 (and likely a new hardware model) in the fall, it will add more value to the product in the form of new and better experiences. What is left? Distribution. Apple has 200,000 POS for the iPhone, yet it has so far made the Watch available only in 14,000 retail locations. Judging by the improvements in the Watch's marketing mix, Apple has certainly learned a lot in the last 14 months about its new product category. This makes me more confident that with the release of the new OS and hardware revision, Apple will be ready to significantly expand the Watch's distribution. In fact, fresh rumors from the Asian supply chain suggest higher-than-expected and "rather aggressive" orders for the new Watch.
Investor takeaway
I continue to be bullish on the Apple Watch. My reasoning is simple: the product and smartwatches in general offer a unique set of health, convenience, and self-expression features which represent a powerful value proposition for our modern society. With the recent improvements in the Watch's marketing mix, Apple is making a solid progress in removing obstacles which have so far held the product's value and potential back, and setting the stage for its transition to a mainstream device.
Author's Note: If you have enjoyed reading my article and found its content valuable, please take five seconds to follow me by clicking the "Follow" button next to my name at the top of the page.
Disclosure: I/we have no positions in any stocks mentioned, and no plans to initiate any positions within the next 72 hours.
I wrote this article myself, and it expresses my own opinions. I am not receiving compensation for it (other than from Seeking Alpha). I have no business relationship with any company whose stock is mentioned in this article.
Additional disclosure: This is no recommendation to buy or sell securities as that carries with it very high risks. The information contained in this article is for informational purposes only and subject to change at any time. Do your own due diligence and consult with a licensed professional before making any investment decision.