A universally loved "commodity"
Beer is good. Regardless of socioeconomic status, nearly everyone has and will continue to enjoy a nice cold one on Friday nights. Our culture has forged beer into its very DNA. Game day wouldn't be the same without it. In fact, I doubt I'd watch football without beer. From a business standpoint, it's super nice when you own a variety of beers in varying price ranges. These two companies are making the moves to be the kings of beer in the coming decades. Bear in mind, both of these companies require complete approval from all regulatory authorities before the proposed deals discussed below can take place.
Anheuser Busch InBev (Surprise surprise..)
2013 was the best year for Anheuser Busch InBev's (NYSE:BUD) shareholders, with more than $6 in earnings per share. 2015 saw revenues at their highest peaks. All of this, of course, was the result of the company's merger with InBev, the now colossal Brazilian/Belgian alcohol conglomerate. Now Anheuser is pushing what could be a legendary acquisition for the company. The hotly debated $108 billion merger with SABMiller (OTCPK:SBMRF) would create a pure powerhouse in what is now a heavily consolidated industry. While there has been some debate as to whether this merger can take place, the odds seem much better now that the European Union has gotten on board. There was concern over the merger creating a monster with 30% of total market share. While this deal is still likely to create an even more dominant player within the beer industry, concessions in terms of selling off certain assets upon completion of the merger have lessened government concerns in Europe. Progress is being made in South Africa as well.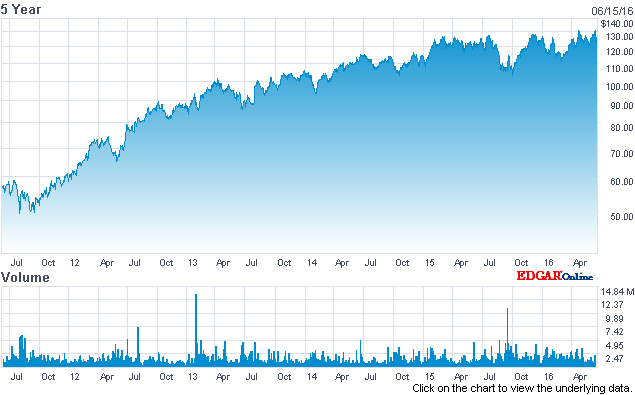 (Source: Nasdaq.com)
The company is already a nice stock to own considering the yields. Over the past 5 years, BUD has netted a 123% return in price appreciation. The dividend is also pretty damn nice at 3.67%. Should this SABMiller deal go down, you're looking at a huge increase in revenues, and with proper consolidation, a great increase in net income.
Molson Coors
While Molson Coors (NYSE:TAP) isn't nearly as big as Anheuser Busch, the company is making its own moves to consolidate market share and take an advantage of the shifting drinking scene. With craft drinking now arguably the more popular area in beer, Molson Coors' Blue Moon has been a big success.
Now the company is looking to become the 3rd-largest brewer in the world. In what will be a $12 billion deal, Molson Coors is in the process of buying up the remaining 58% stake in MillerCoors (I know, MillerCoors, Molson Coors, SABMiller.. the name play is absurd). This deal is technically a bit of an offshoot of the Anheuser/SABMiller deal in that the selling of the MillerCoors assets satisfies antitrust concerns. MillerCoors is a joint venture between Molson Coors and SABMiller. Now, I haven't quite figured out which brands of beer would go to which company, considering SABMiller's pending merger with Anheuser Busch InBev. This deal will give Molson Coors control of the Miller Brand and make them a strong player overseas as well as at home.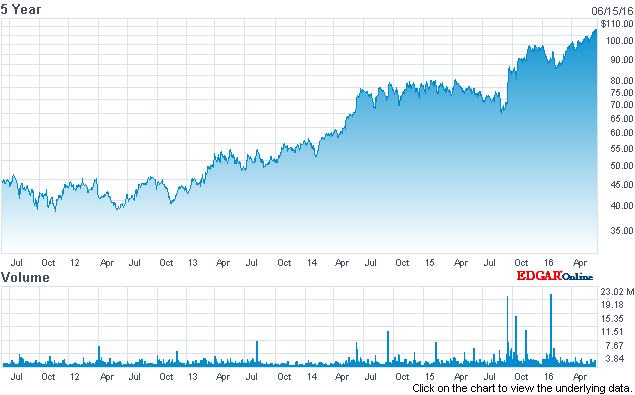 The stock isn't nearly as attractive upfront as Anheuser is. The P/E is much higher, and the dividend is only 1.7%. Sales volume has suffered as well. Still, owners have enjoyed 126% growth over the last 5 years. This transaction facilitated by the Anheuser deal has gifted Molson Coors a growth opportunity and could represent a big turnaround in sales if the company does the right things with it.
Disclosure: I/we have no positions in any stocks mentioned, but may initiate a long position in BUD over the next 72 hours.
I wrote this article myself, and it expresses my own opinions. I am not receiving compensation for it (other than from Seeking Alpha). I have no business relationship with any company whose stock is mentioned in this article.
Editor's Note: This article discusses one or more securities that do not trade on a major U.S. exchange. Please be aware of the risks associated with these stocks.