There is a tendency for dividend investors to chase the highest dividend yielding stocks in an effort to boost income from their investment portfolio. Unfortunately, the highest dividend yielding stocks have delivered inferior risk-adjusted returns over long time intervals. Investors who reach for that higher dividend income end up sacrificing growth in their principal.
As part of Dartmouth professor Kenneth French's voluminous data on various investment strategies, we have a very long-run look at the risk-return profile of portfolios with various characteristics. For dividend growth investors, an important component of this dataset are the portfolios formed based on dividend yield.
The graph and table below show the cumulative total return of eleven different value-weighted sub-portfolios - stocks that do not pay a dividend, and then ten deciles ranking dividend yield from lowest to highest.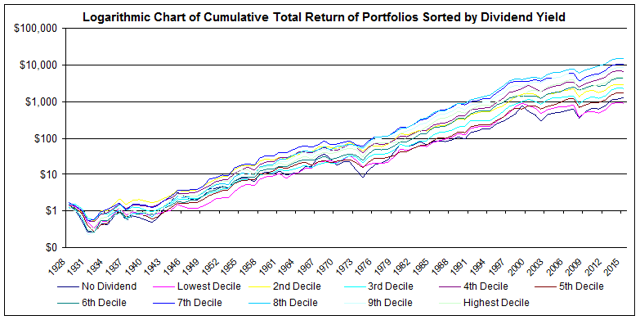 From the table, readers should note that stocks that pay no dividend have historically offered the worst risk-adjusted return. Stocks that pay dividends in the lowest decile have offered the worst returns and experienced the second-highest volatility. Those that paid the highest dividends have delivered median returns with above-average risk. Said differently, those high dividend flyers have produced just so-so returns with greater volatility than the broader market. What investors want to target is something that lies more towards the middle of this portfolio sorting.
This data set, which spans U.S. stocks from 1928-2015, concurs with a previous article on work from Morgan Stanley on "The Dividend Sweet Spot". The firm demonstrated that companies that pay dividend yields ranging from 3% to 6% have generated higher excess returns and produced higher information ratios (expected active return dividend by deviation from the benchmark) over very lengthy periods.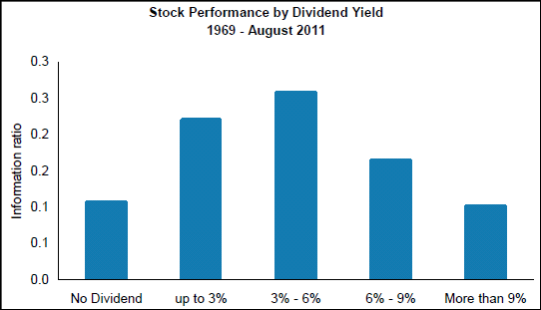 While it may seem like an extra percentage point between friends is marginal, the 113bp average annual difference between the highest-yielding decile and the seventh-highest yielding decile is 2.5x your money over this ultra-long sample period. Compound interest is a beautiful thing, but it can also compound poor portfolio construction.
Investors should be looking for consistent and stable dividend growth and not the absolute highest level of dividends. In my series "5 Simple Ways to Beat the Market", I demonstrated that the Dividend Aristocrats (BATS:NOBL), the subset of the S&P 500 (NYSEARCA:SPY) that has paid increasing dividends for at least twenty-five years, has produced higher returns than the market with lower volatility of returns.
In a similar vein, the S&P 500 Low Volatility High Dividend Index (NYSEARCA:SPHD), which takes the 75 highest-dividend yielding stocks in the S&P 500 and then selects the 50 components of that group with the lowest realized volatility over the past year and which have also generated long-run alpha. The exclusion of the higher-beta constituents (and factor tilt towards low volatility) discards the laggards that have historically dragged down the risk-adjusted returns of the highest-yielding decile in the French data. Not surprisingly, with a distribution rate in the mid-3% range, SPHD falls within Morgan Stanley's Dividend Sweet Spot.
Dividend investing is a key to build long-run wealth - those cumulative returns in the French data are enviable. Hopefully, Seeking Alpha readers understand the need to ignore the siren song of simply buying stocks based on yield alone. Historically, that strategy has underperformed; buying stocks with sustainable dividend yields has generated better long-run performance with lower risk. Stocks in the Dividend Sweet Spot produce the alpha we are collectively seeking.
Disclaimer: My articles may contain statements and projections that are forward-looking in nature, and therefore inherently subject to numerous risks, uncertainties and assumptions. While my articles focus on generating long-term risk-adjusted returns, investment decisions necessarily involve the risk of loss of principal. Individual investor circumstances vary significantly, and information gleaned from my articles should be applied to your own unique investment situation, objectives, risk tolerance, and investment horizon.
Disclosure: I am/we are long SPY, SPHD, NOBL.
I wrote this article myself, and it expresses my own opinions. I am not receiving compensation for it (other than from Seeking Alpha). I have no business relationship with any company whose stock is mentioned in this article.