Over the past two weeks, I had the opportunity to visit several cities across Canada as part of our iShares Fixed Income Leaders Circle conference series. During these sessions, our key message to our clients was: expect more modest returns from financial markets, especially in bonds, as well as more elevated volatility.
Elaborating on these themes, my colleagues and I discussed the challenges of negative interest rates in the government bond market globally, the abundance of political and geopolitical risks in important investment destinations this year, especially the U.K. and the U.S., and the generally subdued economic outlook that has spread across much of the developed and emerging world.
Although not the most uplifting message, there are still pockets of opportunity within global financial markets. With interest rates having cratered around the world, there's very little room for bonds to replicate the performance they've delivered over the past few decades. However, we see longer-maturity bonds as a portfolio diversifier for these more volatile times, and we also would focus on the yield advantage offered in the investment grade and high yield credit markets to generate some additional income.
With such limited opportunities in fixed income, we spent time during the conference discussing nontraditional income sources within the stock market as a way to generate returns in portfolios. We remain overweight stocks versus bonds, and although Canadian and U.S. stocks are no longer cheap, there is a compelling argument to focus our attention on dividends.
This week, my global colleagues made the case for dividend growth strategies in their weekly commentary. According to my calculations, the same outperformance of dividend strategies in the U.S. that my colleagues observed over the past year is also visible in Canada (see the chart below). Since last June, Canadian dividend growth and high dividend yield strategies have modestly outstripped the broader S&P/TSX Composite Index, while also delivering slightly less volatility.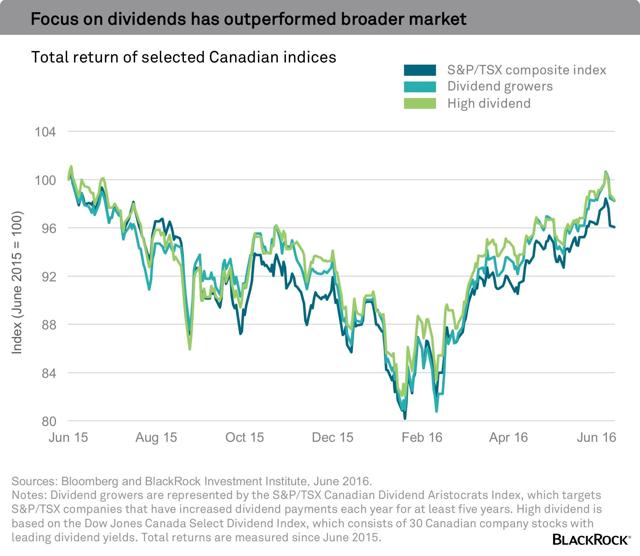 Notably, high dividend and dividend growth strategies are not any more expensive than the broader Canadian equity market, and they have also generated a sizable boost for a portfolio's dividend yield (see the chart below). That said, investors who pursue dividends should understand the sector differences between high dividend yield and dividend growth strategies, as well as relative to a broad market cap weight.
The high dividend strategy represented by the Dow Jones Canada Select Dividend Index boosts the dividend yield to over 4.5% but is nearly 60% financials, while the S&P/TSX Canadian Dividend Aristocrats Index holds considerably more industrial, consumer discretionary and utilities exposure than the broader S&P/TSX Composite Index, to generate a yield of over 4.7%. These higher yields compare to the S&P/TSX Composite Index dividend yield of roughly 3.0% and the S&P 500's more modest 2.19% dividend yield.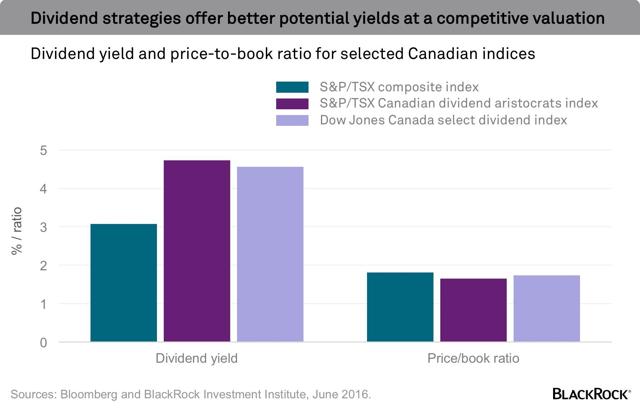 For investors thinking about global dividend exposure, our global weekly commentary also notes that:
We like companies with lower payout ratios and strong cash flows, at a time when payout ratios are historically high. We see attractive dividend-growth opportunities in global pharmaceuticals, international telecoms, emerging market (EM) infrastructure and selected global information technology companies.
Source: BlackRock Investment Institute and Bloomberg.
This post originally appeared on the BlackRock Blog.