The Federal Open Market Committee's (FOMC) statement brought no surprises on Wednesday. The U.S. benchmark interest rate remains unchanged at 0.50 percent. The economic projections were lower than in January and the dot-plot showed one Fed member is only forecasting 1 rate hike in 2016 and none in 2017. The biggest problem facing the Fed's next monetary policy decision move is timing. A 25 basis points will not be a global game changer, but it could boost the USD if there is the expectation of higher rates down the line. Right now markets are pricing lower for longer, and pushing government bonds into negative territory in Europe and Japan.
The central bank statement mentioned that the improvement in the labour market has slowed, but has been offset partially by a growing economic activity. Consumer spending has strengthened but business investment has been soft. Overall, the same mixed results that have been coming out of economic releases. Another piece of information to point out was that Kansas City Fed President Esther George rejoined the pack and did not vote against keeping the rate unchanged by unanimous vote.
Fed Chair Janet Yellen added further insights during her press conference that were not part of the statement, specially as an answer to a question from a member of the press. She said that Brexit is a factor and was discussed by officials as it could have consequences that factor in future Fed decisions.
When asked about the July FOMC, she mentioned that every meeting is live. The question of the minutes from the April FOMC as the main reason a June rate hike was even in the cards came up, and Chair Yellen said that the minutes reflect the discussion of members at the meeting.
Regarding the U.S. election, Chair Yellen said that markets should not be surprised by a rate increase ahead of presidential election. The whole time Mrs. Yellen made sure to impress on the audience the willingness to act by the Fed if economic activity warrants higher rates. Press conference or no.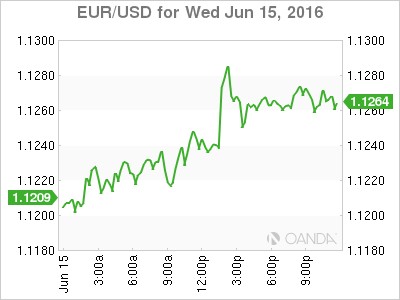 The EUR/USD gained 0.56 percent in the hour after the FOMC statement hit the wires. The currency pair is trading at 1.1269. The patience exhibited by the Federal Reserve put downward pressure on the USD, although Chair Yellen made sure to keep the July and September meetings as live ones, even though they both have their shortcomings. July has no press conference, a factor that is important given the market reaction to the April minutes that were released after a no press conference meeting and carried a lot more information that the mere statement could hold. September on the other hand does have a press conference, but its proximity to the November presidential elections make it a dicey proposition for the U.S. central bank as any action could be read as biased to a political party.
Market events to watch this week:
Thursday, June 16
Tentative JPY BOJ Press Conference
3:30am CHF Libor Rate
3:30am CHF SNB Monetary Policy Assessment
3:30am CHF SNB Press Conference
4:30am GBP Retail Sales m/m
7:00am GBP MPC Official Bank Rate Votes
7:00am GBP Monetary Policy Summary
7:00am GBP Official Bank Rate
8:30am USD CPI m/m
8:30am USD Core CPI m/m
8:30amUSD Philly Fed Manufacturing Index
8:30am USD Unemployment Claims
Friday, June 17
8:30am CAD Core CPI m/m
8:30am USD Building Permits
11:00am EUR ECB President Draghi Speaks
*All times EDT
For a complete list of scheduled events in the forex market visit the MarketPulse Economic Calendar