Good morning, and welcome to the June 16 edition of Seeking Alpha's Eye on Tech newsletter.
Amazon cuts merchant shipping fees for smaller items, fires salvo at eBay and Alibaba - A year after launching its Small and Light program - it provides free shipping for many items weighing 8 ounces or less, regardless of their price - Amazon (NASDAQ:AMZN) is significantly cutting the fees it charges merchants for shipping those items. Bloomberg states merchants "would pay $1.61 to ship three, flat, 1-ounce packages."
eBay (NASDAQ:EBAY), which still does brisk business handling sales of such items (often for Chinese merchants), is being targeted once again. As is Alibaba (NYSE:BABA), whose international AliExpress and Alibaba.com sites feature plenty of small/low-cost items. Chinese eBay and Alibaba merchants selling to U.S. consumers often rely on the USPS and China Post's ePacket program, which provides cheap shipping for small items going from China to the U.S. Amazon, which continues to post 20%+ North American e-commerce growth while eBay's Marketplace revenue flatlines, is now offering a competitive alternative. The U.S. ocean freight license Amazon's Chinese unit just obtained might be put to use here.
The Information: Amazon is hoping to sell up to 10M Echo devices in 2017 - The site adds Amazon was looking to sell 3M Echos in 2016 going into this year, and observes 10M Echo sales would (given current price points) make Amazon's speaker/voice assistant line a ~$1B/year business. For reference, Amazon has a 2017 revenue consensus of $162.2B.
10M units would still pale relative to the 231.5M iPhones and (per IDC) 1.17B Android phones shipped last year. Though the Alexa voice assistant powering the Echo has gained a decent following and created what's for now unmatched developer support, its reach remains small relative to Google, Apple and for that matter Microsoft's voice assistants, which are respectively bundled with Google Android, iOS and Windows devices. Greater reach means more voice commands/queries, which in turn helps improve the AI behind a voice assistant service. Google and (to a lesser extent) Microsoft also have mountains of search query data to help out. Look for Amazon to counter by trying to strike Alexa integration deals with mobile, PC and consumer electronics OEMs.
Facebook Messenger's Android app now supports SMS - A simple, but useful, move as Messenger evolves into a multifaceted platform featuring apps, chatbots, an AI/human-powered assistant and payment services, and Facebook (NASDAQ:FB) tries to get users to spend as much time within the app as possible. It's particularly helpful in the U.S., where a large portion of mobile users have unlimited SMS bundled with their service plans, which in turn limits the appeal of a service like WhatsApp (used in much of the world as a way to avoid paying per-message SMS fees).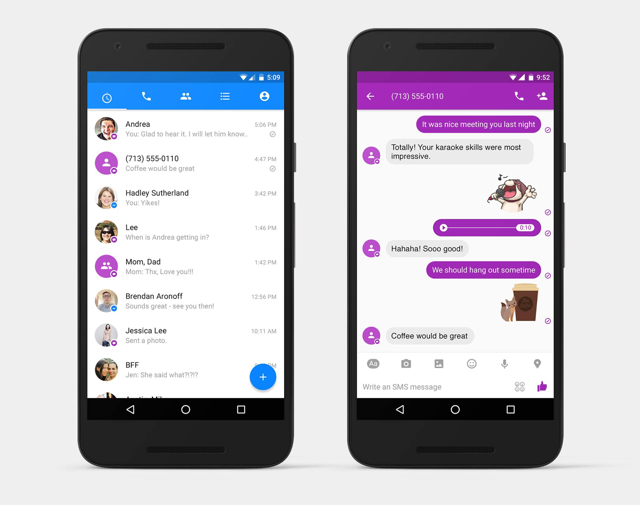 Facebook Messenger with SMS threads
SMS won't be supported by the iOS Messenger app due to Apple's (NASDAQ:AAPL) restrictions. Apple's Messages app supports both SMS and iMessages, and Google's Hangouts app both SMS and Gchat messages. Messenger topped 900M monthly active users in April.
Microsoft launches a "modular blockchain fabric" backed by Azure - Microsoft's (NASDAQ:MSFT) solution, known as Project Bletchley, is meant to help groups of companies create solutions leveraging the blockchain, the secure distributed ledger technology behind Bitcoin (COIN, OTCQB:BTCS) and other cryptocurrencies. Redmond says it was motivated by the use of its Azure blockchain services by clients. The company has also rolled out blockchain middleware meant to "provide core services functioning in the cloud, like identity and operations management."
The moves come six weeks after IBM (NYSE:IBM) launched cloud services for creating blockchain networks and cloud apps running on top of them. A slew of industries have shown interest in leveraging the blockchain to enable cheap, secure transactions and record-sharing - interest within financial services is especially strong. Meanwhile, Bitcoin has rallied to its highest levels since early 2014.
WSJ: Didi Chuxing raises $7B, is now valued above $25B - The funds include the $1B Apple recently invested in the Chinese ride-sharing leader, and a $2.5B loan package. If Uber (Private:UBER) gains ground against Didi Chuxing (Private:DIDI), it certainly won't be because Didi lacked the money to fend Uber off. President Jean Liu mentioned a couple weeks ago Didi, which supports rides via several transport options (taxis, private cars, shuttle buses, etc.), now handles over 14M rides/day, or 5x the entire U.S. ride-hailing market. China's booming urban middle class and relatively low car ownership rates - China has 128 motor vehicles per 1,000 people, compared with 809 for the U.S. - make for fertile ground.
As for Uber, the company is reportedly looking to raise $1B-$2B through a leveraged loan, after having recently picked up $3.5B from a Saudi sovereign wealth fund. It's likely a chunk of those funds will go to China. Some VCs aren't thrilled about the arms race and related discounting, and go as far as to suggest Uber and Didi should merge (the Chinese government might not be happy with such a move).
Bloomberg: FireEye rejected multiple buyout offers - FireEye (NASDAQ:FEYE), which closed on Wednesday at $16.05 after a 4% gain, is reported by Bloomberg to have hired Morgan Stanley to field offers, and to have turned them down because the bids were below the $30/share or more FireEye wanted (shares were above $50 12 months ago). One of the reported offers came from Symantec (NASDAQ:SYMC), before it agreed to buy Blue Coat for $4.65B. Those arguing FireEye's unique technology assets - in spite of recent issues related to sales execution and cheaper bundled solutions from rivals, the company's malware-analysis, endpoint-protection, threat intelligence and incident-response offerings are considered top-notch - could lead to M&A interest can take a bow.
Cisco (NASDAQ:CSCO) and IBM have been mentioned before as potential buyers. Oracle (NYSE:ORCL) and HP Enterprise (NYSE:HPE) are also plausible - HPE has indicated it's open to making new enterprise tech acquisitions. Bloomberg cautions FireEye sale process is over for now. But if the stock remains in the teens, it's easy to see an activist jumping in and demanding a review of "strategic alternatives."
WSJ: Tencent is close to buying SoftBank's majority stake in mobile game developer Supercell at a ~$9B valuation - The reported valuation for Finland's Supercell, which was 73%-owned by SoftBank (OTCPK:SFTBF) as of last year, is well above the $5.25B valuation the company reportedly received in 2015. Supercell currently has (per App Annie) 4 of the top 50 grossing U.S. iPhone and Android apps, including 2 of the top 10 (Clash of Clans and Clash Royale). But considering how tough it's been for mobile gaming leaders to keep their crowns (see Rovio and King Digital), SoftBank might be selling high.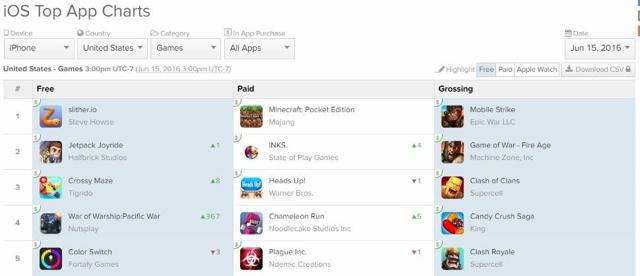 Supercell has 2 of the 5 highest-grossing U.S. iPhone games. Source: App Annie.
The deal suggests Tencent (OTCPK:TCEHY) is hungry to grow its international exposure as it cautions Chinese growth - fueled to a large extent by soaring mobile revenue for its WeChat and QQ messaging platforms - is about to slow down. The company had a 21.5% stake in U.S. mobile game developer Glu Mobile (NASDAQ:GLUU) as of February.
Cavium is acquiring QLogic for ~$1B, takes aim at Broadcom/Avago - The deal ends a recent lull in a chip industry M&A wave that has led dozens of firms to be acquired since 2014. Within the wave, the deal is fairly unique in that the companies involved have very different growth and valuation profiles: Cavium (NASDAQ:CAVM) closed on Wednesday trading at 23x 2017E EPS, and (following a 2016 lull caused by 4G infrastructure weakness) has been expected to post 20%+ growth next year thanks to share gains in its core network processor business and growing traction for its ARM server CPUs. QLogic (NASDAQ:QLGC) is being acquired for 14x its FY18 EPS consensus, and has been posting double-digit revenue drops thanks to a long-term decline in its Fibre Channel storage connectivity hardware/chip business (sales are expected to bounce a bit in the coming quarters). In spite of the moderate multiples involved, Cavium fell sharply after-hours thanks to the acquisition.
A likely motivation for the deal: Avago's acquisition of QLogic's rival Emulex and subsequent merger with Cavium's rival Broadcom (NASDAQ:AVGO). Broadcom/Avago is now able to offer server, networking and storage OEMs everything from adapter cards to controller chips to network processors to Ethernet switching chips. While a combined Cavium/QLogic product line still won't be as comprehensive - among other things, it'll lack the transceiver and optical component lines Broadcom/Avago can offer - it'll go a long way towards narrowing the gap. Intel (NASDAQ:INTC) is another common rival for the companies.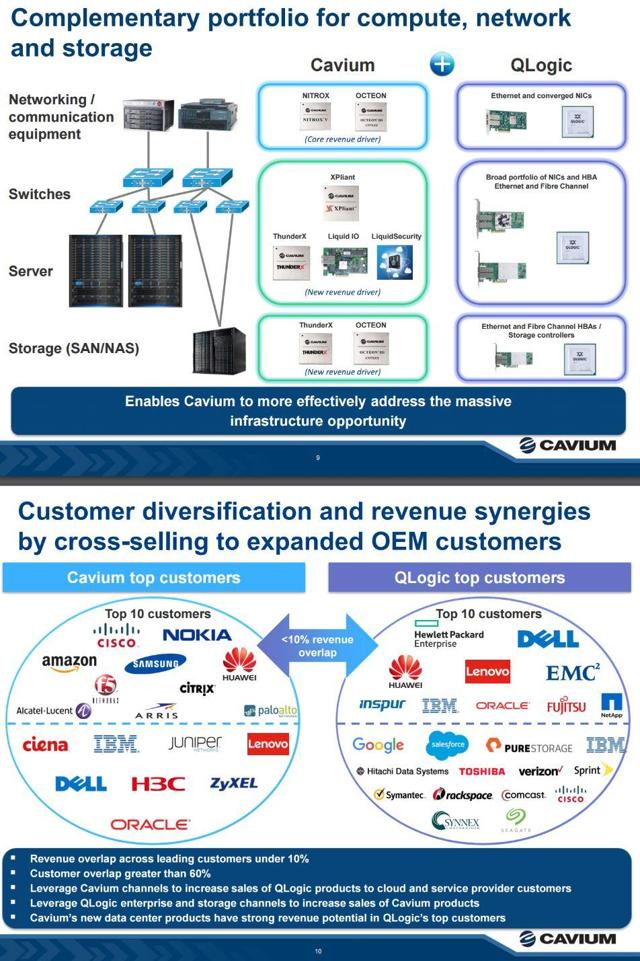 Cavium and QLogic spell out the product/customer synergies created by merging
ASML is buying Taiwanese chip equipment maker HMI for $3.1B - Semi consolidation isn't just for chipmakers. ASML (NASDAQ:ASML), by far the biggest provider of photolithography systems (they're used to imprint chip patterns onto wafers), argues buying HMI, a top provider of chip pattern verification systems, will allow it to create integrated solutions that result in better manufacturing yields - particularly when advanced technologies such as sub-10nm manufacturing processes and 3D integration are involved. ASML also sees HMI aiding its costly efforts to commercialize next-gen EUV lithography systems - they're considered necessary for manufacturing process advances to continue over the long run. Volume production of chips made using EUV systems is expected to start in 2018.
The HMI deal is the chip equipment industry's biggest since last year's Lam Research (NASDAQ:LRCX)/KLA-Tencor (NASDAQ:KLAC) deal. Regulators are still reviewing that one.
Apple contract manufacturer Jabil issues weak FQ4 guidance with its FQ3 beat, but brushes it off - Though Jabil (NYSE:JBL) guided for August quarter revenue of $4.15B-$4.35B vs. a $4.66B consensus and year-ago sales of $4.68B - it blamed "a soft environment within our mobility business" - shares finished after-hours trading down just 1%. The market's subdued reaction highlights just how much near-term expectations have dropped for Apple and its various suppliers ahead of the iPhone 7's launch. A new $400M buyback also probably helped.
Driving Jabil's FQ3 beat: Better-than-expected demand from telecom OEMs led electronic manufacturing services ("EMS") revenue to rise 4% Y/Y. Apple weakness led diversified manufacturing services ("DMS") revenue to drop 9%. EMS revenue is expected to be flat in FQ4; DMS revenue is expected to drop 20%.
Forbes: Google's Bold Move To Reinvent Every Device On The Planet - Forbes' cover story focuses on CEO Sundar Pichai's priorities and leadership style, along with Google's (GOOG, GOOGL) efforts to leverage its big AI investments across a variety of apps, services and platforms. "What worked for image recognition turned out to work when applied to voice recognition, translation and other similar tasks… Similarly, the techniques used to recognize images in Google Photos are able to power StreetView's ability to "read" signs and Project Sunroof's ability to identify rooftops that are suitable for solar panels based on aerial images. It's also enabling a small experimental team at Google to effectively detect diabetic retinopathy, an eye disease that can lead to blindness, by looking at iris scans." Forbes adds there are now over 2,000 projects inside Google relying on the work of the company's Google Brain AI/deep learning team.
Disclosure: I/we have no positions in any stocks mentioned, and no plans to initiate any positions within the next 72 hours.
I wrote this article myself, and it expresses my own opinions. I am not receiving compensation for it. I have no business relationship with any company whose stock is mentioned in this article.
Editor's Note: This article covers one or more stocks trading at less than $1 per share and/or with less than a $100 million market cap. Please be aware of the risks associated with these stocks.