Overview: The U.S. steel industry has been a developing, positive theme in 2016. Steel impacts the industrial metals components of VanEck's actively and passively managed natural resources strategies. As of March 31, 2016, steel-related companies accounted for approximately $250 million of the firm's assets under management.
The global steel industry is oversupplied and is facing significant headwinds. 2015 was arguably a turbulent year for the industry, given these major negatives: China's economic slowdown, falling prices, and a glut of foreign steel imports into the U.S. (mainly from China).
Despite the negative view for the global steel industry, we believe the U.S. steel industry has bottomed and unique investment opportunities exist. Thus far in 2016, the U.S. steel industry has performed well, and we believe there are further compelling upside opportunities. In short, we see these positive signs: (1) A continuation of a strengthening U.S steel price environment (Chart A); (2) Fundamentally better operating and financial conditions via improved capacity utilization (Chart B); and (3) the potential for an industry-wide multiple re-rating, which has not occurred in a long time.
Chart A: U.S. Steel Prices Rebound in 2016 ($/ton)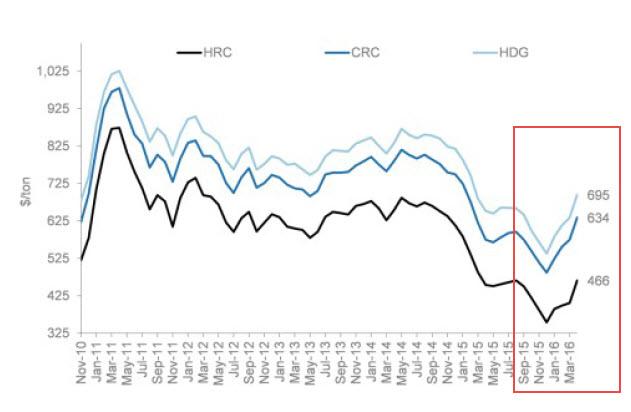 Source: CRU, Morgan Stanley Research. HRC represents "hot rolled coil"; CRC is "cold rolled coil"; and HDG is "hot dipped galvanized steel." All represent types of steel. Data as of 4/30/2016.
Chart B: U.S. Steel Industry Operating Conditions/Rates (% Capacity Utilization)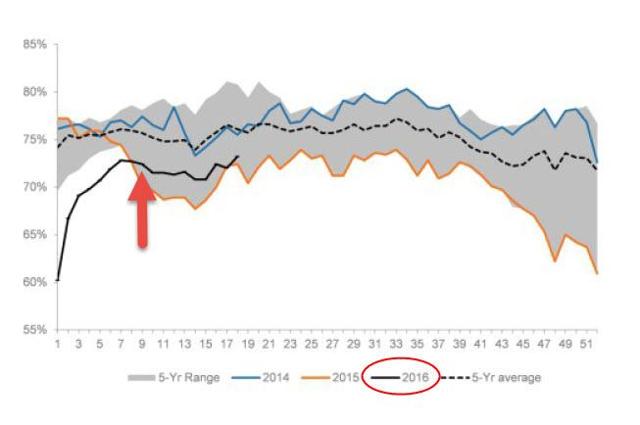 Source: AISI, Morgan Stanley. Capacity utilization is a metric used to measure the rate at which potential output levels are being met or used. This chart demonstrates improvement thus far in 2016. Data as of 4/30/2016.
Flood of Supply from China
The global steel industry is oversupplied, with about 33% idle spare capacity. During the period from 2012 to 2015, global steel production increased from 1,554 million metric tons (mmt) per annum to 1,667 mmt per annum, a 113 mmt (or 7.3%) jump, of which 94 mmt came from new capacity in China.
The magnitude of this increase in global supply is best understood when stacked against demand. The U.S. is the world's third-largest consumer of steel, with a 120-130 mmt per annum market, while the European Union is the second-largest market at 140-150 mmt per annum. (China is both the world's largest consumer and producer.)
China's Overcapacity Problem
China's demand for steel began to wane just at the time that the country began aggressively increasing its domestic production. The net result was that steel once destined for the Chinese domestic market found its way onto the export market, with Chinese exports increasing from 42 mmt per annum in 2012 to 100 mmt per annum in 2015 (see Chart C).
Chart C: China's Net Steel Exports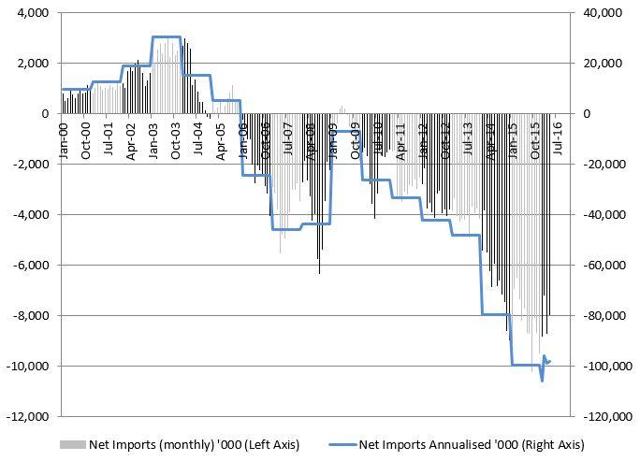 Source: VanEck, Bloomberg. Data as of 4/30/2016.
Predictably, the increase in Chinese steel export volumes depressed international steel export prices. This placed significant price pressure on domestic steel prices in countries that are large importers of steel, such as the U.S.
U.S. Steel Prices' 2015 Collapse
At the end of 2015, steel (hot rolled coil) exports from China traded at $250/ton and imports into the U.S. reached record highs of 30% of demand, compared with a more normalized level of 18-20%. With cheaper imported steel flooding the U.S. market, domestic prices collapsed from $480/ton to around $370/ton (-23%) between July 2015 and January 2016.
These low prices (last seen during the 2008/2009 global financial crisis) threw the U.S. steel industry into a crisis of reduced orders, idle mills, and significant layoffs. To protect itself, the industry turned to trade protection measures to help combat low-priced imports. The Leveling the Playing Field Act, passed in 2015, seeks to maintain a fair marketplace for U.S. steelmakers as it restores and strengthens anti-dumping rules and countervailing duties.
As a result, in March 2016, the U.S. Department of Commerce announced that both government subsidies and dumping were occurring, and accordingly, levied tariffs in the range of 282-493%. These are more than enough to lock out Chinese steel from the U.S. market.
Upside Potential for U.S. Steel Prices
Looking out post the implementation of these policies, we expect current U.S. domestic steel prices to have additional upside. We believe the price of domestic steel could improve because: (1) the removal of "dumped and government subsidized" steel from the domestic market will normalize the mix between domestic supply and imports; (2) inventories will be drawn down; and (3) upward pressure on raw material prices, such as coking coal and iron ore, will continue.
However, looking ahead to 2017, we do expect the market to soften as higher prices translate into increased supply either from the U.S. domestic market (U.S. steel utilization rate is around 74%) or from increased imports. Finally, the strong automotive and non-residential markets alone are not sufficient to offset a potential increase in U.S domestic supply, and so, a resurgence in demand from other industries, such as the energy industry, will be required.
Trade Protection Taking Shape
In conclusion, although the U.S steel industry has performed well to date in 2016, we believe the opportunity has more near-term upside potential, as the enforcement of all trade protection laws is still in its early stages. As authorities eventually implement these policies for steel, it would not be surprising to see additional trade protection announcements being made covering other key U.S. commodities.
Important Disclosure
* Any discussion of specific securities mentioned in this post is neither an offer to sell nor a solicitation to buy these securities.
This content is published in the United States for residents of specified countries. Investors are subject to securities and tax regulations within their applicable jurisdictions that are not addressed on this content. Nothing in this content should be considered a solicitation to buy or an offer to sell shares of any investment in any jurisdiction where the offer or solicitation would be unlawful under the securities laws of such jurisdiction, nor is it intended as investment, tax, financial, or legal advice. Investors should seek such professional advice for their particular situation and jurisdiction. You can obtain more specific information on VanEck strategies by visiting Investment Strategies.
The views and opinions expressed are those of the author(s), but not necessarily those of VanEck, and these opinions may change at any time and from time to time. Non-VanEck proprietary information contained herein has been obtained from sources believed to be reliable, but not guaranteed. Not intended to be a forecast of future events, a guarantee of future results or investment advice. Historical performance is not indicative of future results. Current data may differ from data quoted. Any graphs shown herein are for illustrative purposes only. No part of this material may be reproduced in any form, or referred to in any other publication, without express written permission of VanEck.
Please note that Van Eck Securities Corporation offers investment portfolios that invest in the asset class(es) mentioned in this post. Hard assets investments are subject to risks associated with natural resources and commodities and events related to these industries. Commodity investments may be subject to the risks associated with its investments in commodity-linked derivatives, risks of investing in a wholly owned subsidiary, risk of tracking error, risks of aggressive investment techniques, leverage risk, derivatives risks, counterparty risks, non-diversification risk, credit risk, concentration risk and market risk.
Investing involves risk, including possible loss of principal. An investor should consider investment objectives, risks, charges and expenses of any investment strategy carefully before investing. No part of this material may be reproduced in any form, or referred to in any other publication, without express written permission of Van Eck Securities Corporation.