Author's Note: Please note our disclosure statements at the end of this article.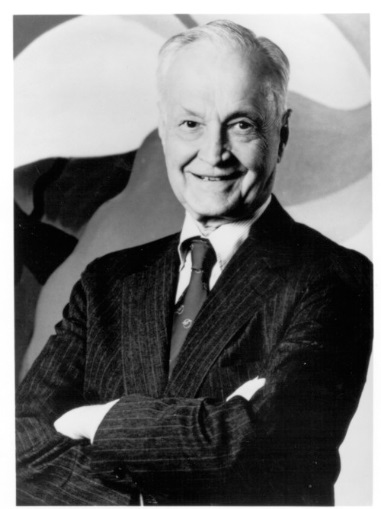 "The time of maximum pessimism is the best time to buy."

- John Templeton
Introduction
SuperCom (NASDAQ:SPCB) is no stranger to these pages and has been covered by several authors, including yours truly (here and here). Rather than offer yet another overview of the company, we'll focus our article on what's new and why we think the stock is worth a look here. (If you do want some background, the company's recent presentation is a good place to start.)
Overreaction
After a string of new contract wins totaling over $50 million in value, SuperCom hit a high of around $14 per share in June last year. Unfortunately for longs, it has been downhill since, and the shares now sit below $4. Certainly, some of this has been self-imposed, as the company suffered from late filings, confusing communications, and CFO turnover that gave ample fodder for doubters and shorts. A dearth of new, large contract wins didn't help break the negative momentum, leading some investors to throw in the towel.
We think, however, that the shares have overreacted, and with the company's valuation so cheap and investor sentiment best characterized as in despair, the hurdle is exceedingly low. The company could bounce sharply the next time there is decent news to report, or maybe even on no news at all, beyond the realization that it is so oversold.
Valuation and Upside
At $3.81 per share, the company's market cap is around $59 million. There is $25.5 million in cash and restricted deposits, which is equal to $1.65 per share, or 43% of the stock price. With no corporate debt, that puts the company's enterprise value at 4.9x 2015 EBITDA and 3.0x 2014 EBITDA (a hair higher if you include $2 million in short-term liabilities for a future earn-out). On a price/earnings basis, the stock is trading at 7.9x non-GAAP 2015 EPS, without adjusting for cash. If you take the cash out of the share price, the P/E ratio drops to an amazing 4.5x. On a forward basis, B. Riley is forecasting $0.43 in 2016 earnings, which implies a P/E ratio of 8.9x (with cash) and 5.0x (without cash) earnings.
These multiples are not only low in absolute terms, but even more so relative to comps. Zetes (ZTS-BELGIUM) trades at 8.4x EBITDA and 18.2x earnings on a trailing basis. Gemalto (OTCPK:GTOMY) trades even higher, at 10.6x EBITDA and 34.0x earnings. B. Riley has an $8 price target on SuperCom stock, and while that's over 100% upside, it seems rather reasonable in light of comp multiples and SuperCom's low valuation.
We do think SuperCom shares can support a high multiple due to the business's barriers to entry, high customer switching costs, high margins, and healthy recurring revenue. With some new contract wins, the market could start to give the company the benefit of the doubt again, and a 20x earnings multiple would be appropriate, not even aggressive. B. Riley's April 2015 initiation report on SuperCom called for $1.23 in 2016 earnings, which we think is a testament to the earnings power the company could have once it gets back on track. That earnings multiple combination leads to a $25 stock, which is 6.5x the current share price. Even a mere revisit to its high last year would be a 3.7x return from the currently depressed level.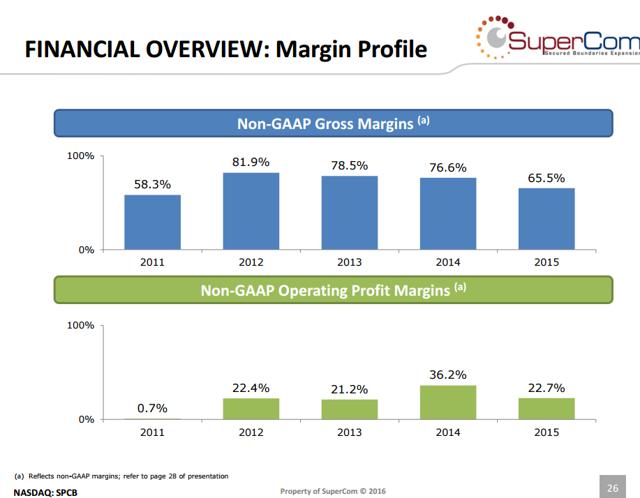 SuperCom has historically earned attractive profit margins. (Source: June 2016 investor presentation, available on the company's website)
But is it a value trap?
A low multiple to trailing earnings won't help much if the company can't snap out of its doldrums and earn back investor confidence. To be fair, it does seem that the electronic ID business has been challenging lately, with the pipeline taking longer than anticipated to close and award appeals increasing in frequency (B. Riley). But even in the face of these headwinds, the company has been adamant that patience will be rewarded.
SuperCom's April press release acknowledged "the project-driven nature of our business and the sometimes longer-than-expected sales cycles," but also gave encouragement for a longer term outlook. Management stated:
"The fundamentals of our underlying business remain strong and we continue to see growing demand for our solutions . . . . [these] opportunities, coupled with our growing base of steady state revenue and the contribution from acquisitions made in the last few months give us confidence that 2016 will be a year of growth for SuperCom."
The company's June investor presentation also confirmed that management is expecting steady-state revenue growth in 2016. With insider ownership at over one-quarter of the business, we think management is highly incentivized to create long-term value, and the market has been too focused on the short-term.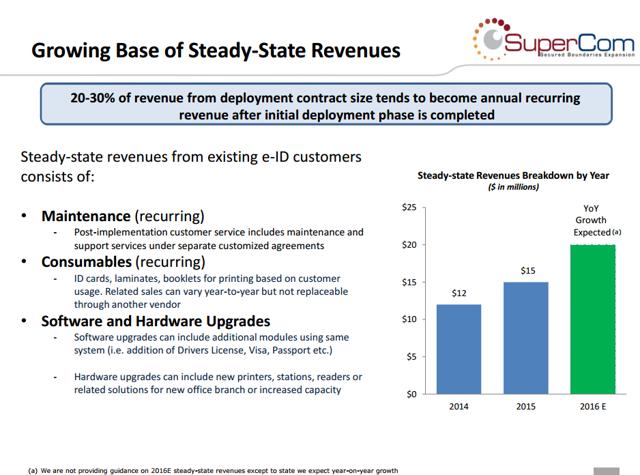 Growth in steady-state revenues. (Source: June 2016 investor presentation, available on the company's website)
Acquisitions
Another aspect of the company that we think the market is missing is the collection of acquisitions completed since current management took over. Aside from OTI's e-ID division that grew SuperCom's pipeline of qualified leads:
Leaders in Community Alternatives boosts the top line and gives SuperCom a US presence with a 24-year history and credibility in the offender monitoring space.
The acquisitions of Prevision and Safend strengthen the company's cybersecurity assets (thus supporting all of the company's divisions), and the latter had over 3,000 customers and 3 million license seats.
The acquisition of the assets of PowaPOS also supports SuperCom's push into mobile payments. PowaPOS has been deployed by more than 150 vendors in over 20 countries, and is off to a strong start after announcing $1.1 million in orders last month.
Altogether, these acquisitions have taken SuperCom from being a company that was nearly entirely e-ID with talking points on M2M, to one that is e-ID, M2M, electronic monitoring, cybersecurity, and mobile payments.
We do think the e-ID business alone supports the company's valuation, but see these other business divisions emerging into real businesses. Multiple already announced wins in offender monitoring and MoUs in mobile payments give the story legs. Management argues that there are synergies between these different businesses, as they offer cross-selling opportunities and clients seek broader sets of technology solutions. We are glad to see that in each case management took a disciplined approach to their acquisitions, and think they have assembled a collection of businesses that is starting to bear fruit, even if they, meanwhile, mostly go unnoticed by other investors.
Conclusion
It seems reasonable to us that selling complex, mission-critical solutions to governments will have a long sales cycle with intermittent wins, rather than the steady news flow the market prefers. We think SuperCom is overdue for some good news, but the market has abandoned the stock in its impatience and frustrations. The company does have room for improvement in its communications and governance, and has promised to make strides in those areas, but we don't lose sight of the bigger picture.
SuperCom, we believe, is in the best position it has ever been to win ever-larger contracts. Management has expressed their confidence in the future and deserves accolades for diversifying the business through acquisitions that are already showing progress. With 43% of the market cap in cash and a trailing, ex-cash, P/E ratio of 4.5x for what should be a high P/E business, we think the stock is too cheap. The market has such low expectations that it shouldn't take much for the stock to bounce. With one large win or a few smaller wins, we see the potential for SuperCom shares to reach multiples of their current price.
Disclosures: Lazarus is long SuperCom and a significant shareholder of the company. Nothing here is to be deemed investment advice. This article is also subject to our disclaimer available here. This article covers one or more stocks trading with less than $100 million in market cap. Please be aware of the risks associated with these stocks.
Disclosure: I am/we are long SPCB.
I wrote this article myself, and it expresses my own opinions. I am not receiving compensation for it. I have no business relationship with any company whose stock is mentioned in this article.
Editor's Note: This article covers one or more stocks trading at less than $1 per share and/or with less than a $100 million market cap. Please be aware of the risks associated with these stocks.