This investment essay is about S&P Global (NYSE:SPGI), previously known as McGraw-Hill Financial, one of the world's leading financial information service provider that includes: ratings, benchmarks, analytics, data and research services. The stock has had a good run in the market, increasing ca. 32% since the beginning of 2016 and currently trading at USD107.9 (cf. to an all-time high of USD112.8 reached during the last week of May 2016).
In this article, we will discuss if the share price has more room for upside, given the management guidance for 2% decline in 2016 global issuance volume related to its core rating business. First, we will look into factors that make SPGI enjoy a wide economic moat and generate higher ROIC in the range of ca. 40%.
#1) SPGI owns a unique portfolio of iconic brands with one of the best-in-class information and analytics services products and market leading position in their respective industry verticals serving diverse end markets. The company had revenues of ca. USD5.3bn in 2015 spread across four major business segments that include: S&P Ratings (45% of sales), S&P Capital IQ and SNL (26%), S&P DJ Indices (11%), and Commodities & Commercial Markets (18%).

Source: Company filing
Over the past four years, the company has managed to grow its annual revenues at a CAGR of 8% to USD5.3bn, while its EPS grew at a 22% CAGR to USD4.53 helped by positive operating leverage with 960bps improvement in operating margin.
#2) Over the past 5 years, the company has embarked on a major business rationalization and transformation plan focused on i) higher-growth business with ii) higher-margin profile and iii) low capex intensity. Management in 2011 separated its financial business from education as part of a Growth and Value Plan and divested its McGraw-Hill Education business for ca. USD2.4bn.
This was followed by the Growth & Performance Goals project in 2014 with an aim of shifting its business organization from a holding company to an active management model to be a market leading provider of essential intelligence services to global capital, commodity, and corporate markets. It also sold its McGraw-Hill Construction business segment for USD320m to Symphony Technology Group during 2014. Other divestitures include: Aviation Week to Penton, Business Week to Bloomberg and Credit Market Analysis.

Source: Company filing
As part of its plan to create a portfolio of highly scalable, industry leading, interrelated businesses mainly targeting the capital and commodity market space, it acquired SNL Financial (SNL) in 2015. SNL is a leading provider of news, data, and analytics to five sectors in the global economy: financial institutions, real estate, energy, media & communications, and metals & mining.
During 2013, it increased its stake in India's leading credit rating agency CRISIL to 67.8% from 52.8%, by buying 11m equity shares in the open market for USD214m. It also acquired Eclipse Energy Group to complement its North American natural gas capabilities from its Bentek Energy business in 2014. It also bought Colombia-based ratings firm, BRC Investor Services SA to expand its presence in the Latin American credit markets.
#3) The company enjoys a resilient earnings profile driven by high subscription-based recurring revenues.

Source: Company filing
Further, its low capex intensity has led to a strong balance sheet and superior free cash flow (FCF) generation helping it return cash back to shareholders in the form of dividends and share buybacks.
In the second part of the article, we will discuss on how the secular growth trend related to non-rating business will help drive ca. 6% revenue growth in 2016 given issuance headwinds for its core rating business
Based on its assessment of market conditions, management guided for global issuance volume to decline by 2% in 2016, due to higher volatility and widening spreads that could negatively impact corporate issuance volume. As expected, there has been a drop in issuance volumes during Q1 2016, given SPGI's high exposure to corporate and financial segments (ca. 68% of revenue mix).

However, we expect the company to register ca. 6% growth for the full year 2016 driven by solid growth in non-rating businesses driven by secular growth trends and certain pockets of growth in global refinancing needs in corporate debt maturities and high-yield maturities. As seen from the charts below, the Q1 2016 results also vouch the same.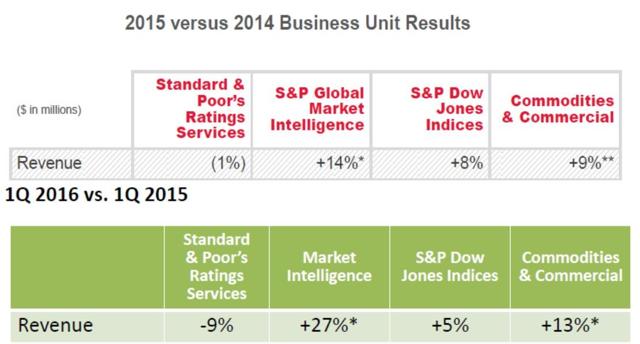 Source: Company filing
While the rating revenues have fallen 9% y/y in Q1 2016 (vs. -1% y/y in 2015), its revenues in other segments have shown a positive trend. We expect the trend to continue and the following paragraph discusses each of the non-rating segments in brief.
Rising spend on financial data, mainly in back and middle office from the buy side client bodes well or S&P Global Market Intelligence (45% of 2015 sales). The acquisition of SNL Financial in 2015 and its integration with S&P Capital IQ has helped create one of the most powerful research, data and analytics platforms serving the capital and corporate markets. Management sees potential to cross sell its services, launch new products and diversify its client base and expand global reach (mainly in Europe, Latin America and Asia) given its concentrated presence in the Americas.
We believe that the S&P Dow Jones Indices segment (11% of 2015 sales) will benefit from the steady rise of passive investments as cash shifts from actively managed funds. According to a recent research from PwC, total managed assets under exchange traded funds globally is expected to grow at a CAGR of 10% and reach USD5 trillion in 2020 (vs. USD2.6 trillion in 2014).
S&P Dow Jones Indices stands to benefit as it earns recurring licensing fees on assets invested in products linked to its indices. Though investors have raised concerns regarding over Commodity and Commercial (C&C) Markets business (11% of 2015 sales), it is relatively immune to the lower energy prices, as it is a service which clients need to subscribe irrespective of the market conditions. Emerging markets would be the key driver of growth for Platts, given the i) continuing globalization, ii) increasing sophistication and interconnectedness of the commodities markets positions and iii) greater demand for price discovery.
There are also some pockets of long-term growth for its rating business, given the i) refinancing needs, which S&P estimates at ca. USD9.5 trillion in global rated corporate debt scheduled to mature from 2016 to 2020 and ii) expansion of debt capital markets in emerging economies, which is expected to account for 36% of global corporate bonds by 2030 (cf. 14% issued in 2014, representing a USD47 trillion increase).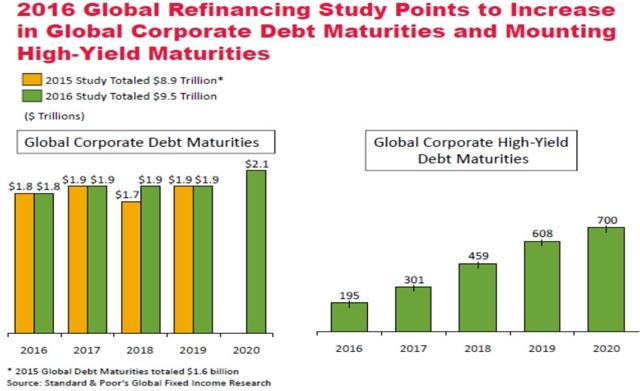 Solid progress on margin improvement and share buybacks shows that SPGI can attain EPS growth of 12%-14% mainly from synergies related to SNL acquisition
Management is very bullish on its margin expansion potential, driven by productivity improvements and realization of synergies from the SNL acquisition. The company embarked on a three-year productivity program from 2014 onwards that is expected to complete by the end of 2016, targeting annual savings of USD140m. The company had already achieved ca. 80% of these targets at the end of 2015. It should be noted that SNL is a 'must have' product for various global customers and has scope to unlock tremendous revenue opportunities and cost synergies. Management has guided for ca. USD100 million of EBITDA synergies by 2019, of which one-third is expected to be realized in 2016.

Since closing the deal, it has made good progress on integrating the business with operating profit growing 9% y/y to USD550m in Q1 2016, implying a margin expansion of 130bps y/y to 41.1%. We believe that the company is well poised to grow its free cash flow from business driven by its solid operating fundamentals and also proceeds from divesture that could be deployed in returning cash back to shareholders in the form of dividends and buybacks. Based on management guided FCF of USD1.3bn for 2016, the company is trading at a FCF yield of 4.5%.
Final thoughts and valuation:
SPGI is trading at a modest discount of 20.9x (based on one year forward P/E), compared to its closest peers Moody's (NYSE:MCO) at 21.5x. However, there is little scope for expansion in multiple over the next 12 months and trade in line with its closest peers Moody's, given its higher EPS growth trajectory based on consensus estimates.
Annual EPS Growth

P/E Ratio

2016

2017

2018

3 Yr Avg

2016

2017

2018

S&P Global

12.5%

12.3%

12.1%

12.3%

20.9

18.7

16.6

Moody's Corporation

-0.7%

12.1%

11.3%

7.6%

21.5

19.2

17.2
Source: Nasdaq
Investors can invest in the stock with capital appreciation potential in the range of 12%-14% over the next 3 years (in line with its earnings growth trend) and a modest 1.5% dividend yield return.
Key risk to our investment thesis:
1. Lower issuance volume from rising rates
2. Correction in equity market impacting volumes in index business
3. Higher compliance cost from stricter regulations
Disclosure: I/we have no positions in any stocks mentioned, and no plans to initiate any positions within the next 72 hours.
I wrote this article myself, and it expresses my own opinions. I am not receiving compensation for it (other than from Seeking Alpha). I have no business relationship with any company whose stock is mentioned in this article.