Ekso Bionics (EKSOD) continues to pave the way in the exoskeleton industry. The company recently announced that its Ekso GT exoskeleton received FDA clearance for spinal cord injury and stroke patient use. This recent FDA clearance is evidence that Ekso Bionics is transforming itself into a promising commercial entity. Given the potential for exoskeleton use in society, such a transformation is great news for investors. CEO Thomas Looby stated that the Ekso Bionics' FDA clearance allows the company to "address more than 20 times the patient population of any other exoskeleton technology on the market."
Ekso Bionics is growing at an incredibly fast pace, which is not surprising given the company's leadership position in a burgeoning industry. In fact, the company's Q1 revenues of $8.5 million grew a stunning 399.4% YOY. As one of the pioneers of the exoskeleton industry, Ekso Bionics has a clear first mover advantage. Ekso Bionics' strong foothold in the medical and industrial markets, in particular, is a great sign given the numerous potential applications of exoskeleton technologies in these markets.
Gaining Traction in the Rehabilitation Market
Ekso Bionics has recently taken a major step in the rehabilitation market with the FDA clearance of the company's Ekso GT exoskeleton. In fact, the Ekso GT "is the first exoskeleton cleared by the FDA for use in stroke patients and is the only exoskeleton cleared for spinal cord injury in the upper thoracic and cervical spine." Given the fact that there are more than half a million US stroke survivors each year, it is clear that the market for the Ekso GT is immense. It would not be surprising to see Ekso Bionics' business continue to be dominated by the medical exoskeleton market moving forward.
The size of the exoskeleton rehabilitation market is clearly reflected in the company's rapid revenue growth. Ekso Bionics' medical device related revenue grew more than eightfold YOY to $8.1 million in its latest quarter (Ekso Bionics has rented or sold nearly 200 medical units so far). The company's YOY decline in its engineering services revenue ($.4 million) was more than offset by the company's growth in its large medical device related revenue. Such growth clearly reflects the massive opportunity on the medical side of the exoskeleton market. The company's product can now be found in over 120 rehabilitation facilities around the world, which is a figure that will likely grow exponentially moving forward.
The FDA clearance of Ekso Bionics' Ekso GT represents a milestone for the company.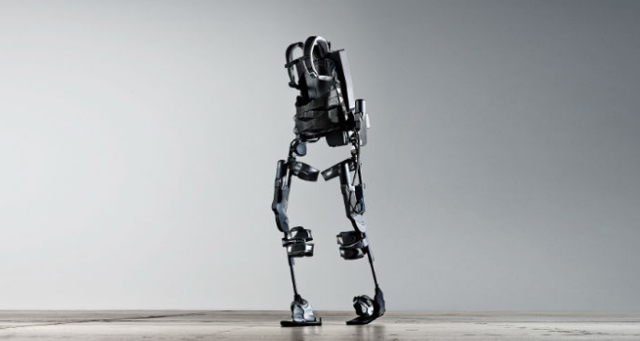 Source: roboticstrends
Growing Industrial Business
Ekso Bionics' industrial Ekso Works division is also gaining steam. While Ekso Bionics is still dominated by its medical business, the company's industrial business perhaps has greater long-term potential. Given the sheer number of industrial functions that could benefit from exoskeleton technology, the potential industrial exoskeleton market is enormous. Industrial workers could potentially experience dramatic increases in productivity with exoskeletons.
Not surprisingly, Ekso Bionics has been working hard to develop its industrial exoskeleton business. The company continues to research/test its gravity bouncing arms and upper body vests, which are valuable starting points for more innovative industrial exoskeleton technologies. Ekso Bionics was even able to sell 25 demonstration devices to a major construction equipment distributor, which shows that the company's industrial division is moving closer towards commercialization.
Challenges Ahead
Ekso Bionics' tightening grip on the medical and industrial exoskeleton markets is a great sign. While Ekso Bionics is still somewhat of a development company, it is clearly making huge steps on the commercial front. Despite Ekso Bionics' recent successes, the company still has many challenges ahead of it. Given the potential of exoskeleton technology, competition will undoubtedly ramp up significantly moving forward.
Once exoskeletons are proven to be viable on the commercial markets, major technology companies as opposed to smaller exoskeleton pure plays ReWalk (NASDAQ:RWLK) will almost certainly flood the market. Ekso Bionics will likely have a tough time competing with large technology corporations that have far more to spend on research and development. Even giant automakers like Honda (NYSE:HMC) Hyundai (OTCPK:HYMLF) are starting to involve themselves in the exoskeleton arena.
Ekso Bionics could conceivably become an acquisition target if larger companies begin to seriously invest in exoskeleton technologies. In fact, Lockheed Martin (NYSE:LMT) previously entered an agreement with Ekso Bionics to further develop the Human Universal Load Carrier exoskeleton. If Ekso Bionics is not acquired in the future, however, the company will almost certainly have a hard time competing against larger companies.
Given the incredibly capital-intensive nature of the exoskeleton industry (exoskeletons can easily cost tens of thousands of dollars), investors should have a healthy fear of companies with stronger balance sheets. Ekso Bionics only had $12.3 million in cash at the end of its latest reported quarter, which is incredibly dangerous given how expensive exoskeleton research, development, and production is. The company's cash outflow from operations alone was $6.8 million in the latest quarter.
Conclusion
Despite the sizable competitive risks facing Ekso Bionics, the risks are worth the reward at the company's valuation of $84 million. While Ekso Bionics is still struggling on the profitability front, the company is still in an early stage industry with relatively immature technology. Moreover, Ekso Bionics is experiencing explosive growth, evident in the fact that its revenue grew approximately fivefold YOY. Ekso Bionics has a bright future ahead of it considering its strong market position in a highly promising industry.
Disclosure: I/we have no positions in any stocks mentioned, and no plans to initiate any positions within the next 72 hours.
I wrote this article myself, and it expresses my own opinions. I am not receiving compensation for it (other than from Seeking Alpha). I have no business relationship with any company whose stock is mentioned in this article.
Editor's Note: This article covers one or more stocks trading at less than $1 per share and/or with less than a $100 million market cap. Please be aware of the risks associated with these stocks.