In this article, we will discuss Marinus Pharmaceuticals (NASDAQ: MRNS), an emerging, CNS-focused pharmaceutical company. We are initiating coverage on common shares of Marinus Pharmaceuticals with a Buy rating and a common shares price target of $4.41.
On June 13, 2016, the company announced that ganaxolone failed to meet its primary endpoint in a phase 3 clinical trial in adult focal seizure disorder. We will discuss this clinical trial, the company's remaining product pipeline, and will provide rationale for the compelling value in its common stock at this price level.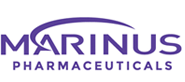 Investment highlights:
Price target: $4.41
Current stock price: $1.43
52-week stock price range: $1.43-20.72
Market cap: $27.9 million
Cash and cash equivalents: $51.2 million
Cash enough to last till: 2H 2017
Debt: $7.24 million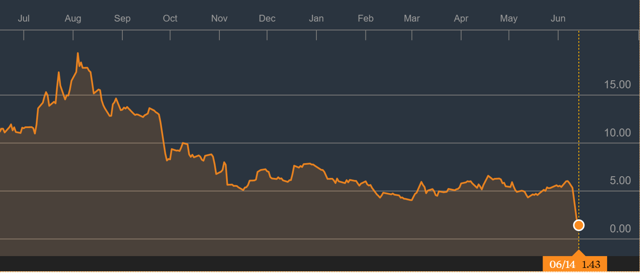 Figure 1: Marinus Therapeutics, common stock price chart (from Bloomberg.com)
Investment thesis
Ganaxolone: The company's clinical-stage product candidate, ganaxolone, is a CNS-selective GABAA modulator being developed in three different dose forms (intravenous ("IV"), oral capsule and oral liquid). Ganaxolone acts on the GABAA receptor in the brain, a target known for both anti‑seizure and anti‑anxiety effects through positive allosteric modulation. Ganaxolone is designed to modulate both synaptic and extrasynaptic GABAA receptors. Its activation of the extrasynaptic receptor is an additional mechanism that provides stabilizing effects and potentially differentiates it from other drugs that increase GABA signaling.
Ganaxolone is a synthetic analog of allopregnanolone, an endogenous neuroactive steroid. The effects of allopregnanolone have been studied for over two decades. Its role in controlling seizures and improving anxiety, mood and sleep through positive allosteric modulation of GABAA receptors is well documented. Despite these positive characteristics, allopregnanolone is not suitable for chronic use (due to potential undesired hormonal side effects). Ganaxolone is designed to have the same GABA modulation effects on the GABAA receptors as allopregnanolone without activation of nuclear (classical) progesterone receptors. Ganaxolone and allopregnanolone differ from other GABA agents by interacting with both the synaptic and extrasynaptic GABAA receptors at a binding site distinct from benzodiazepines and barbiturates (drugs used commonly to control seizure episodes).
Ganaxolone in adult focal seizures
In a phase 2 clinical trial, 147 adult patients with uncontrolled focal seizure disorder were enrolled. Most of these patients had epilepsy for 25 years, and about 75% were on two or three anti-seizure medications. At the baseline, the seizure frequency was 6.5 seizures per week in the drug arm versus 9.2 seizures per week in the placebo arm. The dose of the drug was increased slowly in the first two weeks to 1500 mg per day and maintained for eight weeks. The primary endpoint of the trial was percentage change from the baseline in weekly seizure frequency.
Looking at this patient population, it is obvious that this is an extremely refractory and hard-to-control focal seizure patient population. In spite of being treated with multiple medications to control seizures, the patients were still having almost an average of one seizure per day. Even in this extremely difficult to treat population, treatment with the drug resulted in median 26% reduction in weekly seizure frequency (compared to 10.2% reduction in placebo). The results achieved statistical significance with a p value of 0.014. A part of this patient population underwent extended treatment for mean 39 weeks, resulting in 14.2% mean reduction in weekly seizure frequency in the drug arm (Source: Company 10-K).
The phase 2 clinical trial was conducted with an oral suspension of ganaxolone. In the phase 3 trial, the company shifted to the capsule form. However, earlier pharmacokinetic studies by the company had shown that the capsule form was 20% more potent than the oral suspension. At the baseline, 76% of patients in the phase 3 trial were on two or more anti-seizure medications. Twelve percent were already treated with vagal nerve stimulator. It is again obvious that this patient population had highly refractory and uncontrolled focal epilepsy.
Even in this highly refractory disease population, treatment with the drug resulted in median 21.2% reduction in seizure frequency per 28 days versus 10.2% in placebo. The dose used was 1800 mg per day for 12 weeks. It is unclear why the company changed the primary endpoint from percentage reduction in seizure frequency per week in the phase 2 trial to percentage reduction in seizure frequency per 28 days in the phase 3 trial. One explanation of this could be the FDA's suggestion. The results did not achieve statistical significance, resulting in a massive drop in stock price.
On a closer look at the phase 3 results, the relative reduction in the seizure frequency per 28 days was still twice as much in the drug arm compared to placebo (even in these highly refractory and uncontrolled focal epilepsy patients). The most common adverse effects seen in the drug arm were sedation and dizziness, which resulted in 25% of patients dropping out in the drug arm (much higher than placebo).
In the conference call held by the company after announcing the results of the phase 3 trial, company management expressed confidence that the trial was well conducted, with enough power and sample size to detect the drug effect. One reason for the surprising failure of the drug in the phase 3 trial could be the high dropout rate in the drug arm compared to placebo. At present, management has announced that the ganaxolone program in adult focal epilepsy is being discontinued, and the company will focus on its development in pediatric orphan indications and status epilepticus. As per the annual report, it was also planning a second phase 3 trial under special protocol assessment, but currently, there seems to be no plan to pursue the drug in this indication with high unmet need. It is disappointing that adult uncontrolled focal epilepsy patients will be deprived of the beneficial effects of this drug, which appears to be beneficial in reducing seizure frequency.
Ganaxolone in pediatric orphan epilepsy indications
PCDH19 pediatric epilepsy:
This is a rare and serious epilepsy syndrome which is characterized by early-onset cluster seizures, cognitive and sensory impairment and multiple psychiatric and behavioral abnormalities, mostly manifest in females. Currently, this disease has no approved therapies. The average age of onset of this condition is approximately 10 months, and it is suspected that about 10% of girls who have onset of seizures before five years of age have this disease mutation. According to the company's estimate, there are approximately 3000-5000 patients in the U.S. with this condition.
Marinus has tested ganaxolone in other pediatric seizure disorders with a beneficial effect and a favorable safety profile. Disturbances in certain neurosteroid hormones, like allopregnanolone, have been proposed in the pathogenesis of this disease. Since ganaxolone is a synthetic analog of allopregnanolone, the drug might be beneficial in controlling seizures in these patients. The proof-of-concept phase 2 clinical trial will enroll approximately 10 female pediatric patients with this condition (between the ages of 2 years and 18 years), who would be treated with ganaxolone for up to 26 weeks. The results of this phase 2 study are expected in mid-2016.
Fragile X syndrome (FXS):
This is a genetic condition that causes intellectual disability, behavioral and learning abnormalities, and various other physical abnormalities. About 100,000 people in the U.S. are expected to have FXS. Patients with FXS exhibit autism-like symptoms, including cognitive impairment, anxiety, mood swings, hyperactivity and attention-deficit disorder. About 18% of men and 7% of women with FXS have seizures (Source: Company 10-K).
Currently, there are no approved therapies specifically for FXS. Various psychiatric medications, like antianxiety medications, antidepressants etc., are used to treat the behavioral and psychiatric conditions associated with the disease. Stimulants like methylphenidate are used for hyperactivity and attention deficit. Various available classes of anti-seizure medications are used to control the seizures.
FXS arises from a mutation of a gene, known as the fmr1 gene, which codes for the Fragile X mental retardation protein. In a mouse model of this gene mutation, certain brain regions show lower levels of the extrasynaptic GABAA receptors and reduction of proteins and enzymes responsible for GABA function. The result of fewer GABAA receptors in this animal model include oversensitivity to noise, anxiety and seizures. Ganaxolone and other agents that have been shown to improve GABA function have also been shown to improve FXS symptoms in this animal model.
We believe that ganaxolone, with its high affinity for extrasynaptic GABAA receptors, may increase signaling at existing receptors to normalize GABA function, thereby reducing anxiety, hyperactivity and other disabilities associated with this inherited disorder.
Ganaxolone is currently being tested in a randomized, placebo-controlled, phase 2 proof-of-concept clinical trial in 60 patients with FXS. Marinus is initially focusing on developing ganaxolone for the treatment of anxiety and attention deficit in FXS, rather than control of seizures. Results of this phase 2 trial are expected in first half of 2016. Although we believe ganaxolone may also have beneficial effect on controlling seizures in FXS, the current focus on its development in controlling the behavioral abnormalities in FXS might potentially result in a larger target market.
In addition to the two pediatric orphan disease indications described above, Marinus might also explore the development of ganaxolone and other neuropsychiatric disorders and rare disease genetic indications (as per the annual report).
Status epilepticus: In the indications mentioned above, ganaxolone is being tested for long-term maintenance treatment to prevent seizures. Marinus is developing the IV form of ganaxolone for use in the treatment of breakthrough seizure episodes, called status epilepticus (SE). In some early clinical studies, the drug had positive clinical effects in controlling seizures in SE patients. In preclinical studies, ganaxolone showed similar activity to allopregnanolone in controlling SE refractory to the current first-line therapy, benzodiazepines. Sage Therapeutics (NASDAQ: SAGE) is currently testing its neurosteroid, SAGE-547, in a phase 3 trial in supra-refractory SE (the results are expected this year). Marinus is currently lagging behind Sage Therapeutics in this indication.
Intellectual property
Marinus Therapeutics owns various patents relative to ganaxolone that extend till 2030. It might also get further patent term extension under the Hatch-Waxman Act or for possible pediatric exclusivity. The company has also applied for other patents, which, if granted, will expire in 2036. Marinus has entered into a license agreement with Purdue in 2004, which was amended in 2008. Under this agreement, the company is obligated to pay royalties as a percentage in the high-single digits range up to 10% of net product sales for ganaxolone.
Competition
Recently approved medications for maintenance seizure treatment include Vimpat (UCB SA (OTCPK:UCBJF)), Potiga (GlaxoSmithKline (NYSE:GSK)), Fycompa (Eisai (OTCPK:ESALY)), Aptiom (Sunovion Pharmaceuticals) and brivaracetam (UCB). Sage Therapeutics has a competing neurosteroid pipeline, including SAGE-547, in acute seizures (SRSE). SAGE-217 is a potential competitor to ganaxolone in orphan epilepsies, including PCDH19 epilepsy.
In FXS, several drugs are being tested for behavioral and cognitive dysfunction, including donepezil, memantine, sertraline and minocycline. Other companies developing drugs for FXS include Alcobra (ADHD), Sunovion Pharmaceuticals, Afraxis and Neuren Pharmaceuticals (OTCPK:NURPF).
Management
Company management has extensive leadership experience at leading pharmaceutical companies.
Christopher Cashman, CEO, Chairman of the Board: Former co-founder/CEO of Protez Pharmaceuticals (acquired by Novartis (NYSE:NVS)); former President/CEO at Message Pharmaceuticals; held various leadership roles at Pfizer and Smithkline Beecham.
Ibena Patroneva, MD, Chief Medical Officer: Close to 20 years of experience focused on neurology drug development at AstraZeneca (NYSE:AZN), Wyeth Pharmaceuticals and Takeda Pharmaceuticals (OTCPK:TKPHF) (including various leadership roles).
Jaakko Lappalainen, MD, PhD, V.P. Clinical Development: Various clinical development positions at Premier Research; former Global Lead Physician for the naloxegol program at AstraZeneca.
More details about the management and Board of Directors can be accessed here.
Financials and valuation of the common stock
We used the Enterprise DCF method to value the future revenues from ganaxolone in PCDH19 epilepsy and FXS in the U.S. and the E.U. The royalty revenue payable to Purdue was adjusted. We used weighted average cost of capital at 12% initially for 7 years, then decreased it to 10% (higher than calculated using the CAPM model to account for additional risk). Sales were forecasted to peak in 2030 at patent expiry, then decline at 3% annually. All non-operating assets, including risk-adjusted operating loss carry-forwards and outstanding claims, including fair value of outstanding employee stock options, were adjusted while calculating the fair value for equity.
Scenario 1: Ganaxolone in PCDH19 epilepsy only (U.S. and E.U.): Due to the orphan indication, we expect Marinus to price the drug at about $40k/year if only developed in this indication. This seems reasonable considering the $23k/year price tag for Nuplazid in Parkinsonism-associated psychosis by Acadia Pharmaceuticals (NASDAQ: ACAD). We adjusted the future forecasted revenues and R&D expenses using probability of 30% for reaching commercial stage. At peak 40% market penetration, we obtained fair value per share of $4.41 (R&D not capitalized) and $5.26 (R&D capitalized as investment).
Scenario 2: Ganaxolone is approved in both PCDH19 epilepsy and FXS (U.S. and E.U.): Under this scenario, we expect ganaxolone to be priced at a lower $10k/year (considering the wide prevalence of FXS). We modeled peak market penetration of 10% in FXS and 40% in PCDH19 epilepsy. The probability of success to reach commercial stage was 30% for both indications (average for drugs in phase 2 trials). We obtained fair value/share of $5.53 (R&D not capitalized) and $6.66 (R&D expenses capitalized).
The enterprise DCF model can be downloaded here.
Risks in the investment
There is no guarantee that ganaxolone will succeed in the clinical indications mentioned above or regulatory agencies will approve it. It might not be used widely by prescribing clinicians or reimbursed by insurers. Side effects like sedation and dizziness might limit long-term use. The company might need cash in future to continue its developmental programs, which might lead to additional debt and/or shareholder dilution.
In conclusion, we are initiating coverage on common share of Marinus Pharmaceuticals with a Buy rating and a common shares price first target of $4.41 (suggested allocation at 1% of the capital). Successful results of phase 2 trials in PCDH19 epilepsy and FXS might boost the stock price in the near term.
Note: To get more investment ideas like this as soon as they are published, click on my profile and hit the "Follow" button and choose the real-time alerts option.
Supporting Documents
Disclosure: I am/we are long MRNS.
I wrote this article myself, and it expresses my own opinions. I am not receiving compensation for it (other than from Seeking Alpha). I have no business relationship with any company whose stock is mentioned in this article.
Additional disclosure: This article represents my own opinion and is not a substitute for professional investment advice. It does not represent solicitation to buy or sell any security. Investors should do their own research and consult their financial advisor before making any investment.
Editor's Note: This article covers one or more stocks trading at less than $1 per share and/or with less than a $100 million market cap. Please be aware of the risks associated with these stocks.