Shares of Fossil Group (NASDAQ:FOSL) have declined 60% in the past year and the stock now trades just above its 52-week low. The fashion retailer continues to report poor results, and is struggling to remain competitive with global demand weak and rivals increasing market share. Contrarian investors may see this as an attractive entry point, but the stock is cheap for valid reasons and is unlikely to go anywhere anytime soon, despite a heavy share repurchase program.
Figure 1: 1-year Stock Performance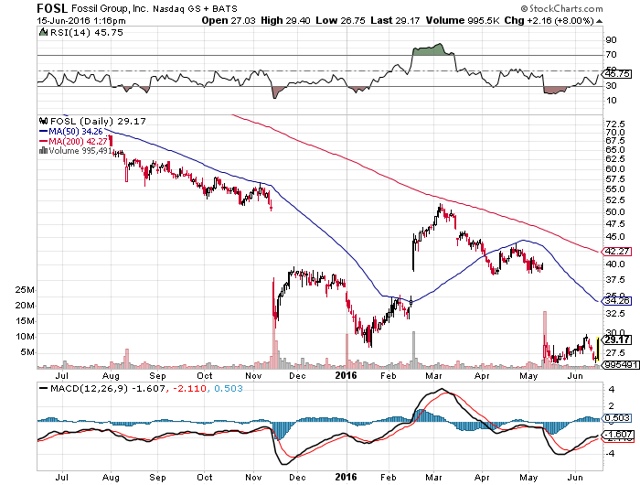 Source: stockcharts.com
FOSL designs and sells consumer fashion accessories, including watches, jewelry, handbags leather goods, belts, and sunglasses under proprietary and licensed brand names. The company operates approximately 240 retail and outlet stores in the US, and 380 shops internationally. Sales in the US account for 46% of revenues, and the firm has significant exposure to Europe (33% of revenues) and Asia (15%). FOSL relies on watches for the bulk of its revenues (~75%), and competes along a range of price points, targeting a variety of consumers. FOSL categorizes its watches into four segments: fine watches, premium-branded and designer watches, contemporary fashion watches, and mass market watches. While the diverse product range may help offset the impacts of cyclicality, FOSL's business is still highly sensitive to global economic conditions.
We do not see any evidence that macro conditions will pick up anytime soon. With watch sales volumes unlikely to recover, only the firms with pricing power will be able to grow revenues. The company's recent performance is proof that FOSL does not have the ability to raise prices, or have any sustainable competitive advantages for that matter. The firm's portfolio of well-known licensed brands is not unique, as most competitors sell the same products, and FOSL's propriety names Zodiac, Skagen, Relic, Michele, and Fossil will never be as powerful as the Swiss and Rolex brands that are widely considered to be the standard. With demand weak and competition increasing, management cut prices in order to get products off the shelves, but it didn't prevent inventory turnover from reaching its lowest level in the past ten years. Constant currency revenues fell 7% in 2015 and 9% year-over-year in Q1 16, despite the easy comp. Gross margin and operating margin declined 2.7 and 7.1 percentage points, and management now expects FY16 sales to be down 1.5-5% and that operating margin will fall in the range between 5-7% of sales (compared to 9% last year).
The most worrying aspect about FOSL's performance is that the company is losing market share. Therefore, even if global conditions improved there is a lot of uncertainty about the firm's ability to keep pace with competitors. Makers of smartwatches are stealing customers from FOSL. This is happening because wearables and regular watches are substitute goods; when a person buys a smartwatch he is unlikely to purchase a regular one. Fossil responded by acquiring Misfit, a wearables maker in a $260 million acquisition last year. Management believes the access to new technologies will facilitate growth through innovation, but it could just cannibalize the firm's existing sales base if fewer customers buy regular watches. There are no revenue or cost synergies here, and we fear the acquisition will be more harmful to shareholders than good.
The Misfit purchase was the latest in a long-line of acquisitions that characterizes FOSL's growth strategy. The company has spent heavily in recent years to acquire new brands and products, increasing leverage and burning cash in the process. Due to modest capital spending requirements, FOSL can earn strong ROICs without being hugely profitable: over the past five years it has averaged an ROIC of 24%. But acquisitions leave little free cash flow for shareholders, and the firm's reliance on business combinations for growth is not sustainable in our view. It also signifies a lack of confidence in the management's ability to generate growth out of its existing brand portfolio. Despite trading near its 52-week lows the stock still looks expensive at 19.4x forward earnings. We expect widespread economic weakness to persist over the next few years, and that value-seeking investors will be disappointed if they buy FOSL now.
Disclosure: I/we have no positions in any stocks mentioned, and no plans to initiate any positions within the next 72 hours.
I wrote this article myself, and it expresses my own opinions. I am not receiving compensation for it (other than from Seeking Alpha). I have no business relationship with any company whose stock is mentioned in this article.