"Only you can save our station!"
Not everyone likes public radio. But even people who love public radio hate public radio pledge drives.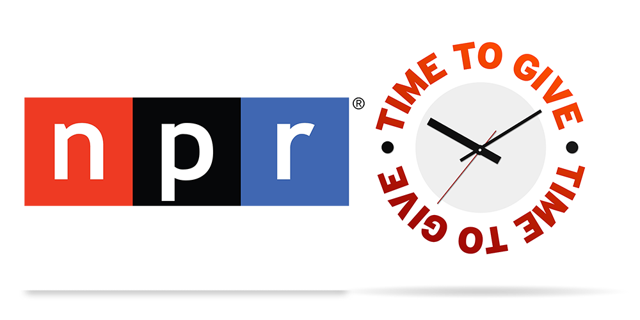 During pledge drive season, normal programming is interrupted by a bunch of masterful salesmen who are determined to flatter, guilt, or threaten you into calling the station and pledging to donate $50.
"Let's get those phones ringing."
The idea, ostensibly, is that the more people who call and pledge donations, the sooner we can get back to the usual shows, music, and what-have-you.
It makes sense. Somewhere around a third of public radio stations' funding comes from individuals (though you'd think it were more from the way they talk), and the station needs cash to avoid becoming an extended used-car dealership jingle like most radio stations.
So the threat is that if the station doesn't reach its goal...
The music stops.
Now in order to keep this article short, I want you to take a leap of faith. This "social obligation" phenomenon is not unique to public radio pledge drives. Socializing risk and costs is one of the defining characteristics of civilization. It's Leviathan.
The market works the same way, of course: If nobody buys stocks, "the music stops."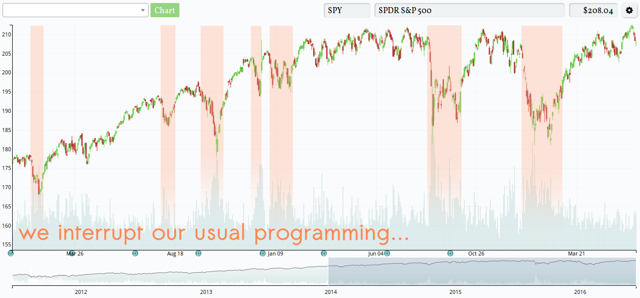 [One of our 8000+ interactive charts at sqzme.co.]
And so - just like with public radio - the market has a "pledge drive" a few times a year. Prices fall, fear swells, and investors are encouraged to protect their investments by hedging.
2-for-1 matching!
Obviously, large stockholders aren't going to buy more stocks when things are looking scary. Instead, they pay a premium for someone else to buy in the event that things get worse. They pay someone else $10 to guarantee that they'll buy $100 worth of stock at a predetermined (lower) price.
This is called a put option. Put options obligate the option seller (the insurer) to buy n number of shares at p price from the option buyer (the insured) if the price of the security actually reaches p. A perfect hedge!
From the point of view of the option buyer, this is insurance. From the point of view of the option seller, this is a liability. From the point of view of the market, this is new demand for shares - a successful pledge drive!
Ringing off the hook.
Ok, here's the logic:
We can tell that the market's pledge drive is going well when there is a lot of demand for insurance.
We can tell that there is a lot of demand for insurance when the price of options is really high.
We can tell that the price of options is really high when the CBOE Volatility Index (VIX) is really high.
So if our goal is to tune back into the market once the pledge drive is over (because nobody wants to listen to that), then our goal is to find out when a lot of people are calling in and pledging, and how much they're going to donate.
For the broad market, this information is neatly (if only partially) presented in...
The VIX!
Most people know about the VIX, but most people don't really understand what it means. Most of the financial media would have you believe that a high VIX means "fear," and a low VIX means "greed." Like it's some kind of Gallup poll for investors.
Not really.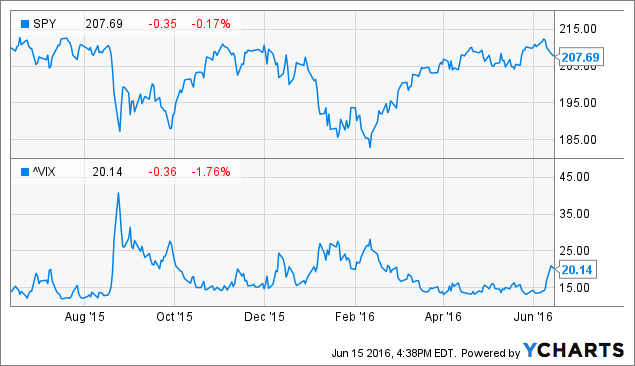 SPY data by YCharts
When the VIX is high, it means that the aforementioned market "insurance" is really pricey. Which means that demand for insurance is high. Which means that - you guessed it - the pledge drive is going really well.
If this were true, we would expect that when the VIX is high after a broad market sell-off, there's not a lot more downside, and the "usual programming" is about to start again. Depending on your point of view, it means that insurance has been bought, liabilities have been created, or...
"Back to our usual programming."
When we look at the VIX chart above, that's sure what it looks like to us. When the VIX gets high, the market seems to bottom out. But not everyone thinks that's how it works.
Lots of smart people think that the VIX - and options prices generally - are a "soft" indicator of investor sentiment. As if the option market is some kind of off-track horse betting game that simply reacts to underlying equity prices.
This is convenient, but stupid.
Think about it this way: When you rear-end a deadbeat driver who hires a personal injury "lawyer" to extract damages for some trumped-up health condition, your auto insurer defends you in court.
Why? Because your auto insurer doesn't want to have to pay for personal injury damages.
The same thing happens with options.
For option sellers, the insurance that they've sold represents real liabilities that they don't want to be called on. They will defend these positions by buying stock or buying more insurance themselves.
Have you ever heard of "pinning?" It's when option sellers blatantly (and manipulatively) defend their liabilities. Read about it. Seriously, this is less like betting on horses and more like "leave the gun, take the cannoli."
By buying put options, investors are paying the Mafia for "protection." Or - similarly - pledging $50 to the local public radio station so the squeaky-voiced host shuts up already.
The lesson is simple:
Let other people buy your insurance for you!
Lots of investors believe that we need to buy when there's "blood in the streets" to really get outsized returns in the market - high risk, high reward. Others say "time in the market, not timing the market" - just buy and hold and close your eyes.
They're both wrong. The real principle that you should be following is to watch the market for insurance, and buy when other investors demonstrate that they're willing to cough up.
If this sounds mercenary, that's because it is. Nobody will applaud your moral fiber when you tune out of public radio for the pledge drive and tune back in when it's over.
But your portfolio will thank you.
---
These misunderstood market dynamics are at work everywhere, and it would do you well to understand them better. We'll take this particular concept further in subsequent articles, so follow SqueezeMetrics for more.
And please, leave a nasty comment to get the conversation going!
Disclosure: I/we have no positions in any stocks mentioned, and no plans to initiate any positions within the next 72 hours.
I wrote this article myself, and it expresses my own opinions. I am not receiving compensation for it (other than from Seeking Alpha). I have no business relationship with any company whose stock is mentioned in this article.