By Parke Shall with Thom Lachenmann
It has become clear to us that it is time to short the US consumer and the US consumer's credit. Every day, Thom and I go home and check the mail. With increasing momentum over the last year, we have gotten mail asking us to apply for consumer credit at any number of big-box retail stores, including Best Buy (NYSE:BBY), Target (NYSE:TGT), Home Depot (NYSE:HD), BP gas stations, and many others.
We've also been receiving an extraordinary amount of offers for peer-to-peer financing or balance transfers on credit cards.
Thom and I both have decent credit, and so we are assuming that we are the first in the credit cycle to receive these mailers and requests before the banks and lenders start to inevitably move lower down the credit score chain and make offers like these to less creditworthy individuals.
We have long been writing that we believe the market is reaching a top. We believe that a seven or eight year debt cycle is about to turn over and we have warned against being in any type of high-yield corporate paper or any ETFs or stocks that could be affected by the same. Today we want to zoom in our focus slightly and reiterate that we believe it is a great time to go out and short the US consumer.
Aside from our obvious reasoning, that the high-yield bond market is in an enormous bubble and is very illiquid, we also think that the looming chance of a British exit from the European Union, combined with the Fed's lethargy over the last week could be setting us up for ugly circumstances. Futures have the markets set to open lower this morning, Thursday, which would be the sixth day in a row that markets would finish lower, if they do. We think this is for a reason, and we think the markets will continue to move lower from here into the second half of 2016.
Why do we want to short consumer credit now?
Let's take a look at a couple of the clues. Synchrony Financial (NYSE:SYF), which does a large amount of consumer credit card business, filed an 8-K a couple days ago to announce they were adding to loan loss reserves,
This report is being filed to disclose recent developments related to credit quality and reserves. While the loss rate in our portfolio is at historically low levels, we very recently finished our loss forecast, and we are now expecting a 20-30 basis point increase in our net charge-off rates as we look out over the next 12 months. As a result, starting in the second quarter of 2016, we expect higher reserve builds, with our allowance coverage ratio (allowance for loan losses as a percent of end of period loan receivables) likely to increase 20-30 basis points from the first quarter of 2016.
This bank is a recent spin-off from General Electric (NYSE:GE), who likely got rid of the division when they knew it was about to turn and when they wanted to reduce exposure to financials and avoid another 2008. This is what companies do, they divest of assets before they become giant contingent liabilities. Several analysts came out and said the sell-off in SYF is a buying opportunity. Obviously, we don't agree.
Also we have seen chaos in the peer-to-peer lending sector as Lending Club (NYSE:LC) had been found to be engaging in unscrupulous business practices, which shocked that stock down along with OnDeck (NYSE:ONDK), another peer-to-peer lender. Reuters reported,
Renaud Laplanche, founder and chief executive of online lender Lending Club Corp, resigned after an internal probe found that the company had knowingly sold an investor $22 million of loans that the investor did not want, the company said on Monday.

Lending Club is by far the largest of the so-called marketplace lenders, which sell their consumer and small business loans on to investors, and it is considered by many investors and analysts to be the industry's standard bearer.

The resignation adds to pressure on an industry already smarting from weakening investor appetite for its loans, increasing defaults and the possibility of heightened regulation.
Here you can see a chart as to what peer-to-peer lending has done over the last year or so. Needless to say, it does not look promising.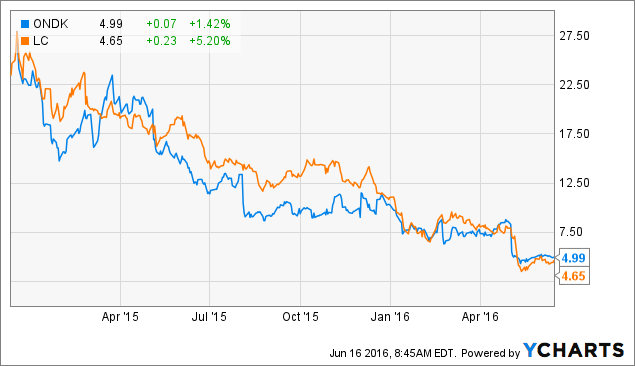 ONDK data by YCharts
This is a great group to keep an eye on because ostensibly it is the missing link between the lowest creditworthy consumer individuals and lenders. In other words, if a bubble were to burst in credit, these are the types of companies we would expect to go first.
Then, we would see some action in consumer credit with retail companies, as we are suggesting may happen with SYF.
Third, despite being bulls on Ford (NYSE:F) and General Motors (NYSE:GM), we do believe there is a small bubble getting ready to burst in automobile consumer finance as well. We have suggested in previous articles to be short Credit Acceptance Corp. (NASDAQ:CACC) as a hedge to any long position in a US automaker. This is a company that originates and facilitates automobile financing, yet another area we think could burst in the coming months.
The Federal Reserve's policy, stated this week to hold rates where they are, does not give us any confidence either. We would have warmly embraced a correction that would come with an interest rate hike, but now we are frightened of the effect of a correction that may come as a result of rates staying low. We believe this type of correction will be exponentially worse than if the Fed had just stuck to its guns and raised rates. We think the Federal Reserve is prolonging a catastrophe, and the longer they wait to move interest-rates higher, the worse it is going to be.
We also have the upcoming vote on June 23 as to whether or not Britain wants to exit the European Union. Latest polls show that this is a distinct possibility he and a move like this would likely destabilize Europe and send shockwaves throughout the global economy. It is already sending some shockwaves now that poll results are concluding that Britain may very well leave the EU.
It is a frightening time to be just long the markets, we would not be buying if we were a long only fund here. Because we are a long/short fund, we are making sure our short book is exposed to consumer credit in the form of companies like SYF and Bank of Internet (NASDAQ:BOFI).
We also have a garden of shorts that we have either identified as overvalued companies or companies where there is potential wrongdoing (BOFI fits into both of these categories). Our entire book right now is about 60% long and 40% short. This will be the most short exposure we will likely put on at any one given time. If you do not want to go out and short the consumer via these methods, you can also just simply go out and take a couple of retail names that you think will be negatively affected by a credit bubble burst, short them, and look to add to any of your core long positions that you were holding over the course of the long term at the same time.
One thing is for sure to us, the bull market is over. The economy and the Federal Reserve are both in precarious positions where it feels like anything can push the markets over the edge. We continue to expect a 15% correction in the market over the next 6 to 8 months.
Disclosure: I am/we are long F.
I wrote this article myself, and it expresses my own opinions. I am not receiving compensation for it (other than from Seeking Alpha). I have no business relationship with any company whose stock is mentioned in this article.