There was a very curious analyst note out on Wednesday from Credit Suisse regarding Apple (NASDAQ:AAPL). The analyst reiterated an Outperform rating and $150 price target on the stock, but cut his EPS estimates for this year and next. This was on the basis of muted iPhone 7 demand as consumers wait for the blockbuster iPhone 8 coming in 2017. If Apple doesn't come out with a tremendous smartphone later this year, the iPhone 7 might be already doomed. In that scenario, I don't see how shares will see that price target anytime soon.
Earlier this week, fellow SA contributor Mark Hibben talked about his disappointment in Apple not featuring multitasking for the iPhone, which he believes will hurt sales. The Credit Suisse analyst note detailed above suggested the following features to be seen in the next two new iPhones, for which I created the following graphic:

If this is what really happens, consumers will be about as thrilled with the iPhone 7 as a little kid about to go back to school. Apple should have gone to more storage last year, so that basically is playing catch up. It seems that Apple has decided to go with a three-year upgrade cycle for the iPhone, so major changes won't come until late 2017.
The major upgrade group Apple is targeting currently is holders of the 6, so will the usual processor upgrades and the items above do the trick? The iPhone 7 will surely be a much better phone than the 6, but in the US, will consumers want to shell out $30 or more a month just to have it? Probably not. A lack of major upgrades on the iPhone 6s is a main reason why the iPhone is growing older, as detailed by CIRP on the chart below.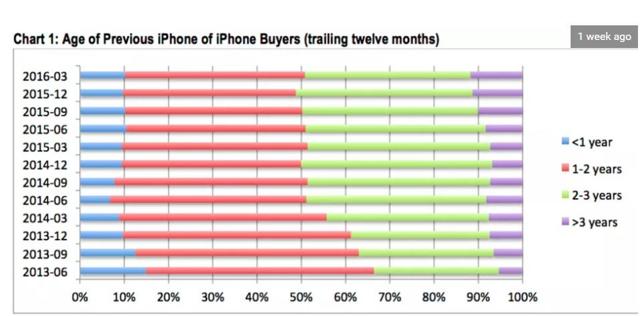 (Source: Philip Elmer-Dewitt via CIRP)
Apple is facing a two-prong problem here. The first is that iPhone unit sales are falling currently, which obviously hurts revenues as well as earnings. The other issue is that the new small screen iPhone SE retails for well below what Apple has been averaging overall for iPhone prices. The chart below shows iPhone ASPs for the last ten fiscal quarters.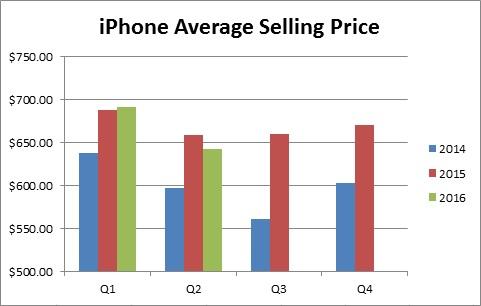 (Source: Apple financial information page)
The company reported a nearly $17 decline in ASP for Q2 2016 over the prior year period, and that will get even worse in Q3. Not only does the SE take down the overall ASP, but it can take away sales of higher priced, likely higher margin models. The SE could help reduce some of the short-term pain in Apple's results, but that will also raise the bar for comparisons when we look at numbers this time next year. Is management planning on releasing a new version of the 4-inch phone next year?
Why is this all a big deal? Well as the table below shows, analysts are calling for a nearly $11 billion increase in fiscal 2017 revenues. The growing service business probably can help with $2 billion or so of that, and perhaps a revamped Watch will get a few more billions. But unless you think the Mac or iPad are going to show massive growth, the iPhone needs to be the main contributor to fiscal 2017's top line increase. From what I've detailed today, I don't see how the iPhone 7 is capable of doing that, and of course, this assumes we see a new version of the SE next Spring.

(Source: Yahoo! Finance analyst estimates page)
It's hard to move up major changes to the phone on a dime, as the iPhone 7 is likely going into production rather soon. We've recently heard rumors about a potential split into three flagship devices, but will more options mean more unit sales? Perhaps Apple will play with pricing a bit, and I've suggested maybe a "package deal" for those who bundle a new phone with an iPad, Watch, etc.
If you believe that Apple will underwhelm with the iPhone 7, then you probably should not be heavily into the stock for the rest of 2016. Shares will continue to move in step with iPhone sales for the indefinite future, and that's starting to worry me a bit. With the SE bringing down ASPs, Apple needs to drive a lot of upgrades this year to reach the high bar the Street currently has for fiscal 2017. To do that, "good" will not be good enough for the iPhone 7.
Disclosure: I/we have no positions in any stocks mentioned, and no plans to initiate any positions within the next 72 hours.
I wrote this article myself, and it expresses my own opinions. I am not receiving compensation for it (other than from Seeking Alpha). I have no business relationship with any company whose stock is mentioned in this article.
Additional disclosure: Investors are always reminded that before making any investment, you should do your own proper due diligence on any name directly or indirectly mentioned in this article. Investors should also consider seeking advice from a broker or financial adviser before making any investment decisions. Any material in this article should be considered general information, and not relied on as a formal investment recommendation.