The Consumer Price Index for All Urban Consumers increased 0.2% in May on a seasonally adjusted basis, the U.S. Bureau of Labor Statistics reported today. Over the last 12 months, 'headline inflation' rose 1.0%.
Although 0.2% is considered mild inflation, the May number came in below the consensus forecast of 0.3%. The 12-month number of 1.0% - down from 1.1% a month earlier - remains below the Federal Reserve's target of 2.0% inflation. The Fed is feeling no pressure from inflation as it continues delaying raising short-term interest rates.
Energy prices rose in May. Gasoline prices were up 2.3%, for example, but are still down 16.9% over the last 12 months. Also up were apparel costs (0.8%), shelter (0.3%) and medical care services (0.5%).
But those increases were offset by a wide range of price declines: food, down 0.2%; new vehicles, down 0.1%; used cars and trucks, down 1.3%; medical care commodities, down 0.2%.
When you take out food and energy, 'core' inflation rose 0.2% in May and was up 2.2% over the last 12 months. Shelter costs - up 3.4% over the last year - were a big factor in this increase.
What this means for TIPS and I Bonds. Holders of inflation-protected investments are also interested in non-seasonally adjusted inflation, which is used to adjust the principal balances on TIPS and set future interest rates for I Bonds.
In May, the CPI-U inflation index rose to 240.236, up 0.41% from April's 239.261. This continues a string of strong increases in non-seasonally adjusted inflation: up 0.43% in March, 0.47% in April and now 0.41% in May. But over the last 12 months, the index is up just 1.0%.
For TIPS, the May increase of 0.41% will be reflected in principal balances through the end of July.
I Bonds are two months into the March to September rate-setting period, which will result in a new variable rate being set on November 1. Non-seasonally adjusted inflation has increased 0.88% from March to May.

In just two months, inflation has outpaced the last four 6-month rate setting periods:
September 2015 to March 2016: 0.08%
March 2015 to September 2015: 0.77%
September 2014 to March 2015: -0.80%
March 2014 to September 2014: 0.74%
While inflation remains muted at just 1.0% over the last 12 months, there are strong indications that prices are trending up, possibly increasing demand for inflation-protected investments. Here is the trend in core and headline inflation over the last year: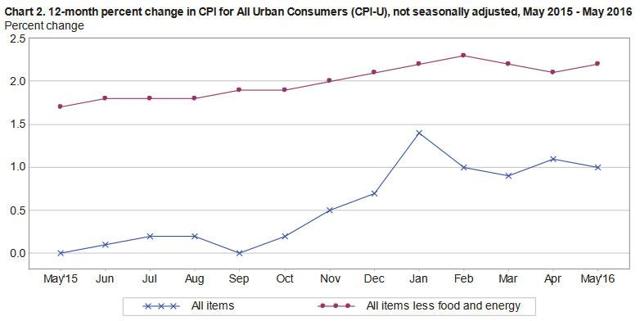 Disclosure: I/we have no positions in any stocks mentioned, and no plans to initiate any positions within the next 72 hours.
I wrote this article myself, and it expresses my own opinions. I am not receiving compensation for it (other than from Seeking Alpha). I have no business relationship with any company whose stock is mentioned in this article.