I'm officially calling it, the oil (NYSEARCA:USO) market has run out of steam, and not at a worse time. Right as oil prices began to push through a substantial resistance area at $50, market news turned against the bulls and has pushed prices back below the key level.
This week's oil data has been mixed, with the EIA number coming as a reduction in supplies while the API number showed a growth. Both, though, were below expectations. Also, while the Fed has now revealed that it sees interest rates rising slower than before, which in itself should push down the U.S. Dollar and thus push up oil prices, the reason for the Dollar declines has worried oil market players. All of this together and prices have slowly bled to around $48.
Worries are starting to mount about future oil demand at quite the inopportune time for oil bulls. As you can see in the chart below, $50-60 is likely to provide substantial resistance to oil prices. It was looking like momentum might have a chance of ripping through the wall, but now that has evaporated.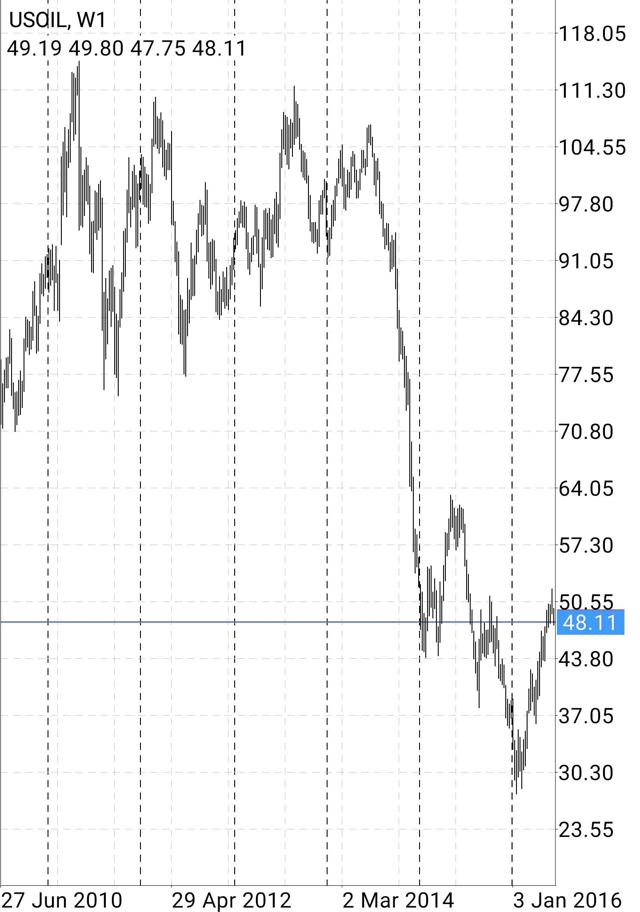 It will take a strong catalyst to power through the next $10+. As you can see, prices remained basically between $50 and $60 for about 10 months. Barring substantial evidence that this price range is still too low - evidence that is not at this time materializing, I would consider a sustained push through $60 extremely unlikely. Besides simple trading dynamics, many oil pumps will come back online near these prices. This is more evidence that prices aren't likely to stabilize above $60 soon.
On the downside, though, there isn't nearly the same level of support. Prices bottomed as recently as January, and there has been no substantial ranging to build up support since. If a favorable short trade presents itself, the risk/reward will be lopsided in your favor.
In looking for short opportunities, you want to be aware of news that could point out either that major economies are slowing, such as the recent jobs miss in the U.S., or that oil prices are too high.
Currently, supply and demand seem fairly equated right now with supply reports taking turns showing small increases and decreases. This fact is keeping me from going short oil prices at current levels. While the potential for the downside is greater compared to the upside, I don't see it as impressive enough.
In the event that news doesn't persuade me into a short beforehand, I would find the risk/reward favorable enough at around $55 to enter a short purely as a result of current market dynamics. At this level, pumps are likely to start turning back on, which should show increasing supply over the next weeks and push the price downward.
Disclosure: I/we have no positions in any stocks mentioned, and no plans to initiate any positions within the next 72 hours.
I wrote this article myself, and it expresses my own opinions. I am not receiving compensation for it (other than from Seeking Alpha). I have no business relationship with any company whose stock is mentioned in this article.