The last time I discussed a purchase by Buffett (read Don't Trust Buffett's Pick), Berkshire had just disclosed a small stake in Kinder Morgan (NYSE:KMI), a move that was heralded as a major win for bulls. After all, anything touched by the Oracle of Omaha surely turns into gold. It was later revealed that Buffett was not behind the purchase, it was one of his lieutenants that was behind the decision. Today we'll be talking about a company that we know he is behind: Phillips 66 (NYSE:PSX).
The company has produced steady results for the past couple of years prior to Q1. A stream of steady earnings is definitely something that Buffett looks for in a company. Unfortunately, the commodity business is forward looking. A lot of things have changed since the spinoff from ConocoPhillips (NYSE:COP), hence it would be unwise for investors to expect past performance to continue. Let's take a look at the future prospects of the refining segment, after all, it has traditionally been the largest profit center.

Source: data from EIA
The chart above shows the evolution of the 3:2:1 crack spread since the spinoff. As you can see, the spread as implied by the underlying commodity futures has declined significantly since 2012. This was why when the spread reached multi-year lows in Q1, refining profit evaporated overnight, falling 84% from $538 million to $86 million.
You probably noticed that the crack spread chart doesn't look anything look like how the stock has performed since inception.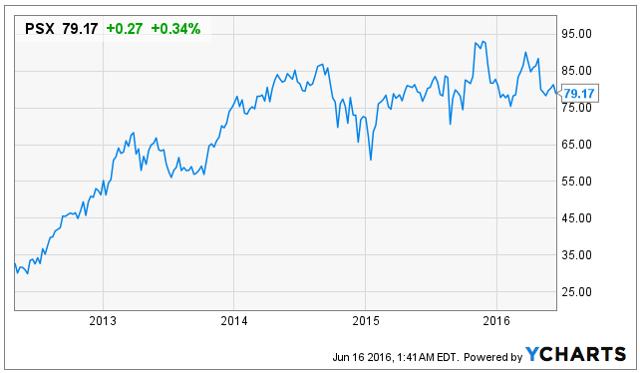 When a stock rises, we have to separate fundamental improvements from the repricing effect (i.e. a stock getting more expensive). 2015 was a great year for refiners as the price of refined products (e.g. gasoline) fell much slower than crude, allowing refiners to capture higher margins. We can see the crack spread expanding in the first graph during this period. Unsurprisingly, Phillips 66 did very well, rising 13% in 2015. However, if we were to compare the results in 2015 with results in 2012 (when it was spun off), we would find that there has been very little fundamental improvement in the overall business. Net income only increased slightly from $4.1 billion to $4.2 billion. EPS did grow by 19% from $6.48 to $7.73 as the result of share repurchases, but this nominal increase over 3 years does not warrant such an appreciation in the stock price from a fundamental perspective.
What is going on then? I believe that the stock price can be explained by rising valuation multiples (i.e. the repricing effect).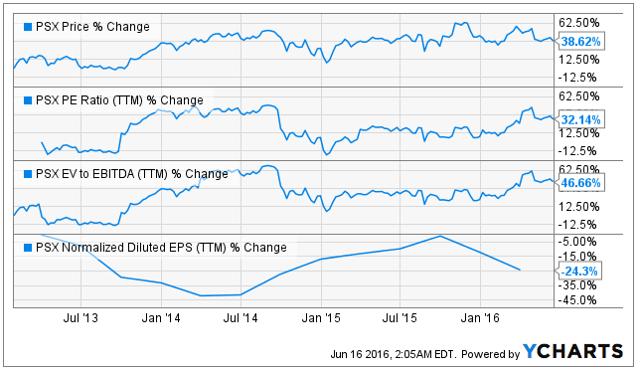 The above graph shows that the stock has been getting more expensive (as implied by rising P/E and EV/EBITDA) while profitability has meandered, which we could have predicted from the falling crack spread.
So why is Buffett buying Phillips 66? Of course, I can't speak for the Oracle himself, but I believe that Buffett may be betting on the crack spread rebounding, which would increase earnings, making the stock cheap again. To a certain degree, crack spreads have already recovered a bit, though they are still nowhere near their level in 2015. If you are inclined to agree with me, then it's important to understand the risk behind this investment.
When Phillips 66 was first spun off, we can definitively say that it was a cheap stock. Refining margins were sky high, yet the stock traded as low as 6x earnings. Today, the stock is trading at 12x P/E. Of course, 12x earnings isn't terrible in today's stock market. However, keep in mind that the stock still has three quarters of "good" earnings (i.e. when the macro environment was more favorable in 2015) to inflate the TTM earnings. If the crack spread doesn't continue to improve, earnings will decline and the stock will become expensive again. I believe that this is the risk that everyone has overlooked. Phillips 66 isn't a defensive stock that is immune from the macro environment. The stock market has merely been kind to the stock, blessing it with a higher valuation despite the absence of fundamental improvement. The macro environment has changed and valuation has changed. The opportunity to buy may come again, but unless you can make a good case for a higher crack spread, now is not the time to find value in Phillips 66.
Click the "Follow" button beside my name on the top of the page to be updated with my latest insights. To learn more about the V20 Portfolio (+40% in 2015), whose goal is to compound capital at 20% over the long term, I encourage you to read the introduction to my investment process. Premium subscribers get full access to the V20 Portfolio. Track the portfolio through the latest update, here.
Disclosure: I/we have no positions in any stocks mentioned, and no plans to initiate any positions within the next 72 hours.
I wrote this article myself, and it expresses my own opinions. I am not receiving compensation for it (other than from Seeking Alpha). I have no business relationship with any company whose stock is mentioned in this article.