Two Harbors Investment Corp. (NYSE:TWO) is a mortgage REIT that doesn't get much analysis despite its large size and significant interest from readers. The mortgage REIT does a few things in a unique way and it should be highlighted at least occasionally because of those unique features. Around 06/01/2016 the company gave a presentation that included some small updates on how things were going in the current quarter. There was nothing ground breaking, but it seems like a good time to check in on the mortgage REIT.
Previous Coverage
When I provided coverage on Two Harbors Investment Corporation on 05/01/2016, my thesis was simple:
Two Harbors Investment Corp. Looks Mispriced
It was a rare opportunity to be able to say something positive about the risk adjusted return profile for investing in a mortgage REIT during a period when many were soaring and leaving investors with little upside. At the time of writing the last traded prices for shares was $7.80.
In closing I stated:
"By my very rough estimations, I believe TWO is still trading at a larger discount than many peers. That makes them more favorable than most mREITs but I'm still concerned about the general prices in the sector."
The following chart demonstrates share prices from about a day prior to the article through the current date: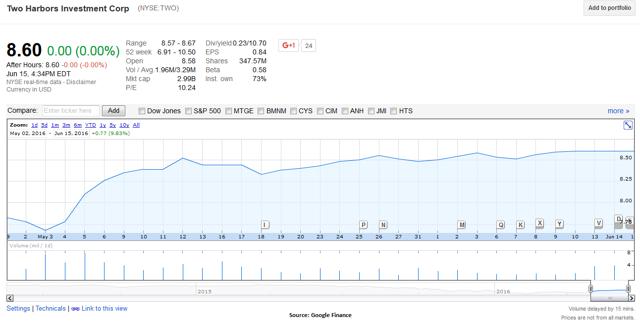 For comparison sake, since my call TWO is up about 9% to 10% and Annaly Capital Management (NYSE:NLY) only increased by about 2% to 3%. In a nutshell, we saw TWO reduce their discount relative to peers and we saw general prices in the sector start to stagnate.
How They Are Doing
The mortgage REIT has a few clear investment strategies that investors should know. They invest in agency MBS and hedge the resulting interest rate risk, they invest in non-agency MBS, and they invest in MSRs (Mortgage Servicing Rights).
Over the last several months I've hammered away on some mortgage REITs for their choice of investing in MSRs. The choice to buy MSRs was a logical one for many mortgage REITs when they wanted a way to hedge their portfolio against rising rates. In theory an increase in interest rates meant that the MSR was likely to have a longer life. Since mortgage REITs expected to make money off servicing the loans, there was a theory that they could get the negative duration into their portfolio and still be making money.
Unfortunately that theory didn't work out for most mortgage REITs and few had sufficient economies of scale to have much luck in handling the portfolio. Ironically TWO has decided to dive even deeper into MSRs. They are acquiring huge volumes of MSRs and it will be interesting to see if the performance there improves.
The positions in non-agency MBS and agency MBS should both have gains on the quarter since aversion to credit risk declined (gains for non-agency MBS) and interest rates declined (gains for agency MBS).
Great Swap Book
June has seen treasury rates fall dramatically and LIBOR rates are falling along with them. In a nutshell this means losses on interest rate swaps, but the structure of TWO's swaps looks fairly solid: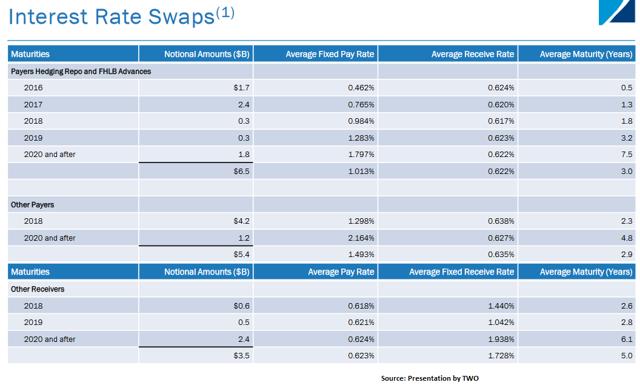 The dramatic majority of the swaps are on the short end of the yield curve. They are holding "receiver swaps" to offset some of their other swap positions and the book of receiver swaps is emphasizing the longer duration swaps.
The "long duration payer swaps" are where most mREITs are getting hammered on the quarter. The yield curve flattened with rates heading further down so losses on longer duration swaps are huge. The losses that TWO incurs from swaps with over 4 years to maturity should be largely offset by the gains they get on their "receiver swaps" with over 4 years to maturity. Because those positions are offsetting, most of the exposure for TWO was to the shortest part of the yield curve where losses were less severe.
Conclusion
The quarter seems to be going fairly well for Two Harbors Investment Corp. They had the gains I was expecting at the start of May and thoroughly outperformed the largest mortgage REIT. The decline in rates during the quarter is likely to lead to more losses on MSRs but the intelligent position of the hedge book should reduce their losses on LIBOR swaps.
Disclaimer: Information in this article represents the opinion of the analyst. All statements are represented as opinions, rather than facts, and should not be construed as advice to buy or sell a security. This article is prepared solely for publication on Seeking Alpha and any reproduction of it on other sites is unauthorized. Ratings of "outperform" and "underperform" reflect the analyst's estimation of a divergence between the market value for a security and the price that would be appropriate given the potential for risks and returns relative to other securities. The analyst does not know your particular objectives for returns or constraints upon investing. All investors are encouraged to do their own research before making any investment decision. Information is regularly obtained from Yahoo Finance, Google Finance, and SEC Database. If Yahoo, Google, or the SEC database contained faulty or old information it could be incorporated into my analysis.
Disclosure: I/we have no positions in any stocks mentioned, and no plans to initiate any positions within the next 72 hours.
I wrote this article myself, and it expresses my own opinions. I am not receiving compensation for it (other than from Seeking Alpha). I have no business relationship with any company whose stock is mentioned in this article.