It's finally here!
After months of speculation, FLI Charge, a subsidiary of Form Holdings (NASDAQ:FH), unveiled its new wireless charging products to the world.
In less than 12 hours, the company raised over $71K, which was funded by 550 backers with the average order coming out to be $129. The image below is a screenshot of the campaign Wednesday night. Here is a direct link to the launch and how you can back the campaign.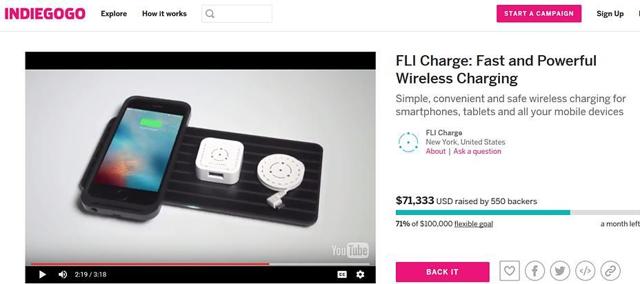 To put this into perspective, FLI Charge raised 71% of its initial Indiegogo goal of $100K. At the current rate, the company is on track to raise more than $2 million or 2,000% of its original goal. Now stop and think about that for a moment. If demand gets up to that point (which I believe it can), I can't wait to see the impact it will have once users start enjoying the power of wireless charging technology and telling their friends and family about it.
I'll admit that I was a bit skeptical at first, but that quickly changed once I started using it. The advantages clearly outweigh any disadvantages (I still haven't found any disadvantages) and have been extremely pleased with how fast it charges.
Since I've been using the charging pads, my phone is never on its death bed anymore and is easy and efficient to use as I'll explain in my articles next week. I'll personally never go back to charging my phone with cables and this is why I wasn't surprised to see the positive reaction from the market as I tweeted out leading up to Wednesday's launch.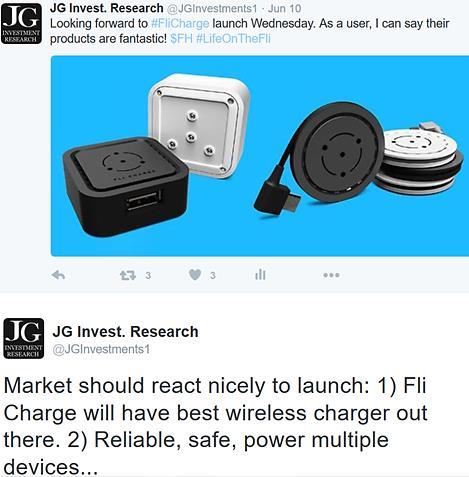 Conclusion
With FLI Charge getting off to a fast start on Indiegogo, shares also started taking off Wednesday as you can see in the image below.
Shares of FH climbed as high as $2.40 (a three month high) before settling at $2.18 for a gain of 9.55%. Volume was 1.4 million compared to a three-month average of 158K, and a 10-day average of 237K.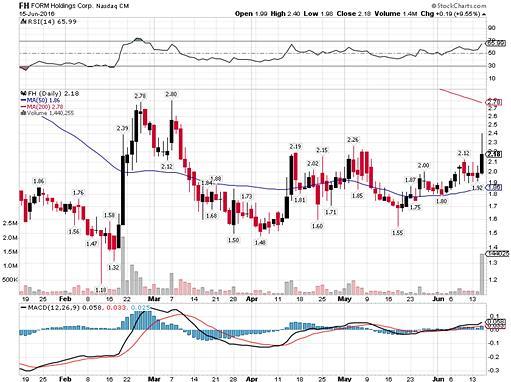 If shares can climb and hold over the $2.30 level, expect to see a nice run which will should test the $2.70-$2.80 levels.
The great thing about FLI Charge is that it will give the company another growing revenue stream as it continues to grow and monetize its patents and intellectual portfolios. The company reached a settlement agreement with another infringer for $8.9M last month and looks well on its way to getting other patent infringers to come to the table. The company has already reached agreements with Microsoft (NASDAQ:MSFT), ZTE (OTCPK:ZTCOY), among many others.
Management has also been using FLI Charge for a long time now and knew there would demand after testing it out. That demand is certainly out there and today proved it.
FLI Charge even started trending in Indiegogo and has gained a lot of positive feedback from backers as you can see in the image below.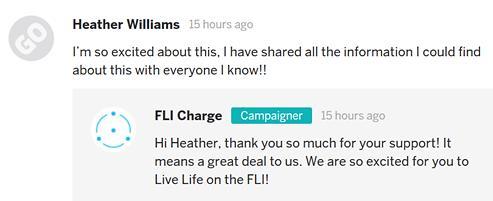 So with over $2.00 in cash per share, FH is still highly undervalued. And as the funding increases over the next month, don't be surprised to see FH's share price continue trending upwards as the market has no choice but to factor that value into the company.
Disclaimer: Link
Follow me on Twitter and StockTwits
Disclosure: I am/we are long FH.
I wrote this article myself, and it expresses my own opinions. I am not receiving compensation for it (other than from Seeking Alpha). I have no business relationship with any company whose stock is mentioned in this article.
Editor's Note: This article covers one or more stocks trading at less than $1 per share and/or with less than a $100 million market cap. Please be aware of the risks associated with these stocks.