Fear and ambiguity appear to be choking the global markets in the early going today after government officials on all sides of the ponds took a wait-and-see stance on interest rates.
Following the Federal Reserve's decision to stand pat on interest rates yesterday, the Bank of Japan decided to leave its monetary policy unchanged. And earlier today, the Bank of England also took a no-move stance on its policy as did the Swiss National Bank. Is the Brexit vote in the U.K.'s driving this global monetary freeze?
"We're close to peak uncertainty," Neil Robson, portfolio manager at Columbia Threadneedle Investments, told the Wall Street Journal today. "Brexit (risk) is adding to this really low interest-rate, really low-growth malaise."
All central banks noted that next week's vote in Britain to leave or stay in the European Union was a factor in their decisions. "The outcome of the referendum continues to be the largest immediate risk facing UK financial markets, and possibly also global financial markets," the BofE said in its minutes, according to published reports.
Could this be a lower for longer message? A rate hike in the U.S. appears to be off the table for what could be a relatively long time. At a press conference following the Fed's decision yesterday, Chair Janet Yellen admitted as much. "I can't specify a timetable," she said of the next rate hike. "We are quite uncertain about where rates are heading in the longer term."
To be sure, the Fed indicated that it still expects to up rates twice in 2016, though it only projects three hikes in 2017 and 2018.That's down from four in its March forecast. The Fed now sees rates at 0.9% in 2016; 1.6% in 2017, and 2.4% in 2018. If its so-called dot plot is a true indicator, the Fed appears to have an even more guarded outlook. In March the dot plot showed a majority of Fed members anticipating 2018 rates at around 3%. Today's dot plot shows the majority barely moving over 2% for 2018.
Then there's the FOMC's FedWatch tool that charts Fed funds futures prices. It sees only a 10% likelihood of a rate hike in July and doesn't register a 50% probability of rate hike until February.
Meanwhile, the markets appear to be taking the news badly, despite a short period of up trading yesterday after the Fed announcement. Stocks were on track for the sixth straight day of declines, with the Dow Jones Industrials (DJIA) backtracking by 83 points near the open. The S&P 500 (SPX) was off 11 and the Nasdaq Composite Index (COMP6) was giving back 20 points.
Crude oil prices also are slumping for the sixth straight day with some analysts suggesting they could drop as low as $20 a barrel. That might seem far-fetched now, but when oil was at $100 a barrel, who thought $50 was in the cards? In the early going, West Texas Intermediate (CLN6) was trading at $47.13, off 1.8% And no, prices at the pump haven't fallen yet.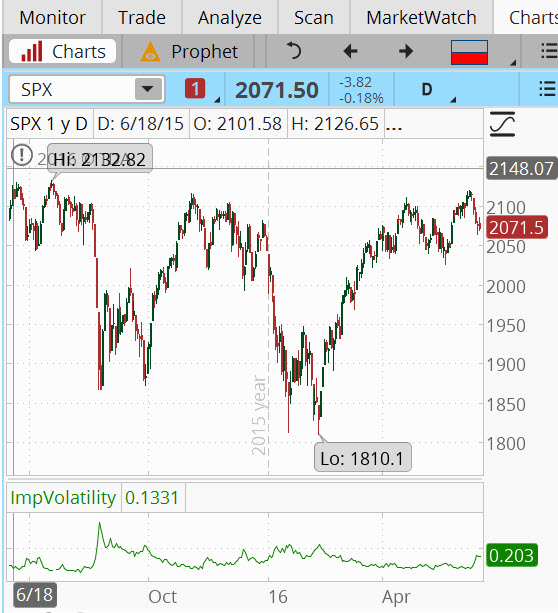 Figure 1: ANOTHER RETREAT. The S&P 500 (SPX), plotted through Wednesday's close on the TD Ameritrade thinkorswim platform, is falling with the broader markets, edging toward the 2050 level again. Data source: Standard & Poor's. For illustrative purposes only. Past performance does not guarantee future results.
Inflation Rises. When crude oil prices were advancing in May, so, too, did inflation. The Labor Department said today that Consumer Price Index rose 0.2% last month, mostly because of higher prices at the pump and rising rents. The energy index climbed 1.2% in May when crude oil prices were at the $50 a barrel level. Rents were up 0.4% in May, marking the largest monthly gain since February 2007. Despite all this, core prices are still not going anywhere scary. The CPI is up a mere 1% in the last 12 months.
Disney Shanghai Opens. If the television video is any indication, Shanghai residents were more than ready to go through the gates of the first Walt Disney Co. (NYSE:DIS) resort in mainland China today. Thousands cheered in the rain as the park officially opened its gates while fireworks went off above the resort's colossal Enchanted Storybook Castle. The resort was years in the making and costs more than $5.5 billion to put together.
Google's Politely Thankful. It pays to be polite. Alphabet's (NASDAQ:GOOG) (NASDAQ:GOOGL) search engine Google offered a hearty thanks to an 86-year-old British woman who use old-fashioned manners when searching for answers on the site, according to The Guardian. May Ashworth typed "please" and "thank you" in an internet search that her grandson Ben John found amusing and tweeted about. Google saw the tweet, as did 11,000-plus others if retweets count, and sent a thank-you tweet to "Ben's Nan." "In a world of billions of Searches, yours made us smile," the tweet said.

Figure 2: Economic Agenda. This week's U.S. economic report calendar. Source: Briefing.com.
Inclusion of specific security names in this commentary does not constitute a recommendation from TD Ameritrade to buy, sell, or hold. TD Ameritrade® commentary for educational purposes only. Member SIPC.
Disclosure: I/we have no positions in any stocks mentioned, and no plans to initiate any positions within the next 72 hours.
I wrote this article myself, and it expresses my own opinions. I am not receiving compensation for it. I have no business relationship with any company whose stock is mentioned in this article.