All of the major gold companies are facing a similar problem as Agnico Eagle Mines (NYSE:AEM): depleting reserves and a tapering off in annual production rates. As gold major's reserves continue to decline, as does the amount of gold being discovered each year. While 2007 was an impressive year for gold discoveries, the amount discovered 5 years later in 2012 was less than one third of that amount. As we have shifted from a violent bear market to a new bull market in gold prices, all of the gold majors are projecting decreases in production over the next 3 years.
For investors, this is the last thing they want to see, after sitting through a lost half decade between 2011 and 2016. Investors would like to see the gold majors increasing production as the gold price increases as that is their chance to be at their most profitable on ounces produced. Barrick Gold (NYSE:ABX), the world's largest gold producer, is going to see its annual production rate decrease by 20% from 2015 levels as they move from 6.1 million ounces down to 4.85 million ounces in 2018.
Not only is this a negative for Barrick's earnings, it's also a negative for GDX, as decreases in production will turn away new potential investors. Why would I buy ABX, which is seeing 20% production declines over the next 3 years when I could buy B2Gold Corp. (NYSEMKT:BTG) with 50% production growth in the same time period. Unfortunately, the same is true for the other members of the GDX. Newmont Mining (NYSE:NEM) will see a 5% decrease in their 2018 annual production from 2015 levels, and Agnico Eagle AEM will also see a 10% reduction in 2018 production levels from their 2015 production of 1.67 million ounces.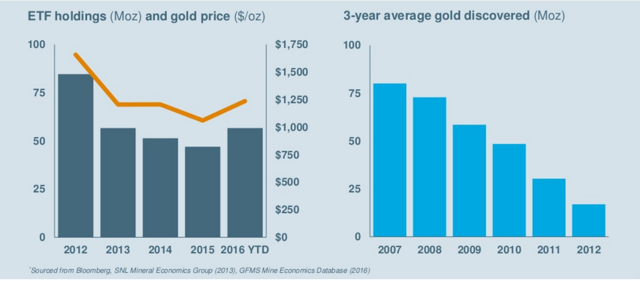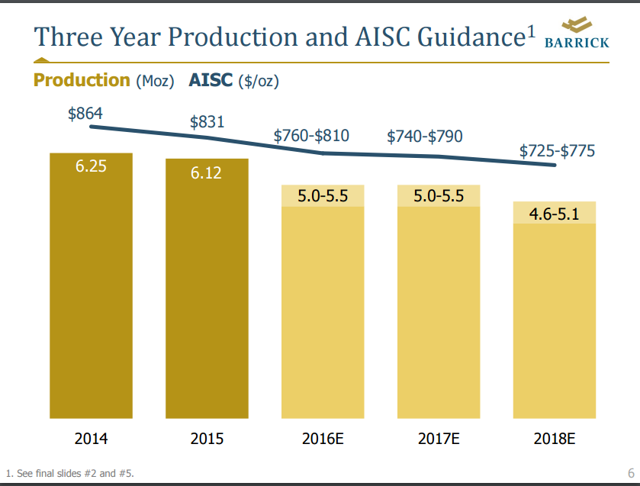 The gold majors' only hope of bringing in new investors and retaining their current investor base is to at the minimum keep their production rates stable looking out to 2018 and 2019 production guidance. Unfortunately, the only meaningful M&A move recently was the Kaminak (OTCPK:KGILF) acquisition by Goldcorp (NYSE:GG) and the result is evident by the outperformance in GDXJ vs. the GDX this year. I have invested in gold stocks since 2009 and cashed out all of my gold stocks in 2012 after gold GLD sunk into a bear market.
After being patient and waiting for a new bull market to begin this year, I have not bought a single GDX company, as the decreasing production is a complete turn-off when looking for gold companies providing earnings growth. I believe the gold majors need to start being proactive and buying early stage undervalued producers while they are still able to do so. If the gold price goes any higher, the premiums they will need to pay will be astronomical, and they will be forced to grow their production organically, which is much easier said than done.
Agnico Eagle Mines: Operations and Reserve Depletion
AEM currently has 8 operating mines with over 75% of their 1.6 million ounce annual production coming from Canada. Their project portfolio is in more politically stable mining jurisdictions than any of the other gold majors and they've made a concerted effort to keep it this way. Most of their advanced stage development projects are located in Canada, with their one remaining development project located in Mexico. With 80% of advanced-stage development assets and operating mines located in Canada, I believe it's safe to say if AEM were to acquire a gold company, it would likely be a miner located in Canada.
Agnico Eagle Mines, AEM saw its gold reserves deplete 5% last year leaving them with only 19.1 million ounces of gold reserves. With a guidance plan of 1.6 million ounces of gold production per year, their current total mine life is less than 12 years on current reserves. While AEM is hoping to increase its production by 2020, the bull market in gold has already begun and those projected 2020 ounces won't help their earnings in these next 4 years.
Agnico Eagle has stated they are looking to acquire early stage, high-potential gold companies as a part of their plan to maintain a high-quality project pipeline. If acquiring early stage, high-potential gold companies is truly their goal, I believe they are overlooking a significant asset just outside their front door in Nunavut.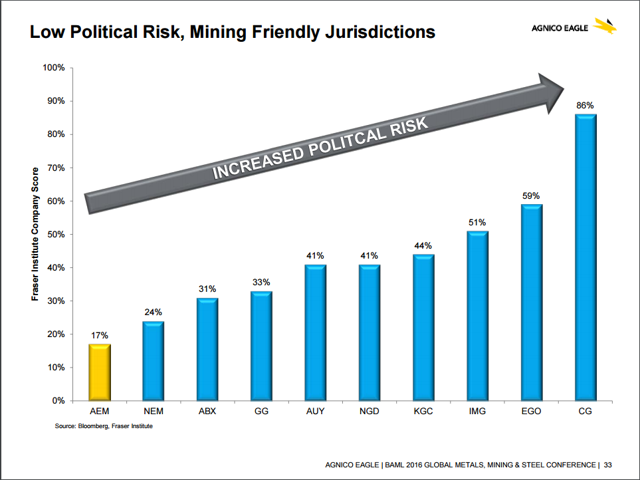 TMAC Resources: Mammoth Nunavut deposit continues to grow
TMAC Resources (OTC:TMMFF) is an extremely underfollowed gold development company, especially considering its recent move to over a $1 billion market capitalization. The company has a very lean share structure with only 84 million shares on a fully-diluted basis and most of their float is helped by insiders, Newmont Gold and Resource Capital Fund. The company is currently developing their Hope Bay Project in Nunavut, Canada which boasts a colossal 6 million ounces of gold at an average grade of well over 8 grams per tonne.
TMMFF is fully funded for development and is planning to begin commercial production on their mine in the first quarter of 2017. The mine is expected to produce 160,000 ounces of gold per year at an all-in sustaining cash cost of $785/oz, well below the industry average. Their Hope Bay project is located north of Sabina Gold & Silver's (OTCPK:SGSVF) Back River project and northwest of AEM's Meadowbank Mine and Meliadine project. TMMFF has already made 3 significant discoveries along their 80 km x 20 km land package, while proving up enough resources to support a 20-year mine life.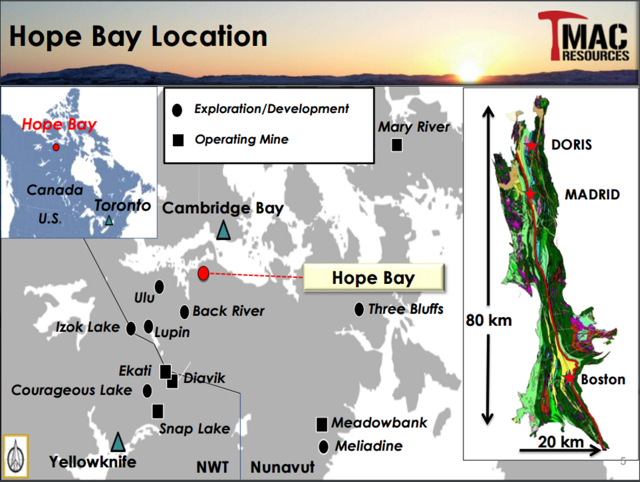 TMAC's land package remains relatively unexplored with the 6 million ounces of gold being found on less than 5% of the land package. The Doris and Madrid discoveries are more than 5 kilometers away from each other, while the Boston discovery is on the complete opposite end of their project. I believe the exploration upside on the property is absolutely massive and would not be surprised to see an ultimate resource of 10-12 million ounces proven up by 2019.
Just last week, TMMFF extended mineralization below the current dyke on their Doris deposit with extremely encouraging drill results. To date, the resource had only been drilled to a shallow depth of 160 meters, but recent drill results have shown the deposit could be extended an additional 150 meters below the current resource. This is incredible news for the company as this gives them the potential to significantly increase the mine life if results continue this way, as well as looking at a higher production rate than the proposed 160,000 ounces per year.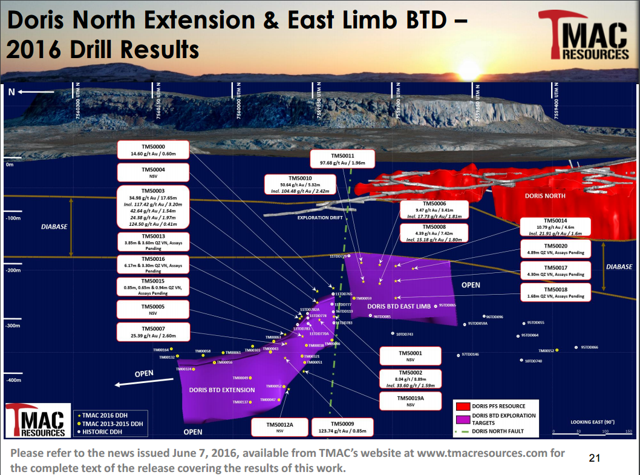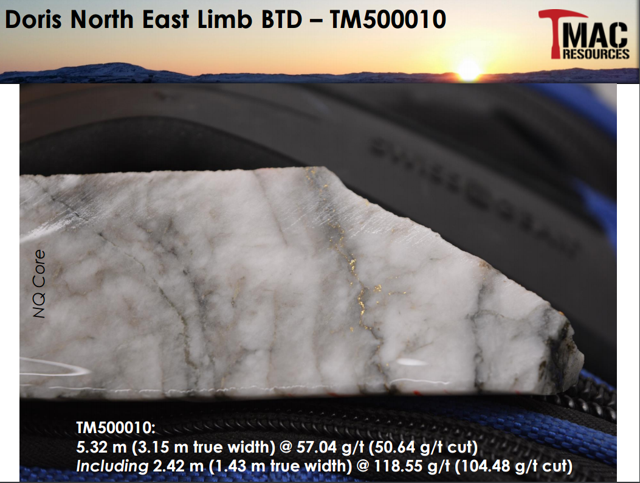 If early stage, high potential resources is what AEM is after, then I cannot think of a company more fitting than TMMFF. Their current resource of over 6 million ounces has just added a new discovery at depth to its resume and the company has one of the best technical teams in the world working for them. While there is no guarantee the whole land package is as abundant with gold as the current discoveries, the technical team is doing an incredible job and has not disappointed investors yet.
At the helm of TMMFF is Terry MacGibbon, who built FNX from a junior miner into a multimillion-dollar producer which was later merged into Quadra FNX. His resume also includes being co-founder and Chairman of Torex Gold (OTCPK:TORXF) which was transformed from a speculative junior into the billion-dollar market capitalization producer it is today. The Morelos and El-Limon Guajes discoveries on TORXF's properties are world class with a high grade (2.6 g/t au) open pit mine and exceptional all-in sustaining cash costs.
Why TMAC Resources is a perfect fit for Agnico Eagle
Agnico Eagle currently has 438,000 hectares of land claims in Nunavut including their producing Meadowbank mine and their two development assets, Amaruq and Meliadine. It is obvious that Agnico Eagle has significant expertise and experience operating in Nunavut so picking up another Nunavut asset would make perfect sense. Kaminak Gold was acquired for $520 million by Goldcorp GG just last month and had two other potential suitors which forced GG to sweeten their offer to make sure the deal got done.
With AEM being the only major in Nunavut currently, I do not see them having this problem and believe they could offer a reasonable premium to take control of TMAC Resources, avoiding any bidding wars. I created the table below to show how AEM could benefit from TMMFF and the acquisition would use minimal dilution to grow their annual production.

As shown in the table, TMMFF currently represents just over 9% of AEM's market capitalization, so using a 40% premium on a takeover, this would represent less than 13% of AEM's market cap. In exchange for using 13% of their market cap, TMMFF would add 10.7% or 160,000 ounces to AEM's annual production, which is assuming there are no more discoveries and TMMFF does not increase their annual throughput rate. I believe it is very likely that TMMFF will increase their production rate to 200,000 or more ounces per year but chose to use 160,000 ounces from the feasibility study to be conservative.
In terms of financial benefits, TMMFF's Hope Bay project at a 160,000 ounce run rate would add $78.4 million to AEM's pre-tax earnings or over 13% to their current pre-tax earnings of roughly $600 million. The largest benefit to AEM would be their increase in proven and probable reserves, which would move from 19.1 million ounces to over 23 million ounces in total. This increase is substantial for AEM which has less than 12 years of mine life left if they keep up their current annual production rate.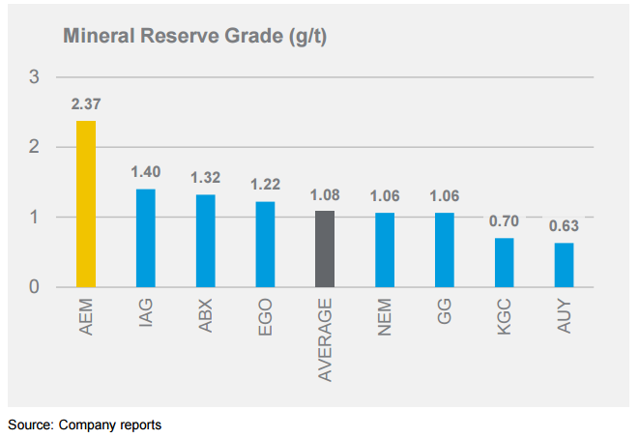 If the deal went through, AEM would be able to market itself as having full control of the Nunavut in terms of operating and development assets, with Meliadine and Amaruq set to come online in 2020. AEM would also be able to market itself as the leading gold major in terms of grades, as TMMFF's reserves would push the company's average gold grade to above 3 grams per tonne gold, absolutely unheard of in comparison to other majors. The industry average for gold grades on reserves is 1.08 grams per tonne gold, therefore, AEM's reserve grade average would be roughly three times the industry average.
In my opinion, it makes complete sense for AEM to acquire TMMFF as they are using 13% of their market capitalization to gain 13% on earnings based on conservative estimates, while adding 22% to mineral reserves. They would make themselves the only gold major with a growing production profile over the next 3 years, all while continuing to uphold their standard of being in the most politically safe mining jurisdictions.
Summary and Technical Outlook
Gold prices continue to look very positive on a daily and weekly basis and I think gold's march through $1,325/oz is inevitable at this point. With gold prices rising and in a clear up-trend, I don't believe junior miners and development companies are going to get any cheaper over the next few months. Gold continues to trend higher above a rising 20-day and 50-day moving average and is less than 1% taking out its May 52-week highs.
The 200-day moving average is rising with a positive slope showing gold is in a clear uptrend and a new bull market. Looking at the weekly chart, gold ((NYSEARCA:GLD)) is in a tight bull flag after breaking out of a 3-year descending channel. Price is very close to the top of the weekly bull flag and a breakout to the upside looks imminent at this point. Every past breakout from the descending channel in the past 3 years was very short lived, yet as you can see, this current breakout is taking on a completely different form.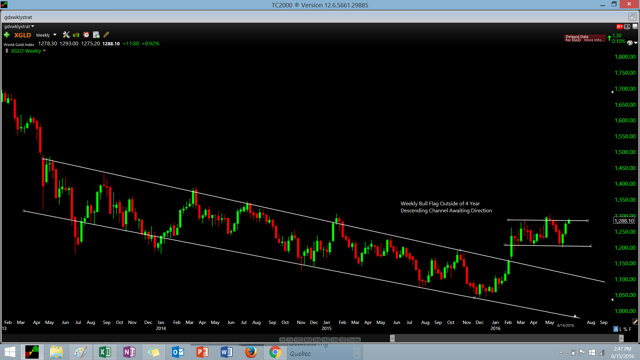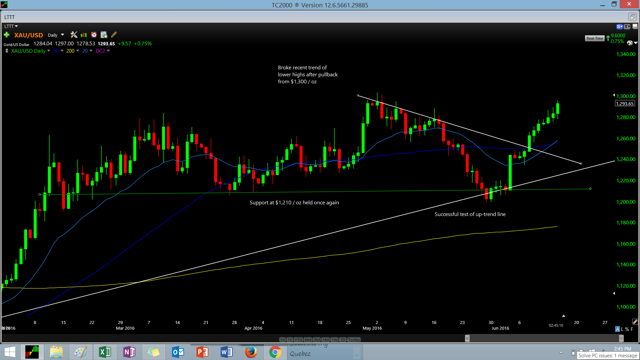 Looking at a chart of TMAC Resources, there is not much data to work with as it only began trading 1 month ago. Having said that the stock is in a clear up-trend and is above its 20-day moving average which seems to be providing support for the time being. TMMFF is making new highs while the GDX and GDXJ consolidate which is extremely positive that it continues to outperform its respective sector.
Even more impressive is the fact that it has done this even after its massive run the past 20 days of over 40% gains. I believe if TMAC does pull back, it should find very strong support at $11.50 where its 20-day moving average currently sits. The stock is quite thin and volume continues to be strong which shows steady buying interest in a stock that has very little shares available to the public.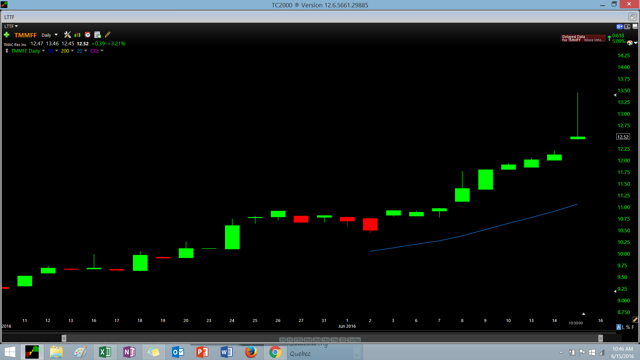 I cannot think of a better fit for AEM than TMAC Resources given its district scale potential and discoveries made in the past 18 months. TMAC provides Agnico Eagle with a way of increasing their production during the current bull market without having to wait for Meliadine and Amaruq production to come online.
TMAC is in the right neighborhood for Agnico Eagle with AEM's large footprint in Nunavut and it also has higher grades and better all-in sustaining cash costs than any of AEM's current projects. In addition to this, TMAC's internal rate of return on their Hope Bay project is 200% higher than AEM's other Nunavut Meliadine project, showing just how robust Hope Bay truly is.
Betting on takeovers can be speculative and risky in nature, but I am not worried when it comes to TMAC Resources. Even if TMAC is not taken out at a significant premium within the next 12 months, they are fully permitted to build their mine and will be making in excess of $70 million per year as of early 2017. While other juniors are not fully permitted, need financing to build their mines and are hoping for higher gold prices, TMAC Resources is completing construction and set to be a producer. I believe it would be a mistake if AEM did not take a hard look at TMMFF now and instead has to look at them later as "the one that got away."
Note: If you liked this article and found it useful, please feel free to follow me by clicking on my name next to my name at the top of this article. I also invite you to check my performance at TipRanks.com, where my average return on equities this year is 60% on new long positions.
Disclosure: I am/we are long TMMFF.
I wrote this article myself, and it expresses my own opinions. I am not receiving compensation for it (other than from Seeking Alpha). I have no business relationship with any company whose stock is mentioned in this article.
Editor's Note: This article discusses one or more securities that do not trade on a major U.S. exchange. Please be aware of the risks associated with these stocks.