The US Treasury will announce Thursday that it will reopen CUSIP 912810RR1 at auction on June 23, 2016, creating a 29-year, 8-month Treasury Inflation-Protected Security.
CUSIP 912810RR1 already exists, since it was first auctioned on February 18 with a coupon rate of 1.0% and a real yield to maturity (after inflation) of 1.12%. It is now trading on the secondary market, so we can get a pretty good idea of its current value and yield.
Take a look at Bloomberg's Current Yields page, and you can see it was trading Wednesday with a yield of 0.79% and a price of $105.48 for $100 of par value. Why is it trading at a premium? Because the current market yield is well below the 1.0% coupon rate.
When it first auctioned in February, buyers got a real yield of 1.12% (33 basis points higher than today), and so they paid just $96.79 for $100 of value. Do the math: This TIPS has increased in value nearly 9% in four months. That's amazing -- and it shows the extreme volatility of a 30-year Treasury of any type.
The Treasury each day posts its estimate of the real yield for TIPS, and today it estimated a full-term 30-year TIPS would have had a yield of 0.82%, which is in line with the Bloomberg number (a slightly longer term should have a slightly higher yield).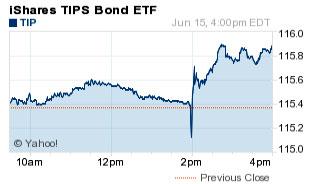 This is not shaping up to be an attractive auction for new TIPS investors. The Federal Reserve issued its Open Market Committee minutes today just after 2 p.m., indicating the Fed was backing off on near-term increases in its key short-term rate. The TIPS market got a decent bump from that news, with the price of the TIP ETF rising nearly 0.5%. That means yields declined.
The Wall Street Journal headline says it all: 'Wary Fed Rethinks Pace of Hikes'. Fed Chair Janet Yellen sounded very cautious about when rate hikes would be warranted (and by the way, who didn't see this coming?)
"I can't specify a timetable," about when rates will next be raised, she said at a press conference following the Fed's two-day policy meeting. "We are quite uncertain about where rates are heading in the longer term."
So now, in this very uncertain atmosphere, we have a 30-year TIPS auction - by far the most volatile of issues - coming next week. Alarm bells should be ringing.
The 29-year, 8-month problem. My style is to buy and hold TIPS to maturity, and while I have bought 30-year TIPS in the past, I recognize that I'm probably not going to live another 30 years. (I'm 62.) So buy and hold is out. And once you admit that, this TIPS can only be seen as a buy-and-trade investment. And buying a very volatile TIPS at a hefty premium price looks extremely risky as a buy-and-trade. Do you think financial Armageddon is approaching? Then this TIPS is for you. Otherwise, no.
The cash flow problem. If you buy this TIPS, it had better be in a tax-deferred account. Why? Well ...
Let's say you buy $100,000 of this TIPS at auction Thursday, in a taxable account. You will pay maybe $105,000 for that $100,000 value.
For the next 29 years, 8 months, you will be getting about $1,000 of annual income from the TIPS coupon rate of 1.0% and your par value of $100,000. The yearly payout will grow with inflation, as the TIPS principal rises.
Also, the TIPS principal balance will climb with the rate of inflation. So if inflation averages 2.5%, your principal will increase about $2,500 a year, rising with inflation.
The IRS views the inflation adjustment to principal as a taxable event for the current year. So you will owe income taxes on $3,500 a year ($1,000 + $2,500) in the first full year. If you are in a 38% federal tax bracket you would owe $1,330.
But your coupon rate gives you only $1,000 a year in actual cash flow. You are cash-flow negative $330. If inflation averages higher than 2.5%, then you'd be even more cash-flow negative. And this continues for 29 years, 8 months.
Don't buy this TIPS in a taxable account.
The low yield problem. This isn't a great time to be investing in government debt of any kind. The 10-year German bond closed today with a yield of -0.014%. It's no wonder that money is pouring into US Treasuries, where a 10-year bond is still paying 1.60% (down 64 basis points since the beginning of the year).
US Treasuries historically have returned about 2% above inflation, but right now the 10-year TIPS is yielding just 0.13%. The 30-year is an even bigger problem (at 0.82%) because of the very long-term commitment. It doesn't make sense to commit to any long-term Treasury. Period.
Ah ... but the inflation breakeven rate. A nominal 30-year Treasury is yielding 2.43% today. If we figured that inflation might average 2.5% over the next 30 years - not unreasonable - that's a negative real return. With a full-term 30-year TIPS yielding 0.82%, that creates a 30-year inflation breakeven rate of 1.61%, which is very attractive. How attractive? Just take a look at the past few years (lower numbers indicate TIPS are cheap):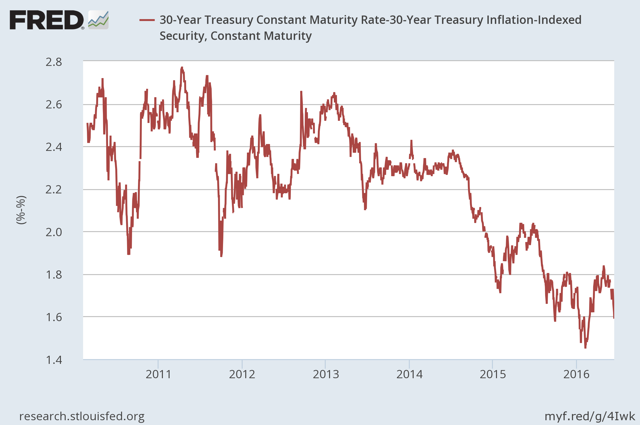 This chart shows THE REASON that there will be decent demand for next week's 30-year TIPS reopening. TIPS are very cheap when viewed against nominal Treasuries. A 30-year TIPS might be a horrible investment for a time-constrained buyer like me, but it remains attractive to a big money investor like a hedge fund or foreign central bank, when priced against the alternative.
Conclusion. If next week's TIPS auction comes in with a yield under 0.80% - which looks possible today - it would be the lowest yield at auction for any 29- to 30-year TIPS since February 2013. Those were ugly times. Are we in ugly times again?
Here is a chart showing every 29- to 30-year TIPS auction in history: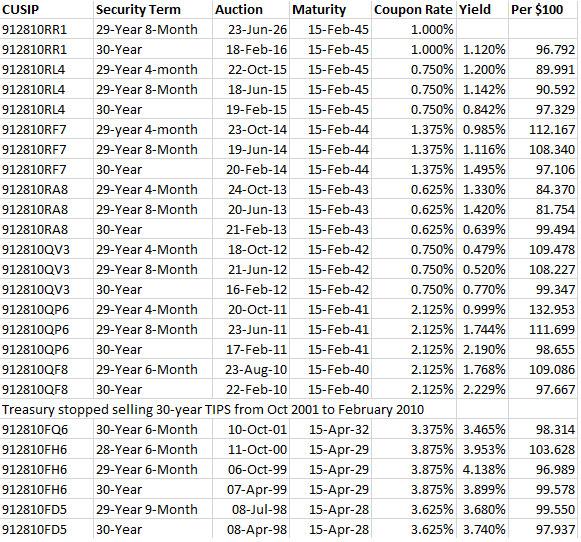 Disclosure: I/we have no positions in any stocks mentioned, and no plans to initiate any positions within the next 72 hours.
I wrote this article myself, and it expresses my own opinions. I am not receiving compensation for it (other than from Seeking Alpha). I have no business relationship with any company whose stock is mentioned in this article.