As Walt Disney (NYSE:DIS) opens the gates on its largest overseas investment to date, Shanghai Disneyland, we believe now is an opportune time to make an investment in one of America's most iconic companies. Perhaps making it even more opportune is the fact that its share price has dropped down by 12% in the last six months to a level which we believe is great value.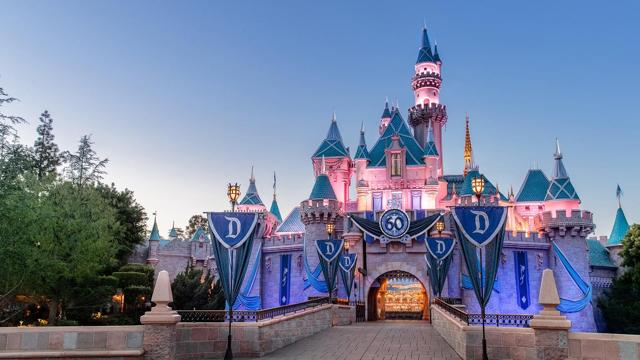 Disney has thoroughly underperformed the market in the last six months. This is largely a result the company's performance falling just short of analyst quarterly expectations in its recent second quarter.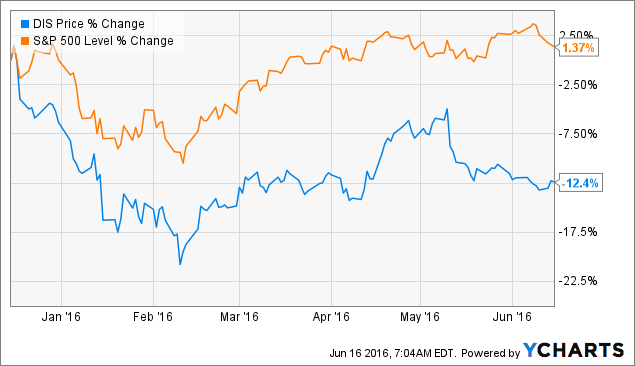 Although it missed on analyst expectations, it still produced year-on-year revenue growth of 4.1% to $12.97 billion. Results revealed that advertising and subscriptions declined at sports channel ESPN and theme park revenue came in weaker than expected. We feel this has been more than priced in now and that there could be a lot of upside ahead for investors over the next 12 months.
Often the first thing people will think of when they hear the name Disney are its films. This is for good reason, for generation after generation Disney has been behind an endless number of classic films. We don't see this stopping any time soon. The Star Wars franchise purchase was a masterstroke and will keep its box office revenue pumping for some time to come thanks to five more Star Wars movies in the next five years. In the last fiscal year Disney's Studio Entertainment segment delivered $7 billion in revenue with approximately $2 billion of operating income. Of course, the beauty of Disney is it doesn't stop at the box office, with merchandise being almost as important. Its Consumer Products segment contributed $4.5 billion in revenue, with nearly $2 billion of operating income in FY 2015. We expect with a string of big movie releases to come, with strong merchandise opportunities accompanying them, this side of Disney's business should continue to produce a solid performance worldwide.
Which is good news because these movies are a great advertisement for its 11 theme parks and 47 resorts across the world. The latest addition is of course the Shanghai Disneyland. It has been a long time coming, ten years of planning and five years of construction to be precise, but it is finally open now. An incredible 330 million people are estimated to live within 3 hours of the new theme park, giving it a huge domestic market on top of the strong levels of tourism into the city.
According to Chang Jiang Securities Co. analyst Li Jin, Shanghai Disneyland is expected to pull in revenue in the range of 24 billion to 40 billion yuan a year, with up to 50 million visitors expected annually. At the current exchange rate this is $3.6 to $6 billion per year, which will no doubt be a nice boost to its Parks and Resorts segment. In the last fiscal year it accounted for $16 billion of revenue and $3 billion of operating profit. This could be another positive catalyst to taking the share price higher in the next 12 months, in our opinion.
We'd be lying if we said that things were looking amazing company-wide. Like many out there, we do have concerns over cord cutting. The largest contributor to Disney's top and bottom lines is its Media Networks segment. For us ESPN is the king and for many consumers the only reason they even have cable TV. According to estimates by SNL Kagan, the ESPN network pulls in around $7.21 per subscriber monthly in affiliate fees. But with subscriber numbers on the decline, the market is clearly concerned that this cash cow's milk is running out.
But we are optimistic that a bottom could have been found. We feel Sling TV by Dish (NASDAQ:DISH) could help ESPN begin to grow its subscribers again. We see it as an affordable way for cord cutters to get the cable TV they want. $20 per month gives viewers access to ESPN, AMC, HGTV, TNT, TBS, A&E, and many more channels. Sling TV's recent launch on Apple TV (NASDAQ:AAPL) could also be a great move in our opinion. This potentially opens it up to an even wider audience which can only be a good thing.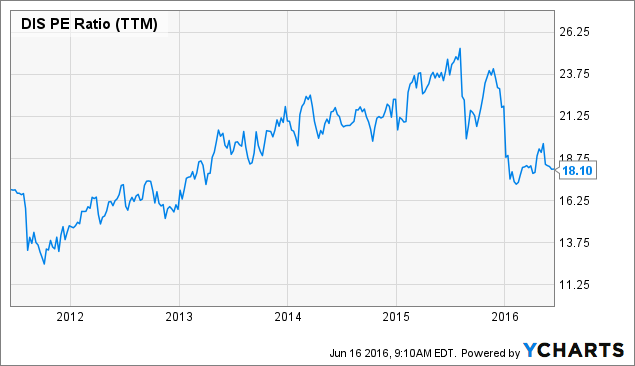 Following the drop in its share price this year, the shares are trading at just 18 times earnings. Which we feel is a great entry price for investors, with 19 times earnings a fairer multiple. Our price target of $110.58 is based on a price-to-earnings ratio of 19 and full year earnings per share of $4.82. This represents a potential return of 12.5%
Disney has a good number of strong revenue streams which we expect to keep growing at a good rate for at least the next five years. This for us makes this iconic company a great investment today, and one we expect will reward shareholders handsomely over the next few years. We're delighted to have been able to get hold of shares at great price.
Disclosure: I am/we are long DIS.
I wrote this article myself, and it expresses my own opinions. I am not receiving compensation for it (other than from Seeking Alpha). I have no business relationship with any company whose stock is mentioned in this article.