Costco Wholesale Corp. (NASDAQ:COST) operates retail warehouses for members. In exchange for an annual fee of approximately $55-$110, members are offered low prices on an enormous variety of consumer staples, discretionary household items and electronic products. Founded in 1983, COST has since grown to 706 locations. They employ 200,000 people globally, and 135,000 in the US (source).
With that kind of footprint, you or someone you know probably has a membership at COST. And chances are, they've probably had it for years. Based on my personal observations and anecdotes, it feels like going to Costco is a way of life for some people, my parents and siblings included.
Costco: It's A Club, Not A Store
Beyond brand appeal, I also like the COST membership model. It's a unique approach that seems to have allowed the company to build a loyal base of recurring clients. For a token fee, members perceive value, (and even a positive return on their membership), by the savings they receive across a wide range of products. COST also offers a variety of additional services and benefits to their members, further improving stickiness and revenue.
And from a financial perspective, this membership model is equally appealing. For the most recent quarter, COST sold $26,151M of merchandise and $618M in membership fees. The merchandise cost on those sales were $23,162 with $2,731 in SG&A. That means the operating income of $858M comes almost completely from membership sales (source). This is a huge percent of income, and most of it is recurring given the company has been able to grow renewals from 88% to 91% (source). Those are impressive numbers if you ask me.
Now, although Costco stores have been pleasant to shop in and qualitatively I like what the company is doing, I want to dig deeper into the historical financials. My goal is to examine the data over the last 10 years (source) and see if the financial statements stack up. After all, the 10-year price performance of COST has been pretty impressive: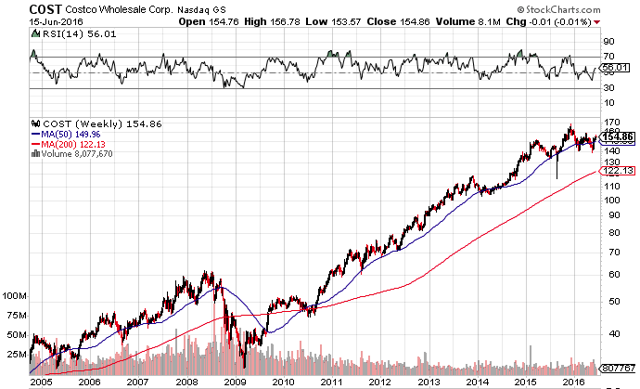 That doesn't include dividends, either. So let's take a look to see what's driving these returns. And try to determine if they look sustainable going forward.
Costco Wholesale: Data in Bulk
The first thing I want to look at with Costco is the top line growth. With all the anecdotal evidence around me over the last few years, I want to see what this looks like on paper. See for yourself: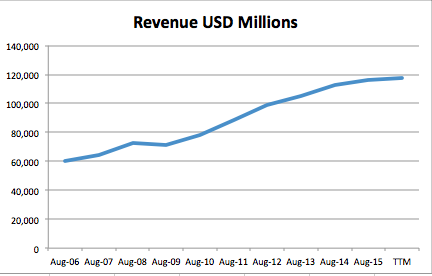 Impressively, revenue has almost doubled over the period. This is a very strong trend that looks poised to continue. At some point, the law of large numbers will catch up, but for now, this is impressive. For some context, analyst consensus estimates for 5-year growth are at 9.9% vs. 12.2% over the last 5 years (source).
Another nice facet of this revenue growth, is that it seems to be coming with steady margins. Maybe that's the membership model manifesting itself? Regardless, COST is not buying unprofitable growth. And although low-cost retail isn't renowned for great margins, in this case, they've actually reached new highs recently. Here's a graph showing gross and operating margins over the last 10 years: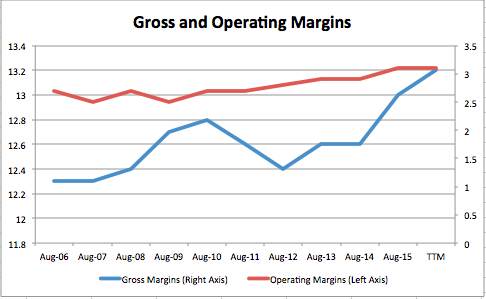 The great thing about this kind of consistency in margins and revenue growth is that the money trickles down. This means earnings results trend higher in a rather methodical fashion. The crisis of 2009 barely shows up as a blip on COST revenues. It seems to me this low-cost leader has staying power. So let's see how sales fall to the bottom line: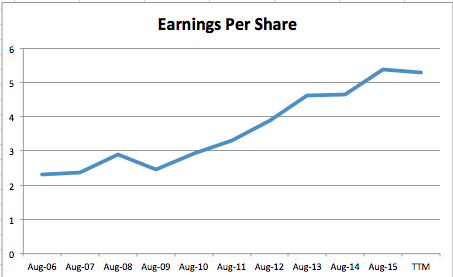 In my experience, not many companies can boast an earnings growth profile like that. And even better, shareholders are capturing an increasing part of this earnings growth, primarily by way of dividends.
While shares of COST currently yield only around 1%, the dividend has grown steadily over the last 10 years. And if current financial and operating trends continue, dividend growth should follow the current trajectory. See for yourself: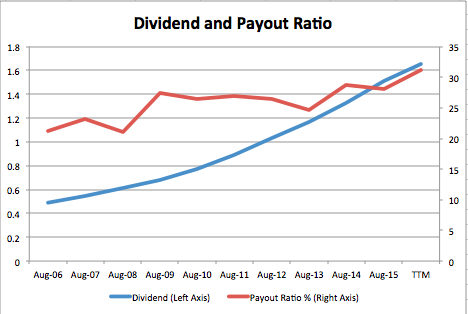 Pretty impressive, right? You'll notice the payout ratio has edged higher, but the dividend growth has been primarily fueled by earnings improvements. COST still has lots of room to continue growing shareholder distributions. Again, this is underwritten by the sticky nature of the COST membership base.
So although all of this looks good, is there anything negative we can find about COST? Well, there are actually a couple of blemishes I'd like to mention before considering whether or not to invest in COST.
The Possible Downsides of Low Prices:
One slight area of concern lately is that debt levels have crept up the last few years, though they're certainly still manageable. However, coincident with this increase in debt is a stalling of book value growth. Here's the graph of book value per share: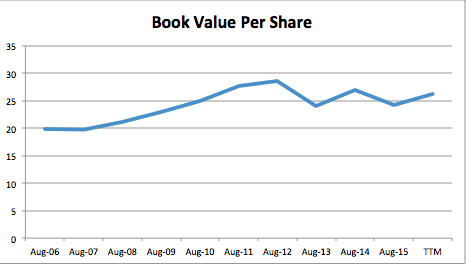 This is the biggest weak spot I can see when analyzing the financials of COST. It's not a big blemish, but certainly worth noting. As an equity owner, I like to see that book value per share always growing. Other than that, I think COST looks pretty good. But there's still one thing to review: the elephant in the room.
As with any retailer, the Amazon (NASDAQ:AMZN) question is always one worth asking. Luckily, I suspect COST could be a rare exception to the online giant. That's because of the bulky and often perishable nature of the items many people purchase. I think this is a compelling hook for Costco to maintain members.
Other than Amazon, COST is likely liable to any general slowing global growth or recession risk. However, the earnings performance during 2008-2009 indicates the core business could still perform well in this worst-case scenario. Personally, I don't think a major recession is imminent but I understand opinions and forecasts may vary.
Conclusion: Fishing for a Discount on COST
As should be clear by now, I believe COST is a great company based both on their well-known brand and quantitative financial performance over the last 10 years. These graphs represent some of the strongest and most consistent trends I've seen in analyzing financial statements. Most companies have much bumpier results.
Unfortunately, the market is forcing me to pay up for shares of COST, and I haven't yet pulled the trigger. As I get fresh capital in the next few weeks, I'll be eager to put it to work in COST (hopefully on a pullback). But what do you think? Are you investing in COST right now?
Disclosure: I/we have no positions in any stocks mentioned, and no plans to initiate any positions within the next 72 hours.
I wrote this article myself, and it expresses my own opinions. I am not receiving compensation for it (other than from Seeking Alpha). I have no business relationship with any company whose stock is mentioned in this article.